College Basketball Picks: Odds and Predictions for Marquee Saturday Games
by Robert Ferringo - 12/3/2010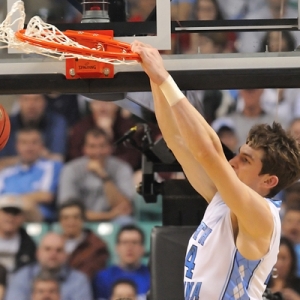 Below are some odds and predictions for marquee Saturday games. It's also a list of what you should be watching for seven hours on Saturday if, you know, you don't have any family or friends, are a raging gambling addict like myself, and would rather spend your day making college basketball picks than trolling the mall looking for the Apple Store:
Utah State at No. 14 Georgetown (Noon)
Projected Odds: Utah State (+7)
Analysis and Predictions: Two of the most efficient teams in the nation get a busy Saturday started with this tilt in Washington, D.C. Georgetown comes into this game fresh off a stunning 111-102 overtime win over Missouri at Kansas City. That win propelled the Hoyas to a spotless 7-0 mark on the season and they will look to knock off one of the best mid-major teams in the nation.
Utah State is not in the Top 25, but at some point this year they will be. But Utah State won't be fazed by the competition. This team's only loss on the year was to rival BYU and its stellar guard, Jimmer Fredette. This Aggies group is one of the most experienced in the nation. They have been playing without two-year starter Nate Bendall, but have also added athletic guard Brockeith Pane. Their key player is forward Tai Wesley, a scrappy, aggressive low block player that is the center of this offense.
Georgetown's backcourt is the best in the business. Chris Wright, Austin Freeman and Jason Clark are lethal on the perimeter and they combine to average 52 points per game. Georgetown is the more athletic team in this matchup and they have the benefit of playing a team from the Pacific Time Zone in a noon start.
We can't lay too many points here with Georgetown. Their guards logged a ton of minutes in that Missouri game. I don't know how stoked they are going to be to take on Utah State. But having closely followed this Aggies squad the last several years I do know that they relish these underdog situations. They won't be pushed around and this should be a well played, but low-scoring game
No. 11 Kentucky at North Carolina (12:30 p.m.)
Projected Line: North Carolina (+2)
Analysis and Predictions: Here we have two of the most overrated teams in the country going head-to-head. If you got points for "potential" then this game could be a National Championship contest. But the reality is that both Kentucky and North Carolina rely on overhyped young players. And, as such, it's nearly impossible to count on any of them as we attempt a wager on this game.
When we last saw the Tar Heels they were getting pounded by Illinois in the ACC-Big Ten Shootout. Everything about this Heels team is awkward; they try to run-and-gun but they don't have the guards or the decision-makers to make that style of play work. They have also lost to Vanderbilt and Minnesota this year, so they have basically failed in any marquee spot so far this season. Their strength is in the post with Tyler Zeller and Jon Henson. But they still don't have any shooters or guards to control the tempo.
Kentucky earned some props for its play in Maui. The Wildcats handled Oklahoma and Washington before losing to Connecticut in the finals. They demolished Boston University in their home game following the tournament, and this year's crop of can't-miss kids are ready and waiting to handle their business on Tobacco Road. Freshmen Terrence Jones and Brandon Knight lead the way for this team. However, they are still freshmen. And no matter how talented they are they will still be erratic.
This is a revenge game. So while I don't think the Heels are better than the Wildcats (or much better than last year, for that matter), I do think that home court and that extra motivation will go a long way. Kentucky's freshmen haven't faced a road crowd like this, so I believe that this game should be played on the Tar Heels or not at all.
Butler at No. 1 Duke (3 p.m.)
Projected Line: Duke (-13)
Analysis and Predictions: It is the rematch. This game is a remix of the National Championship Game, which Duke won despite a very game effort from the Horizon representative. Both teams have plenty of motivation for this one and most of the primaries are back on both sides. However, the change in venue is going to have a monumental impact on this game.
In the title game I thought that we would actually see an official's head explode because he wouldn't know which team to favor and give calls to. These are the two of the most coddled teams in the country in terms of officiating, and on a neutral court that can get watered down a bit. But not in Cameron Indoor. Duke is going to get the call. Duke is going to have the crowd. Duke is going to have the confidence of having already beaten the Bulldogs when it matters most, and they have the swagger of the No. 1 team in the country.
This is not the same Butler team. They lost to Evansville last weekend and barely held off Loyola earlier this week in a rowdy conference opener. Yes, they would love to exact some revenge. But it isn't going to happen because they played above themselves last year and because they don't have the horses to run with the best team in the country for 40 minutes. I know that Butler has been an ATM machine in these types of situations (huge underdog against overwhelming BCS talent) in the past. But I am smelling a blowout here and no redemption for the plucky dogs.
N.C. State at No. 7 Syracuse (5 p.m.)
Projected Line: Syracuse (-9)
Analysis and Predictions: This one had the makings of a marquee Big East-ACC showdown. N.C. State was the "sexy" pick in the ACC this year. (Anyone that read my preview knows I am not keen on this team.) Syracuse is a name with college hoops cache and they are a Top 10 team.
But the bloom is very much off the N.C. State rose after they were humiliated in a 40-point loss to Wisconsin this past Tuesday. And as I look at Syracuse I see a young, erratic team that is closer to a No. 7 seed than they are to being the No. 7 team in the country.
The Orange may be one of the most overrated teams in the nation. They have a lot of talent. But this team is far from being a cohesive unit. They have no go-to guy and they still don't even really have their rotations set. But they have played well and are unbeaten against some tricky opposition. The Orange have an excellent point guard (Scoop Jardine) and post presence (Rick Jackson), and there are few teams that can handle their athleticism and talent on the wings. They are always tough in The Dome and should be ready to play on Saturday.
The Wolfpack are still without star forward Tracy Smith. He is the alpha and the omega on this team, and without him they are a wreck. This team has just one guy in its top seven (Scott Wood) shooting better than 19 percent from three-point range. Without Smith on the interior and without shooters on the perimeter I don't see how this squad will efficiently attack the Syracuse zone.
Syracuse is not nearly as good a team as their rankings suggest. They are going to fall flat at some point this year and they will come back to earth. But I don't think that this will be that moment.
No. 21 Illinois at No. 24 Gonzaga (5 p.m.)
Projected Line: Gonzaga (-4)
Analysis and Predictions: This should be the best game of the day and it involves two teams that should be still playing the third weekend in March. This is also a rematch of a thrilling 85-83 Zags overtime win last January in Illinois.
This is just another marquee college basketball game for Gonzaga. This team hasn't ducked anyone over the course of the last decade and they won't be intimidated by this stage. This game is being played in Seattle and the home crowd will afford the Bulldogs an advantage.
However, Gonzaga's best player, forward Elias Harris, has been banged up for the majority of this season. He missed last game with an ankle injury and hasn't been 100 percent so far this fall. From what I've read, he is going to play. And he has to be effective – he is Gonzaga's biggest, most physical player – if the Bulldogs have a chance here.
Illinois is a very experienced, cohesive team. They have a little chip on their shoulder from not making the NCAA Tournament last year and they understand how important these nonconference matchups are. Dmetri McCamey has had as good of a first month of the season as anyone in the nation. The Illini have an excellent eight-man rotation that affords them size in the post and skill on the perimeter.
If Illinois is getting more than a bucket in this game I think that you have to take the points. Gonzaga has already lost to Kansas State (by 17) and San Diego State (by three) and they were only moderately impressive while beating Marquette by three points. This Zags squad is not as talented as some of the ones we've seen the last few years. I think that Illinois wins this one outright and I'm willing to go right back to them after collecting on the Illini over North Carolina on Tuesday.
Robert Ferringo is a writer and a professional sports handicapper for Doc's Sports. He is considered one of the best college basketball handicappers in the country and has earned his $100-per-Unit clients nearly $30,000 in the last four years with his nonconference handicapping. He has earned his clients over $16,000 since the end of July and is ready for another great college hoops season. You can sign up for his college basketball picks and get more information here.
---
Most Recent College Basketball Handicapping