College Basketball Picks: Washington Huskies Predictions with Futures Odds
by Nicholas Tolomeo - 10/27/2010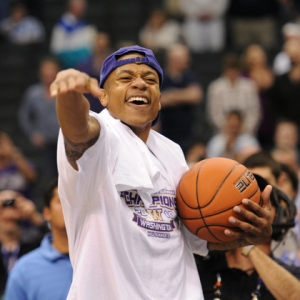 The rollercoaster ride that was the Washington Huskies 2009-10 season started with lofty preseason expectations and ended with a surprise run to the Sweet 16. What happened in between is anyone's guess.
The Huskies, a pick to contend for the conference crown, started Pac-10 play 1-3 and later 3-5. They got back on track and eventually closed the regular season with four consecutive wins, but remained a 'bubble' team heading into the conference tournament.
When the calendar hit March, Washington started playing like everyone thought they would back in October. The Huskies won the Pac-10 tourney crown, earned an 11-seed in the big dance and then sprung upsets over No. 6 Marquette and No. 3 New Mexico before falling to Final Four-bound West Virginia in the Sweet 16.
Once again Washington enters the season as a preseason Pac-10 favorite and ranked No. 17 in the Coaches' Poll, but there is reason to believe this more mature and experienced team will remain in the top 25. The only starter coach Lorenzo Romar will have to replace is the school's second all-time leading scorer, Quincy Pondexter.
The starting lineup will revolve around point guard Isaiah Thomas and small forward Justin Holiday. Thomas has scored 1,134 points in his first two seasons, more than any Washington player in program history through two seasons. After those two Romar has plenty of options. He can go with three guards by adding Venoy Overton and returning starter Abdul Gaddy to the mix or he can opt for a bigger lineup with 6-9 power forward Matthew Bryan-Amaning, a returning starter, joining 7-foot newcomer, center Aziz N'Diaye, in the frontcourt.
Offseason Changes
Pondexter and his 19.3 points and 7.4 rebounds per game is off to the NBA and swingman Elston Turner transferred to Texas A&M while reserve forward Clarence Trent transferred to Division II Seattle University.
In the Sweet 16 against West Virginia, the Huskies led 29-27 at halftime but in the second half the Mountaineers began to pull away because of their dominant size advantage. Romar knew his team would need help in that regard and that is why he went after N'Diaye, a resident of Dakar, Senegal, who played one year with the College of Southern Idaho. Also expect 6-6 freshman Terrence Ross, a wing player from Portland, Oregon, to make an immediate impact.
Washington Huskies Basketball Outlook
The Huskies are experienced on the court, but also, more importantly, experienced with how to deal with high expectations. The loss of Pondexter hurts, but what will hurt this team the most is lack of depth in the frontcourt. The strength of this team lies with its guard play and perimeter shooting, so it will fit right at home in the Pac-10.
Washington College Basketball Futures Odds
The Huskies are listed at 50/1 to win it all on Bodog. The defending Pac-10 Tournament champions are priced at +250 to win the Pac-10 regular season championship. Those odds make the Huskies the Pac-10 favorite along with Arizona, who is also +250.
Washington Huskies Basketball Schedule
The Washington Huskies open up their season Nov. 13 with easy tune-ups against McNeese State and Eastern Washington before heading to Hawaii to compete in the prestigious Maui Invitational along with Kentucky, Oklahoma, Michigan State, Connecticut, Wichita State, host Chaminade and Washington's first-round opponent, Virginia. A lot more will be known about this Washington team after the Invitational.
Washington Basketball Predictions and Betting Picks
Last year's disappointing start in conference play cost Washington a chance at the regular-season title. With that experience behind them, look for Washington to rebound and make a run at the Pac-10 title. Their lack of depth in the frontcourt may not catch up to them in conference play, but it will in out of conference games and in the NCAA Tournament making a run at a national title seem very unlikely.
Doc's Sports is very excited about another profitable college basketball picks season. We are considered one of the best college basketball handicappers on the Internet and we always have lofty goals for our yearly results. In the last four years our college picks have garnered +382 units and $100 players have made nearly $15,000. Our picks against the college basketball lines are always guaranteed to make a profit, or we work for free until they do.
---
Most Recent College Basketball Handicapping