College Basketball Power Rankings - The Conferences
by Trevor Whenham - 11/24/2010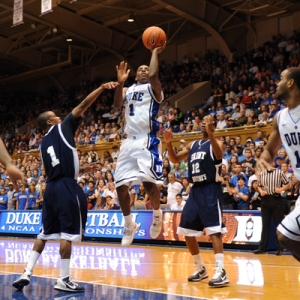 I'm a die hard sports fan. Like most people with the same disease, I love rankings. You put anything into order and the world becomes a better place immediately - no matter wow meaningless the rankings really are. With that spirit in mind I want to set out to rank the six major conferences in college basketball at this early point in the season:
1. Big Ten - A couple of days ago I wouldn't have even thought of questioning this decision. Now I still like the pick - and I think there is daylight between this group and the rest - but I am not quite as confident in the group as I was.
That's all because of Michigan State.
I had them pegged as the best team in the conference, but then they lost to UConn in Maui, and as I write this they are trailing Washington, too. Nothing is decided in November, but it is a blow when the conference's best team struggles in a tournament they easily should have won.
Beyond them, though, you have a major title threat in Ohio State, three teams that are definitely Top 25 teams in Illinois, Wisconsin and Purdue (a team I still really like despite the loss of Robbie Hummel), a team that I sure wouldn't want to play in Minnesota, and a Penn state squad that has a tournament look to them as well. That's seven legitimate tournament squads in an 11-team league. No other conference can claim depth like that.
The only major star the league lost last year is Evan Turner, so this comference is experienced and talented, and they will make a whole lot of noise - as long as they don't have to play any more games in Maui.
2. SEC - I surprise myself by putting this conference this high, but this is where they belong in my eyes. If I was breaking the major conferences down by division, then the SEC East would be tough to beat because they have five tournament-worthy teams while the West has only one.
I don't see any teams in this group that are a real threat to win it all, but in terms of depth, general quality, and the promise of great league play the SEC is tough to beat.
3. Big 12 - It was a blow to this league that Kansas State was manhandled by Duke, but I remain convinced that the only team that can beat Duke is Duke.
The Wildcats and the Jayhawks both have Final Four potential if all goes well, and Kansas is only going to get better with experience and the eventual debut of Josh Selby.
Texas and Missouri could self-destruct, but they have a chance to make some noise. Baylor has lost a lot, but still has something to offer. Texas tech looks like a potential tournament team. Colorado will be very good if they can find a front court combination to keep up with a stunning back court.
Depth plus top-end quality makes for an interesting conference. I would have it ahead of the SEC if I felt like there was one team outside of the state of Kansas that was a stone cold lock to go dancing.
4. Big East - This conference has a heck of a reputation right now, but this year certainly isn't going to do anything to advance and improve that reputation. There isn't a major tournament threat in my eyes.
Pitt is the best of the group, but they underwhelmed last year, and I'm not convinced that they are a whole lot better. Beyond that there are a bunch of teams that have the potential to be decent, but none that are going to change the world, and none even that have the potential to be really good.
The bottom half of this conference is about as good as all of the Big East in football - really lousy, in other words. I'm not impressed.
5. ACC - This is a tough group to figure out. On one hand they have the best team in the country in Duke - and I think the gap between them and everyone else is wide. On the other hand there just isn't a lot to like beyond the top team.
UNC has been disastrous early. They'll get better, but they are a long way from great, and since they are at worst the third best team in the conference that doesn't say much about the group.
Virginia Tech could be the best of the rest, but they have to finally make the tournament before we can take them seriously. NC State is very promising, but ridiculously young. Florida State might be decent. That's it, though - depth is a joke in this group.
6. Pac-10 - Last year they were laughably bad. This year they aren't as bad, but they still aren't particularly good.
Washington is the best of the group, and they are dangerous, but they aren't a title threat. Arizona is well coached, and could get back into the tournament after an unfamiliar gap. UCLA should be better than last year, but they could be a whole lot better and still not be good.
Beyond that things are pretty slim. It's lucky Oregon has things going their way in football, because the Ducks have a good shot at being the worst team in a major conference.
---
Most Recent College Basketball Handicapping