College Basketball Predictions: Butler Bulldogs Futures Odds and Betting Preview
by Trevor Whenham - 10/27/2010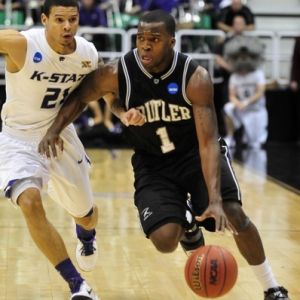 I'm not sure if other coaches envy Butler Coach Brad Stevens or pity him. Probably a little of both. Stevens looks like he is about 12 years old, but he has already led his team closer to a National Championship - one missed shot by Gordon Hayward - than any other mid-major coach has come. That's definitely something to envy.
The problem is that he now has to do it again - or at least try - and he'll have to do it with the eyes of every basketball fan in the country resting squarely on his back. Oh yeah, he also lost his best player as well. It's not going to be an easy task for Butler to be a nationally relevant team again, but it's not impossible.
Luckily, they will dominate the Horizon League again this year, so they will likely get what any team needs to be a true success - a ticket to the dance.
Butler Bulldogs Basketball Preview: Offseason Changes
Gordon Hayward did more to improve his reputation than any player during last year's tournament, and he parlayed that into a new gig playing for the Utah Jazz. Needless to say, that's a big loss. Willie Veasley is also gone - he graduated and is playing in Japan. Veasley was the only senior on the team, though, so so Stevens luckily doesn't have a ton of turnover.
There are a couple of very interesting freshmen joining the team, though. Khyle Marshall could find himself starting early on at forward. Eric From is a big man that doesn't shoot like a big man. He'll be able to score but will likely see his playing time limited until his defensive play is significantly improved.
Bultler Bulldogs College Basketball Outlook
It can be tempting to write this team off because of the loss of Hayward, but that just isn't fair to them. Sure, he was their best player, but he was far from their only player. Shelvin Mack is the preseason Horizon League Player of the Year, and a star only slightly behind Hayward in play last year. Matt Howard and his horrific mustache played more of a supporting role last year behind the top two, so it's easy to forget that he was the Horizon League Player of the Year two years ago as a sophomore.
The team needs to rely on the quick development of some help from the forwards, but they have a very nice foundation to build around. There's another thing working for them, too - defense. This team succeeded last year because of their defensive discipline, and it was a team-wide obsession. That attitude wasn't new last year, and it will still be around this year. If the team can take care of defense then they can give themselves some time to find their offensive stride.
Butler Bulldogs Futures Odds
Bodog has Butler at 30/1 to win the National Championship. That positions them behind the elite teams in the country, but still in very respectable company. BetUS has them at +1400 to repeat their performance from last year and at least make the finals. I didn't come across odds to win the Horizon League, but they would be prohibitive if you could find them.
Butler Bulldogs Basketball Schedule
Butler has regularly scheduled their nonconference games to gain national respect. This year they have gone one step further - their schedule is brutal. They open at Louisville. They play Siena. Then they travel to Duke for a championship game rematch. Then to Xavier. Then they will face Stanford and Utah in tournament play in Hawaii. We will certainly know what kind of a team they are after they play - and try to survive - that run of games.
Butler Bulldogs College Basketball Predictions
I don't see any betting value at all in the futures for this team. I'm not saying that I don't respect them or think they are dangerous - far from it. I just don't think that the price even comes close to reflecting the challenge they face - something that is true for a lot of teams. That being said, this is definitely a team I'll be keeping a close eye on in non-conference play. The loss of Hayward will register strongly with the betting public, and that could easily create some situations where they are under-appreciated - especially against strong opponents. Ultimately, I don't think this team is heading to the Final Four, but I wouldn't be at all surprised if their tournament run doesn't end on the first weekend, either. This has the look of a potential Sweet Sixteen squad.
Doc's Sports is very excited about another profitable college basketball picks season. We are considered one of the best at college basketball handicapping on the Internet and we always have lofty goals for our yearly results. In the last four years our college picks have garnered +382 units and $100 players have made nearly $15,000. Our picks against the college basketball odds are always guaranteed to make a profit, or we work for free until they do.
---
Most Recent College Basketball Handicapping