2010-11 Kansas State Wildcats College Basketball Predictions with Futures Odds and Betting Picks
by Trevor Whenham - 10/26/2010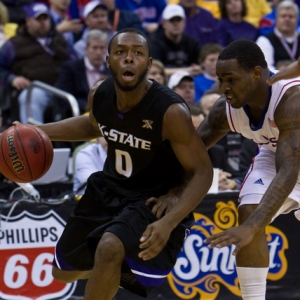 Hope is running wild in the Manhattan that isn't in New York. Kansas State won 29 games last year and made a run to the Elite Eight. That was an impressive season, but if they were to replicate it this year it would be a disappointment. Everything seems to be setting up perfectly for them this season - they are talented and ready to play at a time when the other powers in the Big 12 are younger or less established. The Wildcats have never won the Big 12, and haven't made the Final Four since 1964. They have the real potential to do both this year. Now all they have to do is live up to that potential.
Offseason Changes
K-State returns only two starters, but they had such depth last year that they shouldn't suffer from the losses. The biggest concern is the loss of point guard Denis Clemente. He was the leader of the team on and off the court, he carried the ball up the court, and he was the second leading scorer. They have multiple options at the point, but none have yet to establish themselves as the best one. Obviously, having someone step up is crucial.
Beyond the point, two players stand out as intriguing replacements for departed players. Wally Judge, a 6-9 forward, spent most of his time on the bench last year because he was terrible defensively. He's the highest rated recruit on the team, though, and he should get a chance to perform. He's a big man with a scoring touch and a sweet shot. Clemente's points won't be missed nearly as much if Judge finds his way. Freddy Asprilla is another exciting option. The 6-10 center sat out last year after transferring from Florida International. He scored 13.7 points per game with 9.2 rebounds per game there, so he clearly has some skills. The Wildcats were missing a competent big man last year, so Asprilla could be a huge addition.
Kansas State Wilcats Outlook
This team has been flipped around this year. Last year they were a guard driven team with questions in the frontcourt. This year that frontcourt is the biggest and probably the best in the Big 12, but there are questions in the backcourt. The point guard position will be, as we said before, crucial. The good news is that Jacob Pullen is still at guard. Pullen improved more than any player in the Big 12, and is now an elite talent. There is a chance that Pullen will have to handle the ball, but he is at his best when he isn't, and he should get more than his share of chances to shine. If someone can handle the ball, Judge and Asprilla can settle in quickly, and Pullen continues his impressive play, then this team should be the class of the Big 12.
They have a step ahead of the other teams expected to contend - like Kansas, Baylor, and Texas - because of their experience and size. The biggest concern, though, has to be injuries. They aren't deep anywhere anymore, and especially not with their guards. An injury to a key player - especially Pullen - could create some serious issues.
Kansas State Wildcats College Basketball Futures Odds
The Wildcats are 11/1 to win the Final Four according to Bodog. That puts them as the third choice behind Duke and Michigan State. BetUS has them as co-favorites with Baylor to win the Big 12 at +250, with Texas and Kansas close behind at +300.
Kansas State Wildcats Basketball Schedule
Their nonconference schedule is reasonable, with a home game against Gonzaga and a trip to Florida as the games most likely to get their pulses racing. In the Big 12 they play Kansas twice and have to travel to Texas. Their biggest challenge is going to be to take care of business better at home. Last year the Wildcats lost at home to Kansas, Oklahoma State and Iowa State. At least two of those losses are totally unacceptable.
Kansas State Basketball Predictions and Picks
I believe in this team - largely because I believe in Jacob Pullen. They are well-coached, the frontcourt is strong, and Pullen is a tornado. They are the class of the conference heading into the season. I worry a bit about their ability to stand up under that pressure, but they have a good base to build on from last year and I expect them to win the conference. The Final Four requires a team to get hot at the right time, but given what they did last year and how they have improved - and how many elite powers have big questions this year - I certainly think a Final Four berth is possible. I have no issues with the futures odds for the team.
Doc's Sports is very excited about another profitable college basketball picks season. We are considered some of the best college basketball handicappers on the Internet and we always have lofty goals for our yearly results. In the last four years our college picks have garnered +382 units and $100 players have made nearly $15,000. Our picks against the college basketball lines are always guaranteed to make a profit, or we work for free until they do.
---
Most Recent College Basketball Handicapping