2010 Kentucky Derby Preview
by Robert Ferringo - 4/30/2010


Get our 2021 Kentucky Derby coverage including Picks and Odds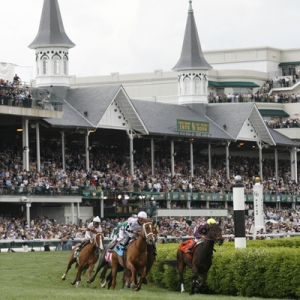 We're just over 24 hours away from the Most Exciting Two Minutes In Sports as we set up for the 136th running of the Kentucky Derby.
This year's field is as wide open as any in recent memory. California turf horses are dominating the roster, turf horses are prohibitive favorites, the weather could again be a factor, the best three-year-old in the country isn't in the race, and beyond that it's just like every other race at Churchill Downs.
A common belief about this year's race is that it could be one of the fastest early paces in recent years. The last two Derbys that featured such a striking early rush saw a huge underdog cash at the window. In 2001 Monarchos came from well off the pace to score as a 50-to-1 long shot. Another 50-to-1 stunner came through in 2005 when Giacomo soared past an exhausted field to claim the roses.
Below is a breakdown of what I feel are the four "categories" of horses in this race. The speed horses are the ones that want to get out and set the pace. The stalkers are the second-tier horses that want to lie in wait just behind the pacesetters. The closers are the horses that will be down big early before trying to make a major move down the stretch. And the fillers are the horses that are "just happy to be here" and are just filling out the 20-horse field.
Here is a category-by-category breakdown of this weekend's contenders in the Kentucky Derby:
SPEED HORSES (Horses that want to set the pace.)
American Lion (20-to-1) – This is a turf horse that has only run on dirt one time. The good news is that it won that one race, the Illinois Derby, albeit over a weak field. This horse does like to run out in front but is kind of on the fringe as a "stalker".
Conveyance (12-to-1) – More than likely this horse will be the early pace setter. Conveyance was undefeated in four starts before suffering its first loss. The bad news is that loss came in the only race it has run over a mile. He's a contender but I don't think he'll have enough to go wire-to-wire.
Sidney's Candy (5-to-1) – Speaking of wire-to-wire, Sidney's Candy has led from start to finish in its three victories. This horse also won the Santa Anita Derby – over a field that included Lookin At Lucky – en route to becoming the King of California horses. The trouble is that the Derby will be Sidney's first ever run on dirt. That's not good. It is one of the few horses in the field to have notched a 100+ Beyer rating but starting out at Post 20 isn't helping its cause.
Line of David (20-to-1) – This is another horse that will challenge for the early lead. It has a nice win at Oaklawn over contenders Super Saver and Dublin and has posted the fastest three speeds of its career in the three races leading up to the Derby.
Super Saver (12-to-1) – This horse hasn't managed to rack up wins but he has shown a lot of fight and has been on the losing end of some very, very close finishes against good competition. Stud jockey Calvin Borel is on this mount and, unlike some of the other speed horses, Super Saver is bred for this distance.
STALKERS (Horses that want to hang off the pace before making a move.)
Lookin' At Lucky (4-to-1) – Well, this is the favorite. But there is no doubt that Lucky is a weak favorite. He has a strong resume, is a nice closer, and is one of the few horses that have topped 100 as a Beyer rating. This horse was dominating as a two-year-old, winning five of six races and barely losing that sixth. But Lucky hasn't overwhelmed this year. He won the Rebel Stakes and was just third at Santa Anita in what was a "home game". This is a strong horse but I don't think the odds reflect how close to the rest of the field it is.
Paddy O'Prado (20-to-1) – Paddy is a local horse that is a bit of a meanderer. It's run on both turf and grass and hasn't exactly been impressive on either. This horse is simply a cut above a filler.
Jackson Bend (12-to-1) – This Nick Zito horse could be kicked up into the speed horse category and does like a fast start. He won five of six starts as a two-year-old but was a big underachiever heading into this race. There are questions about whether or not it can handle the distance but this is one of the fastest horses in the field. It finished second to Eskendereya, the clear favorite before a leg injury kept him out of the race, and has finished first or second in all nine of its career races. Also, jockey Mike Smith brought home a 50-to-1 long shot winner with Giacomo in 2001.
Noble's Promise (12-to-1) – If it weren't for Lookin' For Lucky this horse's resume would look a lot different. NP finished second to Lucky in three races while prepping. He has won three of seven starts overall, meaning that this is a horse with a nose for the money. The word that's thrown around while describing this horse is "heart".
Devil May Care (8-to-1) – Because of the lack of a clear favorite – and due to the success of Rachel Alexandra in last year's Preakness – people are flocking to this filly. However, no filly has won at Churchill Downs since 1988 and there have only been three filly winners in 135 years of the Derby. Also, this is a Pletcher horse and the noted trainer is 0-for-24 in this race. On top of that, her rider is John Velazquez, who is 0-for-11 at the Derby. This horse either wins or gets blown out. It is one of the fastest in the race but those are a lot of historical bugaboos to overcome.
CLOSERS (Horses that will start slow but finish strong.)
Ice Box (10-to-1) – Here is a horse with some stunning comebacks on its resume and is a mount that won't be bothered by the distance. One knock is that the last horse to win this race off a six-week layoff was Needles back in 1956.
Stately Victor (20-to-1) – This horse did nothing but get blown out by weak competition and then, in its first Grade I stakes race it pulled a stunning upset. He is a turf horse though, so I wouldn't expect much.
Dublin (12-to-1) – This is a talented horse but, much like Marty Schottenheimer, he always finds a way to blow it. He has won a Grade I race but hasn't done anything this year. Also, no horse has ever won this race from the No. 17 post and Dublin has never posted a Beyer rating over 100.
Awesome Act (8-to-1) – This English horse is intriguing. No Euro-based trainer has ever won the Derby and AA was really mediocre while running back in England. He hasn't done a whole lot in the States and stamina is an issue. But in a wide-open field this patient horse is a nice sleeper.
FILLERS (The long shots that are just filling out the field.)
Discreetly Mine (30-to-1) – This one is bred for the distance and has some "seasoning". But Discreetly is a horse that wants to lead or press and is going up against a bunch of much faster speed horses.
Homeboykris (30-to-1) – This horse hasn't run in 63 days and doesn't have a Beyer rating over 90. This one is just there to get in the way.
Dean's Kitten (35-to-1) – In its only dirt race, Dean's Kitten lost by 33 lengths. Enough said.
Mission Impazible (15-to-1) – This mount has won its first and its last starts, winning the Louisiana Derby its last time out. MI has also lost by a head and had a respectable fourth-place finish in another run. This isn't a top notch horse but could find the money.
Backtalk (35-to-1) – This horse burst onto the scene, winning its first three starts, including a run at Churchill Downs, as a two-year-old. It had some trouble on synthetic tracks and was third in the Illinois Derby. These odds seem a little high for a potential sleeper.
Make Music For Me (35-to-1) – This is a turf horse that really isn't ready to compete on the dirt of Churchill Downs. It did finish just a length behind Lookin At Lucky at Del Mar but this California horse is a washout.
Robert Ferringo is a professional handicapper. He has correctly predicted at least one Triple Crown winner in three of four years. Purchase his picks here.