Las Vegas Bowl Predictions: Boise State vs. Utah Odds and Betting Picks
by Robert Ferringo - 12/17/2010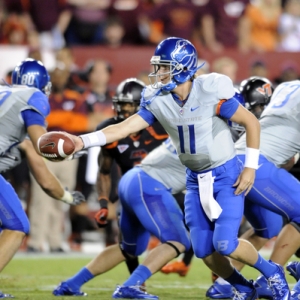 Boise State had dreams of playing for a National Championship and making a once-in-a-lifetime statement against the wretched monster that is the BCS System. They were one of the most highly discussed, argued, scrutinized and canonized teams in recent college football history and they have lost just one time, one agonizing time, in the last 26 times that they've taken the field.
Now they are playing in a pre-Christmas bowl game.
Boise State will face Utah in the epitome of an anticlimactic bowl game. The two will toe the line in the Las Vegas Bowl at 8 p.m. EST on Wednesday, Dec. 22.
This game has one real subplot and one real subplot only: where is Boise State's head? They thought they were going to play for a national title and now they are taking in dinner theatre in Vegas. If this team comes to play they are going to rout a Utah team that is still in the midst of a rebuilding year. But if they are still in a fog after their missed opportunity – they were upset by rival Nevada in their second-to-last game – then the Utes are big enough and well schooled enough to pull an outright upset.
Boise State boasts the No. 2 scoring offense and No. 4 scoring defense in the country. They have an average margin of victory of more than 31 points per game and have been devastating to opponents. Quarterback Kellen Moore was a Heisman Trophy finalist and the lefty is one of the best quarterbacks in the nation.
This is Boise State's eighth straight bowl appearance and it is the first time since 2007 that they won't close the year against TCU. They are 5-3 against the spread in the last eight bowl games but they are just 2-3 straight up in their last five, with one of the wins coming in overtime.
Utah, on the other hand, has been the best bowl bet in the nation for the better part of the last decade. They have won all eight of their bowl games in the last 10 years and are 7-1 ATS in those eight contests.
The Utes are No. 18 in scoring and No. 24 on defense. They started the season with eight straight wins before dropping back-to-back games to TCU and Notre Dame by 40 and 25 points, respectively. Utah is coming off a huge rivalry win over BYU in the last meeting as conference foes, but there is no way that they are overlooking Boise State in this one.
Las Vegas Bowl Betting Odds: Utah vs. Boise State
Boise State is a commanding favorite in this game at -17, according to the college football odds. That has actually moved up from a soft open of -15.5, but the main reason for the movement has to do with the fact that 85 percent of the action in this game has come on the side of the Broncos. Interestingly, over 90 percent of the moneyline action is on Utah, with gamblers looking for a big payday of Boise State comes out flat. The total is steady at 60.5.
Las Vegas Bowl Betting Trends: Utah vs. Boise State
Utes are 4-0 ATS in their last 4 bowl games as an underdog.
Utes are 7-1 ATS in their last 8 Bowl games.
Utes are 5-1 ATS in their last 6 games as an underdog of 10.5 or greater.
Utes are 5-1 ATS in their last 6 neutral site games.
Utes are 27-8-1 ATS in their last 36 games as an underdog.
Broncos are 4-1 ATS in their last 5 vs. MWC.
Broncos are 7-2 ATS in their last 9 Bowl games.
Broncos are 39-15-1 ATS vs. a team with a winning record.
Broncos are 25-11-1 ATS in their last 37 games overall.
Broncos are 41-20-1 ATS in their last 62 non-conference games.
Las Vegas Bowl Predictions: Utah vs. Boise State Betting Picks
There is no doubt in my mind that Boise State is one of the best three or four teams in the country. Even if they had finished the regular season undefeated they probably still would have gotten snubbed for the BCS Championship Game. The consolation would have been another BCS bowl game and a chance to win, remain undefeated, and make the Co-National Championship Argument. But that didn't happen and now they are playing in a seemingly meaningless bowl game.
It's nearly impossible to predict how this team is going to react to its situation. And motivation is by far, bar none, the biggest factor in bowl game handicapping. I think that the trends are exceptional on both sides and the maturity of the Utes can't be overlooked. I would give a lean on the 'over' in this game because if there is a lackluster performance out of the Broncos I think that it will come on the defensive side. And if they do come to play and make a statement then it's reasonable that they could ring up 40 or 50 points all by themselves.

Robert Ferringo is a writer and a NFL and college football handicapper for Doc's Sports. You can sign up for his college football and NFL picks and get more information here.