NBA Betting Props: Next Coach of the Cleveland Cavaliers
by Alan Matthews - 5/27/2010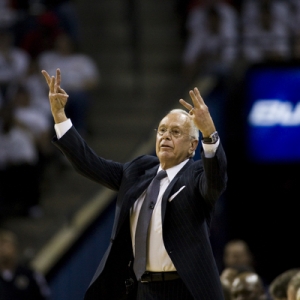 Has one player in NBA history ever controlled who his head coach would be more than LeBron James? Sure, Magic Johnson supposedly orchestrated Paul Westhead's firing in the early 1980s and got him replaced with Pat Riley, but Magic was at least going to be a Laker for a while. The Cleveland Cavaliers don't even know if James will be on their roster next year. Thus, they are basically trying to do whatever it takes to keep the most prized free agent ever in Cleveland.
So the Cavs this week fired Mike Brown, who only had a five-year record of 272-138 (.663), five consecutive first-round playoff victories and a trip to the 2007 NBA Finals. He also led the Cavs to the NBA's best record the past two seasons, but Cleveland's failure to even reach the NBA Finals led to the firing of the 2008 NBA Coach of the Year.
Thus, potentially one of the best and worst jobs in the NBA is open in Cleveland. Obviously it could be a plum job if LeBron stays because the Cavs will be contenders for as long as he's around. But if James decides to walk, then the Cleveland becomes the NBA's Siberia again. But pretty much everyone believes that the Cavs will only hire a guy that LeBron signs off on, and if he's going to walk they won't waste millions of dollars a year on a high-profile coach while they rebuild amongst all those empty seats.
With that said, Bodog has listed odds on who will be coach the Cavs in the first game of next season. Let's take a look at the candidates with their odds and a comment on each.
Avery Johnson (9/1): Johnson was quite successful as coach of the Mavericks, and he's been interviewing everywhere this offseason: Philly, New Jersey, New Orleans and Atlanta. He has never really been mentioned as a Cavs candidate, and it appears Avery is eager to land a job and won't wait for LeBron's decision in July or later. Look for Johnson to land with the Hawks.
Byron Scott (5/1): You would think Scott would have LeBron's respect because Scott has three title rings as a player with the Lakers. And he led the Nets to back-to-back NBA Finals. But as coach of the Hornets, the team seemed to regress from a conference semifinalist in 2008 to being embarrassed in the 2009 playoffs. Scott was dumped by New Orleans just nine games into this season. Don't waste your money here unless you see Scott as coach sans LeBron.
Jeff Van Gundy (20/1): Hard to see Van Gundy leaving television, where he is excellent. And he has never led a team to a championship, only getting the Knicks to the Finals once. He probably would have a better pick of jobs than Cleveland if the Cavs don't keep LeBron. This doesn't seem like a match, either.
John Calipari (9/4): Obviously this is the hot name, but Coach Cal keeps saying he will stay at Kentucky instead of joining his pal LeBron. Of course, he said he would stay at Memphis and was the coach of UK less than a week later. Calipari's reputation already is a bit shady in college circles, so think how it would look if he bailed on Kentucky now, especially after luring another stellar recruiting class for 2010 and already the top two players in 2011. He would be silly to leave Lexington and I just don't see it.
Larry Brown (20/1): Brown is more of a fixer and teacher than a caretaker, which is what he would be for James. He says Charlotte is his last coaching job.
LeBron James (1000/1): Obviously this would never happen but it's a great option!
Mike Budenholzer (18/1): If you don't know this name, he is a long-time Spurs assistant who is the likely successor to Gregg Popovich in San Antonio. No chance he's the choice if LeBron is staying. But he could definitely be an option post-LeBron.
Mike Krzyzweski (22/1): He turned down the chance to coach the Lakers with Kobe in his prime and said no to at least $12 million a year with the Nets. He won't leave Duke ever – he gets his "NBA fix" coaching the U.S. national team.
Phil Jackson (15/1): Sorry, but Jackson is a West Coast guy now. Maybe if the Lakers are knocked out by the Suns he might consider taking the Nets job because he has ties to New Jersey and loves the New York area. But his family is in California now and he has an oceanfront house and dates the boss' daughter. He's not coming to Cleveland.
Tom Izzo (12/1): Izzo has had a chance at other NBA jobs in the past, and he has a very realistic chance at another Final Four this coming season with a loaded Michigan State team. He's a Michigan man (and I don't mean Wolverines, but the state). Maybe he takes the Pistons job someday, but he seems pretty content in East Lansing.
Any other coach (1/1): This is by far your best betting option. Shoot, maybe LeBron wants his high school coach. Maybe he wants Magic Johnson. Maybe a former coach like Lenny Wilkens or Hubie Brown is the answer. There are too many options out there – especially if LeBron is gone -- not to take even money here.