2010-11 New Orleans Hornets NBA Picks with Predictions with Futures Odds
by Nicholas Tolomeo - 10/9/2010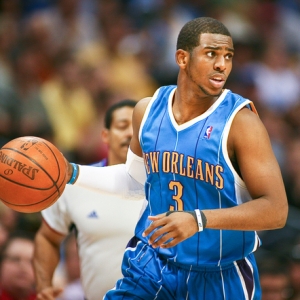 Despite trade winds blowing and rumors circulating, Chris Paul is still the point guard of the New Orleans Hornets and that, at the very least, ensures the relevancy of the franchise. The team was clearly not big enough for two sensational point guards, but it was Darren Collison who was dealt away instead of Paul, the clear franchise player.
Paul is one of the few constants this season with the franchise. New General Manger Dell Demps was hired and he brought on board new Coach Monty Williams, the fifth coach in nine years in New Orleans. They found a way to keep Paul happy and keep him in New Orleans, which set the stage for the August four-team blockbuster that ultimately brought Trevor Ariza to New Orleans while Collison ended up with the Pacers.
Other holdovers from last season are leading scorer David West (19 points per game) and leading rebounder Emeka Okafor (10.4 rebounds per game) and shooting guard Marcus Thornton (14.5 ppg). Those three, along with Ariza and Paul, make up a more than adequate starting five.
The depth will be provided by recently acquired shooting guard Marco Belinelli (Toronto), sharpshooter Peja Stojakovic and back-up point guard Mustafa Shakur, who will hopefully for the Hornets fans will not be needed too much in place of a fragile Paul. Quincy Pondexter, the No. 26 overall NBA Draft pick this year, could make an impact as a wing player off the bench.
The New Orleans Hornets schedule starts at home Wednesday Oct. 27 against Milwaukee. Seven of the Hornets first 11 games are at home. They get an early shot at the Miami Heat on Nov. 5 in New Orleans in their fifth game of the season.
New Orleans Hornets Predictions: Offseason Moves
It's not often you can lose Collison in a trade and still come away with an improved team, but that is what New Orleans did as the clear winners in the four-team trade in August. Ariza has championship experience, he remains hungry and he continues to improve. The Hornets came out like bandits again in dumping first-round bust Julian Wright off to Toronto in exchange for the Italian Belinelli, a versatile bench player with a tremendous perimeter shot. The only other major loss for New Orleans was losing veteran James Posey as part of the four-team trade.
2010-11 New Orleans Hornets Futures Odds
The New Orleans Hornets odds to win the NBA Championship this season are +8000. Their odds to reach the Western Conference Finals are +1500 and to win the conference they are listed at +3000, placing them right in the middle of the pack of teams in the Western Conference, according to the oddsmakers. NBA odds are courtesy of BetUS.
2010-11 New Orleans Hornets NBA Picks
After years of uncertainty it looks like a plan is in place with this team. Paul is the point guard and the franchise of the team and Ariza could end up being the glue that holds everything together. The center position with Okafor, who does not score much, and mop-up man Aaron Gray behind him looks to be a major weakness and a reason why New Orleans will have to fight just to get back into the postseason after a 37-45 campaign last year. Playoffs are a legitimate goal but this team does not have the makeup to get past the first round.
Doc's Sports is very excited about another profitable NBA picks season. Picks will be available starting Tuesday, Oct. 26. Doc's Sports has become known as one of the best NBA handicapper in the nation with three of four winning seasons - $100 bettors are up $18K in the last four years! Early Bird specials will be posted soon, so check our homepage regularly. Also, check our home page daily updated NBA odds, NBA betting articles and daily matchup reports. Call us toll-free at 1-866-238-6696 to find out about a free week of Doc's Sports NBA picks, or a free week from any of the fine NBA handicappers at Doc's Sports.