NFL Survivor Pool Picks and Advice: Week 14
by Matt Severance - 12/8/2010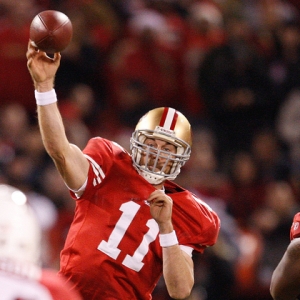 We are at the final quarter-pole of the NFL's regular season, so if you are still alive in your Survivor Pool – and why would you be reading this if you aren't? – then you can no doubt almost smell that money by now.
By this point in the year you can usually tell which teams have quit and will begin looking toward next season. That is for sure the case with Arizona, which has dropped seven in a row and probably is going to start playing the kids, including someone named John Skelton at quarterback (although because of injuries not because Skelton's ready or even the future there). The Broncos probably tuned out Coach Josh McDaniels at some point last year, but it's always dangerous to pit your Survival status against a team with an interim coach because said team could get a burst of energy (see Vikings and Cowboys). The Panthers and Bengals quit weeks ago, so they are probably safe bets to go against.
Last week I gave you four solid favorites to stay away from: the Eagles could have well lost last Thursday to Houston but were able to pull it out; the Dolphins did lose at home to a surging Cleveland team to all but end their playoff hopes; the Saints escaped Cincinnati but that also could have gone either way; and Indianapolis lost at home to Dallas for its shocking third straight loss in yet another performance where Peyton Manning looked more like brother Eli – regret not signing that long-term extension before the season, Peyton?
I will again give you four teams to steer clear of in Week 14 that are favorites of at least four points:
San Francisco (vs. Seattle): The Niners are turning back to former No. 1 overall pick Alex Smith at quarterback as former Heisman winner Troy Smith, who was 3-2 in his five starts, had been regressing pretty much every week. Smith would seem to bring a chance for bigger plays but also bigger mistakes.
Seattle is totally schizo on the road, but what if the good version shows up? If Frank Gore was healthy I'd say you are safe with the Niners as the Seahawks are allowing 165.0 yards on the ground per game since Week 8. But Brian Westbrook? Anthony Dixon?
Seattle could well put the Niners out of their misery this season with a win.
New York Jets (vs. Miami): The Jets have been known to have the occasional late-season swoon – was Monday night's embarrassment the start of one in 2010? With all that talent you wouldn't think so, but Mark Sanchez clearly isn't all the way "there" yet. And LaDainian Tomlinson might be running out of gas as he hasn't topped 57 yards rushing since Week 5.
The Fins are on playoff life support, but are 5-1 on the road, while the Jets have that short week to deal with. Maybe they rebound from the Pats beating or maybe they go into a funk. Don't risk it.
Jacksonville (vs. Oakland): If the Raiders can win in San Diego, as they did last week, they can certainly win in what no doubt will be a half-empty Jacksonville stadium. When Oakland has the ground game going, it can beat anyone – the Raiders put up 215 rushing yards on the Chargers.

I just am not a Jags believer. Maurice-Jones Drew certainly deserves MVP consideration and Jacksonville has won four of five. But the one likely playoff team in that run was the Giants, and the Jags lost that one.
I'm not saying Oakland is a playoff team, don't get me wrong. But Jacksonville was 7-5 last season, too, and went in the tank. Just saying …
New Orleans (vs. St. Louis): I'll be honest, when I pick against the Saints they win – although usually not by a lot – and when I pick for them they lose. But this just looks like a trap game.
First off, St. Louis is a dome team too, and that does matter. Plus Sam Bradford isn't making mistakes. And the Saints just played two tough road games – at Dallas, at Cincy – and then have two more tough ones on the road after this – at Baltimore, at Atlanta. Would it be that surprising to see a sluggish team this week against a Rams club that has won two in a row on the road for the first time since 2007?
Good luck in Week 14.
Allen Eastman is on fire with his college and NFL picks. Three consecutive profitable weeks for his college football and NFL handicapping selections and Eastman has helped his $100 bettors make more nearly $5,000 during that stretch. He has another very strong card coming this week, including more picks from his NFL 99 System football betting system (11-5 run).