NFL Survivor Pool Picks and Advice: Week 7
by Matt Severance - 10/20/2010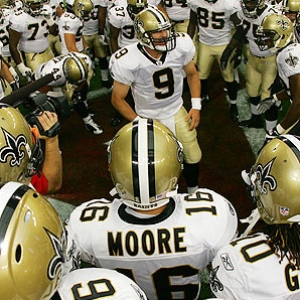 OK, I'm starting to get a bit cocky when it comes to Survivor Pool advice, because my first six top selections of the year haven't come even remotely close to losing through Week 6. And of course, I just jinxed myself in Week 7 by typing that. Let's hope not.
Last week my top pick was the Pittsburgh Steelers at home to Cleveland in Ben Roethlisberger's 2010 debut, and Cleveland actually hung in there until the third quarter or so before Pittsburgh pulled away for a 28-10 victory. If you didn't like that Pittsburgh pick my second choice was the resurgent Giants handing the Lions their record 24th road loss in a row – mark my words, Detroit is much better this year and will win a road game, so don't automatically just pick against the Lions away from Ford Field. I did miss on choice No. 3, the Bears losing to Seattle. Never will recommend the Bears again with that offensive line.
My "steer clear" choices were pretty sage, if you ask me. I said don't touch the beat-up Packers at home against the Dolphins, and that was a 23-20 Miami win. Also said stay away from the Chargers, and they fell to 0-3 by losing at St. Louis. My other worry was the Jets, but they escaped by four at Denver.
Not a lot of hugely one-sided matchups this week, so the field is limited. Off my board are the Steelers, Colts, Chargers, Packers, Ravens and Titans.
Have No Fear
New Orleans (vs. Cleveland) – I believe I said a few weeks ago that I didn't plan to use the Saints anytime soon, but I think they found themselves last week in Tampa. But this is honestly more about the Browns. Rookie Colt McCoy starts at QB and both of his top receivers, Josh Cribbs and Mohamed Massaquoi, are probably out with concussions. Plus, the team lost right tackle Tony Pashos for the season. I just can't see Cleveland scoring much.
Baltimore (vs. Buffalo) – As mentioned above, I can't use the Ravens. And in reality even if I hadn't I might not here because everyone in your league who hasn't yet used the Ravens certainly will against the wretched Bills. Thus, an upset could decimate many people. But there just aren't a lot of great options this week, so here the Ravens are. Buffalo will get someone this year.
No one else – Hey, if you don't want to take one of my top two this week, that's all I'm giving you. I could see every other game on the schedule going either way. I could pick 10 "steer clears" but will stick with three.
Steer Clear
San Francisco (at Carolina) – The Panthers don't have the talent of a winless team, meaning they are going to win at least a couple home games. And this could be one, as Matt Moore is back at quarterback and he has at least shown signs (if not this year) of being solid. Plus star WR Steve Smith looks like he might return this week. The Niners have looked terrible in two of their three road games this year.
Denver (vs. Oakland) – Frankly, I don't think much at all of the Raiders, but I barely think much more of Denver so an upset here wouldn't surprise me at all. Oakland still doesn't know whom its QB will be this week, so maybe that uncertainty messes up Denver's planning. I'm just reaching here, but the Broncos are just too inconsistent.
Kansas City (vs. Jacksonville) – It might be tempting to pick the Chiefs here because the Jags are coming in off a short week and ugly outing on Monday night, as well as the fact the Jaguars still don't know whether David Garrard, Trent Edwards or someone else starts at QB. But do you really trust the Chiefs that much yet? I think they are starting to realize who they are with two straight losses – albeit against good teams.
So, my top pick this week is the Saints. Meaning off my board along with New Orleans are the Steelers, Colts, Chargers, Packers, Ravens and Titans.
Good luck in Week 7.
Three straight profitable weeks for football picks for Doc's Sports and we are very excited about this weekend's picks. Our picks against the NFL Point Spread for this coming weekend include a 7-Unit NFL Game of the Year. Call us toll-free at 1-866-238-6696 to find out about a free one-week football package from Doc's Sports or any Advisory Board handicapper of your choice. Check our home page daily for NFL handicapping articles and up-to-the-minute updated odds.