Orange Bowl Predictions: Stanford vs. Virginia Tech Odds and Betting Picks
by Robert Ferringo - 12/31/2010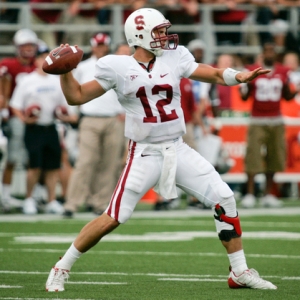 "How did they get in here?"
I suppose that could be the sentiment toward either of this year's Orange Bowl teams as both Stanford and Virginia Tech have to be considered somewhat of surprise participants in one of the sport's most prestigious bowl games. However, they will meet at 8:30 p.m. on Monday, Jan. 3, in the Orange Bowl and the winner will claim a BCS title (though not THE BCS Title) for its faithful fans and followers.
No. 13 Virginia Tech started the season 0-2, dropping a heartbreaker to Boise State in the opener and then losing a stunner to Div. I-AA school James Madison. At that point the Hokies were being left for dead and were out of the Top 25 completely after starting the season in the Top 10. They were also losing to East Carolina, 24-21, at halftime of their third game before a 28-3 second half propelled them on to what would become the first of 11 straight wins and an ACC Championship.
No. 4 Stanford has been unstoppable all season long, winning 11 of 12 games and dominating most of the Pac-10. However, I think after losing Heisman Trophy runner-up Toby Gerhardt last year there was little fanfare regarding the Cardinal as a Top 5 team in the country. This organization has been a weaker sister in the Pac-10 for decades. Yet they met and exceeded every challenge, save a game at Oregon where they led 31-24 at the half before faltering, and now Stanford is on the verge of the school's first major bowl win of the new millennia.
Stanford's offense averages 40.3 points per game and is led by triggerman Andrew Luck. Luck is considered one of the top NFL draft prospects in this year's class and the redshirt sophomore has been a stud. The Cardinal is ranked in the Top 20 in rushing and total yards and they've scored 38 or more points in five of their last six outings.
They will be a handful for a Virginia Tech defense that is still very young and very raw. The Hokies made a massive improvement from September to December, but they have still been vulnerable at times. And the fact is that although they faced some quality teams in the ACC, they only faced three top-tier quarterbacks this season (Kellen Moore of Boise State, Russell Wilson of N.C. State, and Christian Ponder of Florida State), and they gave up 30 or more points in each one of those games.
But the Hokies should be able to match Stanford nearly point for point. Tyrod Taylor has fashioned himself into an exceptional college quarterback and he guides an attack that averages 35.5 points per game this season. Tech prefers more of a ground-based attack, as they are No. 18 in the nation in rushing and have four players with more than 100 carries on the season. But they can score points in bunches and Taylor's 6-to-1 touchdown-to-interception ratio is among the best in the nation.
Rose Bowl Betting Odds: Stanford vs. Virginia Tech
Stanford opened as a stock three-point favorite in this one, according to college bowl odds. However, they have been catching over 70 percent of the action and the money has forced the books off this key number and onto -3.5 for the Pac-10 reps. The total has held at 58.0.
Rose Bowl Betting Trends: Stanford vs. Virginia Tech
Hokies are 4-1 ATS in their last 5 non-conference games.
Hokies are 14-5 ATS in their last 19 games as an underdog.
Hokies are 20-8 ATS in their last 28 games overall.
Hokies are 39-17 ATS vs. a team with a winning record.
Cardinal are 4-0-1 ATS in their last 5 games as a favorite.
Cardinal are 4-0-1 ATS in their last 5 games overall.
Cardinal are 4-1-1 ATS in their last 6 games following an ATS win.
Cardinal are 4-1 ATS in their last 5 non-conference games.
Rose Bowl Predictions and Betting Picks: Stanford vs. Virginia Tech
This is an extremely evenly matched game and is really a tough call. To be honest, my pick is probably to sit this one out. It is nearly impossible to bet against either team in this scenario as both have been so devastating ATS over the past two years. Virginia Tech is 20-8 ATS in its last 28 games and Stanford is 23-12 in its last 35 games. Both schools dominated in weaker conferences and neither really has too many "big" wins on its resume. It is really tough to tell who is going to come to play in this one. I do like to take power (Stanford) over speed (Tech), but I also know that no one has made much money betting against the Hokies in the underdog role.
If I had to make a move on this game I think I would go with the 'under'. Both teams really are run-first attacks and I think that both defenses are a little better than people give them credit for. Stanford has given up an average of under 9.0 points per game in their last five games and outside of the ACC Title Game the Hokies hadn't allowed more than 21 points in seven games. The number is pretty tight. But we could see a lower scoring game here and the 'under' could have some value.
Robert Ferringo is a writer and a professional sports handicapper for Doc's Sports. You can sign up for his college football and NFL picks and get more information here.