College Basketball Handicapping: Purdue Without Hummel
by Trevor Whenham - 3/4/2010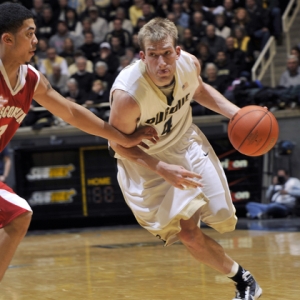 Ten days ago my NCAA Tournament projections had Purdue as a No. 1 seed, and there was a very good chance that I was going to have them going very deep in my March Madness bracket. Now, thanks to one bad step by junior forward Robbie Hummel, they are the biggest college basketball handicapping puzzle in the whole tournament.
Last Wednesday against Minnesota Hummel tore his ACL and he'll be out for the rest of the season. Hummel was the second leading scorer on the team, but he was more than just that - he was the offensive spark of the team, the centerpiece for everything they accomplished on offense. He was the player that opponents feared most, and the one that caused the most disruptions to the plans of their opponents. Purdue without Hummel is a very different team than Purdue with him - a far worse team. The question, though, is how significant the impact really is, and how we should be dealing with that as bettors.

The easiest way to get a sense of how a team will respond after a major loss is to look at how they fare in the games immediately following that loss. In this case the news is bleak, but ultimately not particularly helpful. The first game after the injury was a total disaster. They hosted Michigan State, and they were limited to just 44 points - by far their lowest total of the season - en route to an embarrassing nine-point loss. They were completely incapable of scoring, and that's obviously a result of the loss of Hummel. Not only did they miss the points Hummel would have scored, but Hummel's absence made it much easier for the Spartans to contain the scoring threats the team still has. We should also note that Hummel played only 12 minutes before his injury against Minnesota, and that game was a mere one-point win against a team they should have beaten by far more than that.
That Michigan State game was the third-to-last of the regular season. The next game proved absolutely nothing. They beat Indiana by 19, but the Hoosiers are so irredeemably bad right now that beating them handily is hardly an accomplishment. The last game is against Penn State - a team almost as bad as Indiana. The lack of real opponents in the last two games gives the Boilermakers a chance to work on their problems and get used to life without Hummel, but it also makes it very hard for us to judge how they are really doing. It will be until at least the second round of the Big Ten Tournament before we get to see if they have advance beyond the team that was no match for Michigan State.

Last year a pretty good Purdue team was forced to play five games without Hummel. The three losses were all road games, but they all should have been winnable games. Neither of the two wins were particularly compelling, either. One was a home game against Penn State - a fairly easy win for them. The other was against Arkansas-Pine Bluff - a completely outmatched opponent that would only have been able to beat Purdue if the Boilermakers had lost all five starters and most of the bench. That five-game sample isn't much, but it is enough to tell us that Purdue hasn't been their best in the past without Hummel, and quite possibly won't be going forward.

The challenge with Purdue for bettors won't just be guessing how they team will play in the two tournaments they have remaining after the regular season, but how the betting public is going to react and where that will put the value in these games. We can get a sense from looking at the futures odds - Purdue has gone from 10/1 to 18/1 to win the tournament since the injury - that the the public has a strong sense that this injury is very significant. We also know from countless other high-profile injuries in all sports in the past that the public has a tendency to overcompensate for those injuries. If we can become comfortable in the next couple of games that Purdue is going to be okay then we may be able to find situations where the public overcompensates and there is value in betting on Purdue regardless of the struggles they face without Hummel.

The other issue for the Boilermakers is where they end up in the bracket. A loss by Duke this week means that Purdue isn't completely out of the race for a top seed. Even if they don't get that, and they aren't likely to, they are still in a good position to get a high seed if they can get their act together through the Big Ten Tournament. More than most highly regarded teams, a short-handed Purdue team is going to depend heavily on a favorable tournament draw. I don't think that you'll really be able to assess this team's chances until you can see who they will be forced to play.
---
Most Recent College Basketball Handicapping