Rose Bowl Predictions: TCU vs. Wisconsin Odds and Betting Picks
by Robert Ferringo - 12/30/2010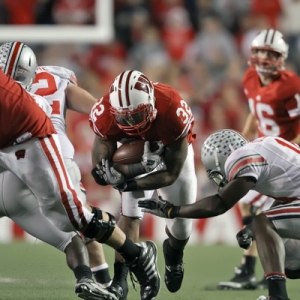 All we have heard for the last two years is how TCU and the other mid-major college football teams want a shot at the Big Boys for the Big Money. Well, this year the Horned Frogs are going to get a crack at one of the biggest boys on the block.
No. 3 TCU will bang heads with mighty No. 5 Wisconsin at 4 p.m. on Saturday in the Rose Bowl in Los Angeles. This game is the first of five BCS bowls this year and would wrap up an undefeated season for the Horned Frogs.
If they end the season unbeaten, especially with a convincing win over co-Big Ten champs Wisconsin, you can be assured that there will be plenty of clamoring for a split National Championship. But we have a long way to go before we reach that point.
TCU, statistically, has the No. 1 defense in the country for the third year in a row. So unlike fellow mid-major national title contender Boise State, the Horned Frogs have gotten to this point not based on some hectic, wacky, gimmicky, too-easy-not-to-take-serious offensive firepower. Instead, the Horned Frogs have earned national respect the old fashioned way: buy cold-cocking people with a sledgehammer defense.
TCU will be matched up against the most powerful, dominating running game in the country. Wisconsin is No. 12 in the nation in rushing yards and relies on a three-back attack to bludgeon opponents into submission. Wisconsin's James White, John Clay and Montee Ball combined for 465 carries and 2,829 yards this season, good for an average of 6.1 yards per carry.
The Badgers averaged 43.3 points per game this year, and in the last month of the season scored 34, 83, 48 and 70 points. This team was able to grind out 350 total yards (with 142 rushing yards) and 31 points against Iowa's exceptional defense and they rumbled to 338 yards (186 rushing) and 31 points against Ohio State.
The focus before this game may be on the speed of the TCU defense against the brute strength of the Wisconsin offense. But the winner of this game may be decided by how the Wisconsin stop unit holds up to the Horned Frogs offense.
Wisconsin boasts the No. 21 defense in the nation and is in the Top 30 in both points allowed and passing yards. But their defensive numbers may be a little skewed against them because they were involved in so many blowouts.
TCU's veteran offense is led by triggerman Andy Dalton. The four-year senior starter has been one of the nation's most efficient quarterbacks the last two years and has complete control of the TCU offense. Like Wisconsin, it all starts on the ground for the Horned Frogs. They are No. 9 in the nation in rushing and they to average 43.3 points per game.
Orange Bowl Betting Odds: TCU vs. Wisconsin
This game is receiving the most lopsided betting action of any of the BCS bowls. The Horned Frogs are a solid favorite at -3.0, according to college bowl game odds, and that line has held firm since it opened despite nearly 75 percent of the action coming in on the Badgers. The total has risen to 58.5 from an open of 56.5.
Orange Bowl Betting Trends: TCU vs. Wisconsin
Horned Frogs are 4-1 ATS in their last 5 games as a favorite.
Horned Frogs are 4-1 ATS in their last 5 games following a S.U. win.
Horned Frogs are 4-1 ATS in their last 5 games overall.
Horned Frogs are 5-2 ATS in their last 7 games on grass.
Horned Frogs are 1-4 ATS in their last 5 non-conference games.
Badgers are 6-0 ATS in their last 6 games following a S.U. win.
Badgers are 4-0 ATS vs. a team with a winning record.
Badgers are 6-0 ATS in their last 6 games overall.
Badgers are 4-1 ATS in their last 5 games as an underdog.
Badgers are 2-6 ATS in their last 8 non-conference games.
Badgers are 1-4 ATS in their last 5 vs. MWC.
Orange Bowl Predictions and Betting Picks: TCU vs. Wisconsin
I don't know why I have been slow to embrace the Horned Frogs, but I have. I think a big issue that I have with this team is the same that everyone else does: they didn't play anyone. They controlled their biggest nonconference opponent, Oregon State, but they only won that game by nine points. That one was at home and as it turned out Oregon State stunk this year. They demolished their two big Mountain West rivals, Utah and BYU, but I think everyone agrees that it was kind of a down year for both of those programs. I give TCU credit for everything they have accomplished the last three years and they are a great team, but I do have to say that I'm still a non-believer.
But then again, Wisconsin has been a notorious underachiever for the past three seasons. They have started each year with national title hopes only to flop in the biggest games against the top competition. However, this season seems a bit different. And maybe Wisconsin is the team of destiny more than TCU. BCS bowl underdogs have been solid value plays over the past several seasons. And I think that the Badgers will be able to consistently "move the pile" against the speedy TCU front. I like the 'under' and the underdog in this matchup and think it will be one of the best of the BCS games this year.
Robert Ferringo is a writer and a professional sports handicapper for Doc's Sports. You can sign up for his college football and NFL picks and get more information here.