Atlantic 10 Tournament Odds and College Basketball Predictions
by Alan Matthews - 3/7/2011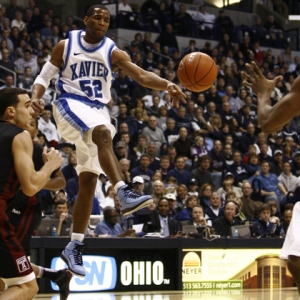 The Atlantic 10 has long been considered possibly the best mid-major conference in NCAA basketball, and you could certainly make that argument this year, although the A-10 might sit just behind the Mountain West in terms of top-heavy strength.
The Atlantic 10 Tournament begins on Tuesday on campus sites before moving to Atlantic City for the quarterfinals on Friday. The top four regular-season finishers in the conference; Xavier, Temple, Richmond and Duquesne; all have byes into the quarterfinals. The other seeded teams are No. 5 George Washington, No. 6 Rhode Island, No. 7 St. Bonaventure, No. 8 Massachusetts, No. 9 Dayton, No. 10 La Salle, No. 11 Saint Louis and No. 12 Saint Joseph's.
It really doesn't matter what top-seeded Xavier and No. 2 Temple do in the A-10 Tournament as they will be headed to the Big Dance regardless. Richmond is probably on the bubble while all of the other teams would need to win the championship to play in the NCAA Tournament.
The favorite: The Musketeers (24-6, 15-1) beat Saint Louis on Saturday, 66-55, to claim the outright regular-season title for the first time since 2009 but the third time in four years. They have won at least a share of the regular-season title five years straight, tying a conference record. Xavier is the +120 favorite on BetUS to win this tournament. The Musketeers will face the winner of the No. 8 seed UMass and No. 9 seed Dayton game that will be played Tuesday at UMass. Xavier enters on a season-high nine-game winning streak following its lone conference loss, a shocker to doormat Charlotte.
Xavier's star is Tu Holloway, who was named conference Player of the Year by the league's coaches. Holloway is the only player in the top five in the Atlantic 10 in scoring and assists. He is second in the Atlantic 10 in scoring at 20.1 points per game and averages 5.5 assists and 5.2 rebounds per game while ranking second in the conference in free-throw shooting at better than 86 percent. Holloway is one of just three players in NCAA Division I that is averaging at least 20 points and 5.0 assists per game and likely will become the first Xavier player to ever finish a season with averages of at least 20 ppg. and 5.0 rpg.
The contender: Temple (24-6, 14-2) has been the team to beat once tourney time comes around as the Owls have won the A-10 Tournament the past three seasons: Thus they are on a nine-game winning streak in A-10 tourney play. Temple, +150 to win this tournament, has won 11 of 12 games since losing at Xavier 88-77 in the only regular-season meeting between the schools. The Owls' only loss since then was rather understandable: at Duke.
The sleeper: It's hard to call Richmond (+250) a sleeper considering the Spiders are 24-7 overall and 13-3 in the conference. Their only two losses in the past 13 games are against Xavier and at Temple. But this team beat Purdue back in November and reached the A-10 title game last year, only to lose a heartbreaker to Temple. Richmond probably has to reach the conference title game again to get an at-large NCAA bid.
The first-round matchups (all games Tuesday):
LaSalle (14-17, 6-10) at St. Bonaventure (16-13, 8-8), 5 p.m. – Both teams enter having lost three of their past five games and the Bonnies beat visiting LaSalle 82-61 back on Feb. 12.
Saint Joseph's (9-21, 4-12) at George Washington (17-13, 10-6), 7 p.m. – GW won at St. Joe's 78-71 on Jan. 8.
Saint Louis (12-18, 6-10) at Rhode Island (18-12, 9-7), 7 p.m. – the Rams won at SLU 59-57 on Jan. 26.
Dayton (19-12, 7-9) at Massachusetts (15-14, 7-9), 9 p.m. – the Minutemen beat visiting Dayton 55-50 on Jan. 9.
The quarterfinals tip off Friday in Atlantic City at noon with Xavier vs. UMass/Dayton.
Atlantic 10 Tournament predictions: I frankly see no reason why it's not Xavier and Temple in the tournament final – they are clearly head and shoulders above the rest. I'd think Temple would have a good shot at making it four tournament championships in a row, but it appears that forward Scootie Randall is likely out for this tournament. He has missed the last five games due a right foot injury but could get back for the Big Dance. He third on the team in scoring (11.6 ppg,) while leading the squad in three-pointers (45). He was named the A-10 Most Improved Player this year and had a career-high 28 points in that regular-season meeting with Xavier. The Owls can beat Richmond in the semis without Randall but not Xavier in the final.
Doc's Sports is one of the hottest college basketball handicappers in the country. Our college basketball picks have earned $100 bettors more than $4,000 the last 10 days alone. Another strong card is coming on Tuesday and you can get his pick HERE for only $30.
---
Most Recent College Basketball Handicapping