BCS National Championship Game Odds With Betting Predictions
by Robert Ferringo - 1/10/2011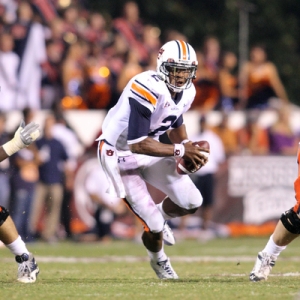 Lights. Camera. Action. And like it or not, but the BCS System is about to crown another college football National Champion.
Full bragging rights will be claimed and history will be written at 8:30 p.m. tonight when No. 1 Auburn takes on No. 2 Oregon in what promises to be as fast-paced and high-flying BCS National Championship Game. The game will take place at University of Phoenix Stadium in Glendale, Arizona.
It's no secret that both the Tigers and Ducks are vying for the title due to their explosive offenses. Oregon's attack averages nearly 50 points per game (49.3) while Auburn's offense is good for 42.7 points per outing. Both teams are ranked in the Top 10 in total yards, scoring, and rushing, and they have yet to find a defense that could slow them down.
Defensively, the numbers are a little skewed because, well, the respective offenses were so busy scoring that the defense was on the field more than most teams. Neither is ranked in the Top 20 in the country, although Oregon is No. 12 in points allowed and Auburn is No. 7 in rushing defense.
Oregon is also No. 1 in the country in scoring differential, demolishing their opponents by an average of 31 points per game. Their path to the title game was paved by one dominating effort after another and only two teams – Cal and Arizona State – were able to stay within two touchdowns of the Ducks. However, they also had the benefit of playing in a Pac-10 that, admittedly, lacked the overall strength that the BCS conference normally provides.
Auburn, on the other hand, has navigated the minefield that is the SEC this year. They've excelled in crisis and have used multiple comebacks to reach this championship opportunity. Six of their 13 wins this year have come by eight points or less and four have been by a field goal or less. Of course, they also have blowout wins over such talented teams as Arkansas (by 22), Georgia (by 18) and South Carolina (by 39) so it hasn't all been tiptoeing.
The Tigers also boast the country's most dominant players, Heisman Trophy winner Cam Newton. The spectacular quarterback is a one-man wrecking crew and was unstoppable throughout the season. He has 28 touchdown passes, 20 rushing touchdowns, and even has a receiving score. And he accomplished everything despite a season marred by controversy (if you don't know what that's about, you're not betting on this game). However, Heisman winners are just 3-7 against the spread in the last 10 bowl games.
BCS National Championship Game Odds: Oregon vs. Auburn
The lines on this game have moved a bit recently. Auburn was installed as a rather token favorite at -2.5, according to college football bowl odds, but that line can be found as low as 1.0 (or even as high as 3.0 at Bodog). They are taking two of every three wagers in the most heavily wagered bowl game on the board. Also, the total opened at 74.0, but has dropped to 72.5 with heavy late action on the 'under'.
BCS National Championship Game Betting Trends: Oregon vs. Auburn
Tigers are 6-1 ATS in their last 7 games overall.
Tigers are 5-1 ATS in their last 6 games as a favorite.
Tigers are 4-1 ATS in their last 5 games following an ATS win.
Tigers are 4-1 ATS in their last 5 games on grass.
Tigers are 1-4 ATS in their last 5 non-conference games.
Ducks are 5-1 ATS in their last 6 bowl games as an underdog.
Ducks are 14-5 ATS in their last 19 games as an underdog of 0.5-3.0.
Ducks are 10-4-1 ATS in their last 15 games following an ATS win.
Ducks are 3-7 ATS vs. a team with a winning record.
BCS National Championship Game Betting Predictions: Oregon vs. Auburn
Well, I have a side play in this game so I'm not going to give a free play there. However, I think that there may be some value on the total in this one. Only two of he 12 BCS Title games have seen over 70 points – the Texas-USC classic in 2005 and FSU-VT in 1999. And after a month-and-a-half of all of the focus being on these two offenses I'm willing to bet that one, or both, of the defenses will step up. You find in these championship games that you nearly lose a full quarter because everyone spends the first quarter kind of dancing around the ring. No one wants to be the first team to give up a big play and neither wants to be the team that makes a mistake. So if this game holds to form then I think it's going to be a tough task for these clubs to combine for 60 or 70 points in the final three quarters. Especially because whoever is leading late in the game will be looking to go into a stall or "clock kill" a little earlier than normal.
If both teams go out and play pinball on the scoreboard, threaten 50 points apiece and send this one flying over the total then on Tuesday Everyone will be Right and it will have been "obvious" to take the 'over'. However, how often in these situations does that really happen? Last year the total was just 44.5 and all of the talk was about two dominating defenses for Alabama and Texas. The result: 58 total points, 37 for Alabama alone, and an easy 'over' play. In betting, if you can find yourself on the opposite end of the "obvious" plays, especially in championship game settings, then you're going to make a lot of money in the long run. Take the 'under' here.
Robert Ferringo is a writer and a professional sports handicapper for Doc's Sports. You can sign up for his college football and NFL picks and get more information here.