2011 Belmont Stakes Contenders
by Robert Ferringo - 6/3/2011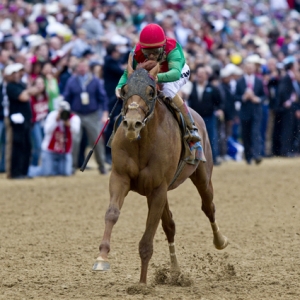 The Belmont has become one of the biggest buzz kills in sports.
The Belmont Stakes will take place at 6 p.m. on Saturday, June 11 at Belmont Park in Elmont, NY. This will be the 143rd running of The Belmont and it will be televised on NBC.
Once again, 2011 has given horse racing unique winners for both the Kentucky Derby and the Preakness. With no possibility of the sport's first Triple Crown since Affirmed in 1978 – were he alive I'm sure he'd pop a bottle of champagne, a la the 1972 Dolphins, every time a potential Triple Crown horse falters – there is very little intrigue or interest surrounding what has become "the other Triple Crown race".
The Belmont lacks the pomp and circumstance, the beauty and self-import, of the Kentucky Derby. The Belmont also lacks the debasement and immorality, the beauty and self-indulgence, of the Preakness. (Or, at least what the Preakness had before the track handlers made race day about as enjoyable as a proctology exam.)
There is nothing distinctive about The Belmont. Other than the fact that it's the "hangover" race after the Derby winner flops at Pimlico. The Belmont has become a race run simply because we have to complete the trinity rather than a race that is at all anticipated or revered. It lacks the life, the buzz, the celebration of the decadence and depravity that racing represents. And unlike its two sibling races the Belmont generates no excitement from the general gambling public.
The Belmont will once again be a subdued, second-tier Triple Crown race this year. One of the worst fields of hree-year-old horses in recent memory has given us – well, those of us that didn't hit back-to-back winners with double-digit long shots coming through – a pair of rather nondescript, sloppy, and unpredictable races. That leaves betting on the 2011 Belmont left for those either A) looking to nail their own personal trifecta by going 3-for-3 with winners this year (*clearing throat*), B) looking to chase down some losses from the previous two Triple Crown races, C) looking for something non-baseball to bet on until the NFL returns…in 2012, or D) looking to get some action on the race to just make it bearable.
But no matter which category you fall into there is still reason to wager. After all, horse racing is still legal in this great nation of ours.
This year we have 12 horses in the Belmont Stakes field, but rarely is there more than a half-dozen legitimate Belmont contenders among that group. So with that in mind, here is a list of 2011 Belmont Stakes contenders:
1. Animal Kingdom - This mount actually put forth a much, much better effort than I had expected at Pimlico. Styles make races. And Animal Kingdom's stalking approach is rarely in vogue at the Preakness. However, a second-place effort has this horse as the clear favorite heading into the Belmont. Animal Kingdom is looking to distinguish itself from a rather lackluster class of three-year-olds, and can do so by swiping two legs of the Triple Crown. Animal Kingdom will be running its third intense race in a month. However, this horse seemed to be picking up speed at the wire of both the Derby and Preakness so I don't think that it will have any trouble handling the distance in Elmont.
2. Shackleford – I am listing Shackleford among the 2011 Belmont contenders out of sheer respect for its Preakness victory. However, the truth of the matter is that a win at Elmont would be a pretty huge upset. As I mentioned, styles make races. And Shackleford is a front-running, speed horse. That style is perfect for the Preakness, which is the shortest of the three Triple Crown races. However, I don't think that this mount is going to have enough in the tank to handle the 1.5-mile path at the Belmont. Shackleford tried to stalk in the Fountain of Youth back in February. But he faltered there and finished fifth. I'm just not sure this horse can change up its style and still be successful this late in the game.
3. Nehro – Despite the fact that this horse is 0-for-2 with Triple Crown wins this year, I still think that Nehro is among the most well-rounded horse in this muddled three-year-old class. Nehro decided to sit out the Preakness, and that means that this mount should be rested and rearing to go for Belmont. This horse has yet to win a stakes race – which is usually a red flag – but it does have near-miss efforts in the Kentucky, Arkansas and Louisiana Derbys, all of which featured the top horses in the class. Nehro also boasts a strong pedigree: sire Mineshaft also produced 2007 Belmont winner Rags to Riches.
4. Mucho Macho Man – As I said while avoiding this horse in the Preakness: this horse is good enough to finish in the money but not good enough to win anything. That has been Mucho's modus operandi throughout his career while finishing on the board in nine of 10 starts. However, this horse still has to be considered because even though it threw a shoe at Pimlico it still finished sixth in a 15-horse field. That shows me speed and, most importantly, determination. And most veteran horse racing handicappers will tell you that last half-mile at Belmont is almost entirely won on heart. Can Mucho Macho Man get over the hump? It's a big question. But considering that it will likely be facing long (see 10+-to-1) odds, it could be a very enticing gamble in what has been a year for major horse racing upsets.
5. Santiva – This horse is playing a little coy with bettors by not fully committing to run at Belmont. However, we know that this Eddie Kenneally horse is going to find its way into the field. He has been bred for this distance, which is a benefit, and it showed some closing kick at the Kentucky Derby. Santiva was a non-factor in that race, but spent the majority of it caught in the muck of the middle of the pack. This horse is not one that I am taking seriously on short odds. But it is a contender in this weak field.
6. Brilliant Speed – I will throw this horse in here just because we're staring at a weak field. And because you can never fully overlook a horse that wins a race like the Bluegrass Stakes. But Brilliant Speed is a turf horse. Several of the last Belmonts have been tortured by rain and soggy conditions. If that is the case this year – and early indications are that it will be rainy that weekend – then I would immediately discount this horse.
Robert Ferringo is coming off a back-to-back Triple Crown victories this year and will be going for the Horse Racing Handicapper Triple Crown – going 3-for-3 in Triple Crown predictions – at the Belmont his June. He has picked the winner in four of the last five Triple Crown horse races and you can sign up to get his Belmont Stakes picks for just $20.