2011 Michigan State Spartans Football Predictions and Big Ten Odds
by Alan Matthews - 7/29/2011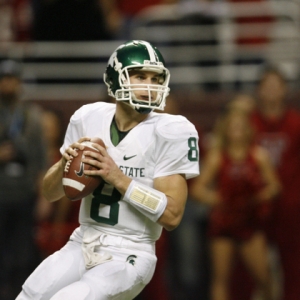 It's hard to know whether Michigan State has climbed into the elite of the Big Ten or whether last year was partly smoke and mirrors. The Spartans finished in a three-way tie for the conference title, but they were bumped from a BCS bowl because they were lower in the BCS standings than both Wisconsin and Ohio State. Therefore, MSU got sent to the Capital One Bowl in Orlando.
(Ironically, now that Ohio State vacated all those 2010 wins, technically Michigan State then would have been headed to the Rose Bowl because it would have been tied with only Wisconsin and MSU beat the Badgers.)
At the bowl game, MSU was exposed by Alabama, getting crushed 49-7 to finish 11-2 (a school record for wins). And that bolstered some fans' claim that Sparty wasn't as good as its record because MSU needed miracle finishes to beat Notre Dame and Purdue during the regular season.
Coaching
No matter whether people think MSU was overrated last year, there's no doubt it is a preseason Top 25 club this year and on the rise under Mark Dantonio. This team is so much on the rise that Ohio State might come calling on Dantonio, a former Buckeyes defensive coordinator, when OSU conducts a national search to replace Jim Tressel after the 2011 season.
Dantonio has vastly improved MSU's recruiting and he became a legend in East Lansing by calling for a fake field goal – "Little Giants" – in overtime against Notre Dame. It turned into a 29-yard touchdown pass for a 34-31 win and seemed to give Sparty good karma for the rest of the season (Iowa and Alabama blowout losses notwithstanding). Dantonio pulled another rabbit out of his hat in a game against Northwestern, calling a successful fake punt with his team down 10 points early in the fourth quarter. After the fake, Michigan State outscored the rattled Wildcats 21-3 to win, 35-27.
All that excitement is of some concern to MSU fans as Dantonio couldn't be on the sideline for two games following that Notre Dame win because he had a mild heart attack shortly after the game-winning kick.
Offense
It has been awhile since you could say this, but Sparty might have the best offense in the Big Ten this season behind Heisman Trophy candidate and senior QB Kirk Cousins. He should easily be the best passing quarterback in the conference. Last year Cousins completed 66.9 percent of his passes for 2,825 yards and 20 touchdowns, with 10 interceptions. And he was huge when it mattered. In the second halves of games, Cousins completed 70 percent of his passes, with 11 touchdowns and three interceptions.
And MSU should have the best backfield in the Big Ten outside of Wisconsin with shifty Edwin Baker (1,201 yards last season) and bruiser Le'Veon Bell (605 yards in limited time due to injury). Third-stringer Larry Caper is no slouch, either. At receiver, MSU is very deep despite losing leading pass-catcher Mark Dell. B.J. Cunningham will replace Dell as the go-to guy, while Keshawn Martin is the big-play receiver and former QB Keith Nichol is steady as they come. Really the only question on offense is the line, which lost its starting center and both tackles from last year. Overall six starters are projected back on offense.
Defense
This unit lost one of Michigan State's all-time greats in two-time all-American linebacker Greg Jones. And linebacker could be a weakness with fellow starter Eric Gordon also gone. But the defensive line should be a strength, now led by likely all-Big Ten tackle Jerel Worthy. The next superstar could be end William Gholston, who is the most touted recruit Dantonio has gotten to East Lansing. He showed signs last year before a late-season shoulder injury. The secondary has two starters back, led by second-team all-Big Ten safety Trenton Robinson. Overall six starters are back on defense.
On special teams, punter (and fake-play master) Aaron Bates is gone, but all-Big Ten kicker Dan Conroy is back after making 15 of 16 last year. Sparty seems to always have one of the nation's top placekickers.
2011 Michigan State Spartans Football Schedule Analysis
MSU is probably a better all-around team than last year, but it's hard to picture the Spartans getting 11 wins again. They may not be favored in any games of their brutal road schedule: at Notre Dame, Ohio State, Nebraska, Iowa and Northwestern. Their home nonconference schedule should be a piece of cake, but the Spartans also have to deal with improving Michigan and likely conference favorite Wisconsin in East Lansing. The only conference locks would seem to be at home vs. Minnesota and Indiana.
2011 Michigan State Spartans BCS and Big Ten Odds
The Spartans' 'over/under' win total is 7.5, with the 'over' a slight favorite. WagerWeb has Sparty at +5000 to win the national title. Bodog has MSU at 10/1 to win the first Big Ten title game and 4/1 to win the Legends Division (second to Nebraska). Cousins is 35/1 to win the Heisman.
2011 Michigan State Spartans College Football Predictions
I think MSU could win three of those road games: Notre Dame, Ohio State (that's the final game the quartet of Buckeyes will be suspended for) and Northwestern. Good luck winning at Nebraska and Iowa, however. State has owned Michigan of late, winning three in a row in the series for the first time since 1965-67, but new Wolverines coach Brady Hoke seems likely to change things sooner or later. So let's say MSU goes 6-1 at home (losing to Wisconsin) and 3-2 on the road. That's a very solid 9-3 record, but probably not enough to win what is a loaded Legends Division with all three losses coming in conference. But take the 'over' 7.5 wins certainly.

Doc's Sports is set to embark on our 40th year of handicapping college football. Doc is coming off a profitable season with his college football picks, including winning his Big Ten and College Football Games of the Year. Doc spends the hours during the week studying the college football odds and releases 6-8 college football plays per week including top plays (6-8 unit selections). Doc is ready to start the first week of September and our Magnificent 7 Packages gives you every college football selection that we make through the BCS Championship Game in January of 2012. Jump on board now with one of the best college football handicappers in the business.