Doc's Sports 2011 Michigan Wolverines Football Betting Preview
by Doc - 8/30/2011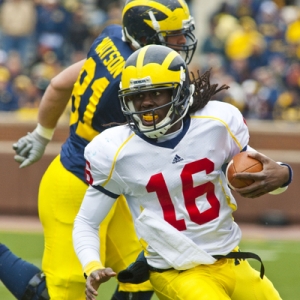 Predicted Overall Record 8-4 (5-3 in Big Ten)
Click here for the 2011 Michigan Wolverines football schedule.


The Wolves will feature a new coach this season in Brady Hoke. Even more important will be the job that the new defensive coordinator has in trying to turn around this program. That task will fall to Greg Mattison, who has coached this position for the Baltimore Ravens and Florida Gators in recent years. It was imperative for Michigan to hire the right man for this job as they were one of the worst defensive teams in the country under Rich Rodriquez the last three years.
YouWager.eu is the Top sportsbook of choice when it comes to customer service and fast payouts. Make your first deposit and receive an additional 100% welcome bonus worth up to $1000 courtesy of YouWager.eu online sportsbook! Use PROMO CODE DOCSPORTS
Strengths: This coaching change should give this program and fan base some much-needed life. It also does not hurt to have one of the top returning quarterbacks in the conference in Denard Robinson. He is a great athlete, and along with Michael Shaw they should be able to pick up major yardage on the ground. Michigan plays their first five games of the season at the Big House, and it's imperative that they go at least 4-1 since all five games are winnable.
Weakness: Until proven otherwise, the defense is still a major concern. The November schedule is brutal with a five-game stretch between Oct. 8 and Nov. 12 that features four road games. In my opinion, this team is still a year away.
Favorable Win Against the Spread: Oct 1 vs. Minnesota. Michigan has always had success against the Gophers. They have won 36 of the last 39 meetings, but the teams have not met the last two years. Minnesota is not as talented this year, but the Gophers could enter the Big House with a 3-1 record, thus making the line attractive in what will be a Michigan rout.
Favorable Loss Against the Spread: Nov. 12 at Illinois. This is a big revenge game for Illinois as they lost to Michigan in 2010, 67-65, in triple overtime. The Wolves will be coming off a tough road game at Iowa while Illinois will enter this game off of a bye. Homer certainly looks to be the only call in this game.
Closing Thought: This will definitely be a team to keep an eye on early in the season. Early success may cause the oddsmakers to make the wrong adjustments later in the season. The defense will be the key, as the $750,000 salary of Mattison will hopefully yield this team some returns on that investment.
Doc's Sports is set to embark on their 40th year in the sports handicapping business this football season. Yes, Doc started the company back in 1971 and still spends his weekends in front of the TV watching numerous games throughout the day. We are again expecting a monster season in college football anchored by our weekly selections from the Big Ten Conference. Our main office is located right in the heart of Big Ten Country and each year we fully expect to hit 2 out of every 3 college football picks we release from this conference. Jump on board now with a full season football picks package from Doc's Sports!