NBA Betting Advice: Season Player Props and Predictions
by Alan Matthews - 12/15/2011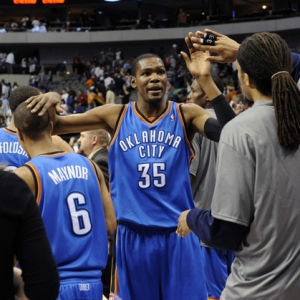 The 2011-12 NBA props are starting to roll out big-time at the various books with the season now barely a week away from tipping off, even though several teams remain in flux with free-agent signings and trades.
At least the Chris Paul saga is over, however, and it appears we don't have to hear Dwight Howard trade rumors for at least a few months.
Back after the NBA Draft I addressed the 2011-12 NBA Rookie of the Year odds – I thought Washington's Jan Vesely was the best "value" back then at 12/1 on Bodog (now 14/1). Now let's look at the season leaders in points, assists, rebounds and the MVP favorites with NBA odds courtesy of BookMaker.
The player to have the highest points-per-game average this season is a no-brainer favorite: two-time scoring champion Kevin Durant at +100. It's just not easy to win the scoring title three years in a row, however. Kobe Bryant didn't do it, Tracy McGrady didn't do it and neither did Allen Iverson. The last player was Michael Jordan in the mid-to-late 1990s.
Thus, I don't recommend Durant at such a low cost (plus I think James Harden has a breakout season for the Thunder and, thus, takes a few points per game away from Durant).
LeBron James is the second favorite at +250 and he finished second to Durant last year. But I expect James to play even more point-forward this year, especially with Shane Battier able to fill his small forward spot. Thus, I think James takes maybe a couple fewer shots per game – not to mention having to still share shots with Dwyane Wade (+800).
The guy I love is the Knicks' Carmelo Anthony at +650. He finished third in the scoring race last year, about two points behind Durant. But Anthony averaged a point more as a Knick after being traded from Denver and now will be even more comfortable with his teammates. Anthony doesn't bother playing much defense so he won't exactly tire on that side of the floor, and the addition of Tyson Chandler should mean more second-chance shots for Carmelo.
Some might say the loss of Chauncey Billups hurts Anthony's cause, but I would argue he has to shoot even more now to make up for the points lost with Billups.
On the assists prop, Phoenix's Steve Nash edged Boston's Rajon Rondo last year, 11.4-11.2. The Nets' Deron Williams was the only other player in double figures.
Nash and Rondo have opened as +250 favorites, but I see age starting to catch up with Nash and the Suns aren't going to be very good. Rondo, meanwhile, is too much of a head case and could be pouting all season over rumors he was going to be traded. He still might be.
I think you have to go Paul here at +350. Can you imagine how many alley-oop assists he may get per game throwing to Blake Griffin and DeAndre Jordan? I think Paul is energized by this trade and has a huge season – the scoring can be left to the likes of Griffin, Caron Butler and Billups (not that Paul won't get his 20).
Minnesota's Kevin Love was a surprise rebound leader last year at 15.2 per game, a little more than one board more than Orlando's Howard, who won the rebounding title the previous three seasons. Both Love and Howard are the +105 favorites, and as much as I'd live to give you a good longer-shot value pick, you have to go with Howard here. He remains the only inside presence the Magic have and I think he stays there at least up until the trade deadline.
Finally, on the NBA MVP prop, Durant and LeBron are the +150 favorites with reigning MVP Derrick Rose at +350.
With all due respect to Rose, who is terrific, he seemed to get criticized by the media a bit after he struggled against LeBron and Co. in the East Finals – it was pretty clear that LeBron was the MVP of the league.
The NBA MVP is a popularity contest probably more than any other sport's MVP. And it seems the media's scrutiny of LeBron has softened a year after the "Decision." I could see James averaging nearly a triple-double this season and I think you have to take him to win a third NBA MVP award.
If you want a longer shot I would go with the Mavericks' Dirk Nowitzki at +1300 because he has all the momentum (and popularity) entering this season off last year's NBA Finals MVP award. Dirk won his lone regular-season MVP back in 2006-07.

Doc's Sports is offering our best price ever for a full season of expert NBA picks! If you purchase a full-season NBA package this week (for our lowest price ever of $499) you will get two free NBA handicappers to try out free for two weeks – after that two weeks you can pick from the three handicappers to continue on with or you can get a great deal on multiple handicappers. Click Here for more information.