2011 NBA Draft Predictions: Jimmer Fredette Props
by Alan Matthews - 6/20/2011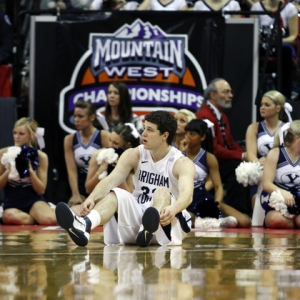 The 2011 NBA Draft is on Thursday night, and basketball betting fans better enjoy it because I have a feeling we won't see any more pro basketball for a long while with the owners set to lock out the players when the current collective bargaining agreement expires at the end of the month. With said, we'll hit the NBA Draft props hard this week with a variety of 2011 NBA Draft predictions throughout the week.
And let's start with perhaps the most intriguing prospect in this draft: Jimmer Fredette. The one thing everyone agrees on is that Fredette, who led the nation in scoring last season at BYU, can shoot. Every scout says he's got an NBA-ready shot right now and that he could be a very solid scoring reserve from Day 1. But the problem is that most scouts think he will have problems creating his own shot because he's not a stellar ballhandler. Plus, he's considered a weak defender and is likely to get overpowered by many NBA shooting guards because Fredette is only a shade above 6-foot-1. He's simply to slow to play point guard. Think of Fredette as sort of like former Indiana Hoosiers star Steve Alford, who starred in college as well but never lived up to his billing in the NBA. But maybe he can also be like former Detroit Pistons sixth man scorer Vinny Johnson.
Fredette would love to play for the New York Knicks for two reasons: He's from Glens Falls, N.Y., and Coach Mike D'Antoni's fast-paced system would figure to be ideal for Fredette. The latest reports are that the Knicks are attempting to trade up from their No. 17 spot to land Jimmer because there's little chance he is available then.
One of the Jimmer props available at Bodog is whether he will be a lottery pick, which means he'd have to go no later than No. 14 (which is currently held by the Houston Rockets). The 'yes' he will be a lottery pick is at -180 while 'no' is +140. For what it's worth, Fredette did get an invite to hang out in the green room at the draft, and that's pretty much an indication that the league expects him to be a lottery pick (15 players are invited overall).
The Knicks seem to be resigned to the fact that they must get ahead of the Utah Jazz in order to land Fredette. Utah currently holds the No. 3 pick, acquired in the Deron Williams trade with the New Jersey Nets, and the No. 12 pick. There's no chance that Utah takes Fredette at No. 3 – the Jazz are expected to take a point guard there to replace Williams. In fact, that's also a prop option at Bodog: Which player goes No. 3. The options are Kentucky point guard Brandon Knight (-300); Turkish big man Enes Kanter (+250), who was supposed to be Knight's teammate at UK but who was ruled ineligible by the NCAA; Fredette (+850); and UConn point guard and Final Four Most Outstanding Player Kemba Walker (+1500). Bet on Knight going at No. 3, whether it's to Utah or a team that might trade up with the Jazz.
As for that No. 12 pick, the Jazz are thought to like Fredette there because, needless to say, he would be a huge draw and marketing bonanza for what is essentially a faceless team now that Williams is gone. Not only were there a whopping 44 media members at Fredette's workout for the Jazz in Utah last week, the team even invited a select number of season-ticket holders. Reportedly Fredette fared well in the workout against Walker. Fredette surprised Jazz Coach Tyrone Corbin with his quickness and defensive skills, said Corbin. Fredette also has worked out for New York (as mentioned, holds No. 17 pick), Indiana (No. 15 pick), Sacramento (No. 7 pick) and Phoenix (No. 13 pick).
It says here he doesn't get past that 12th pick.