NBA Picks: Lakers at Heat Odds and Predictions
by Alan Matthews - 3/10/2011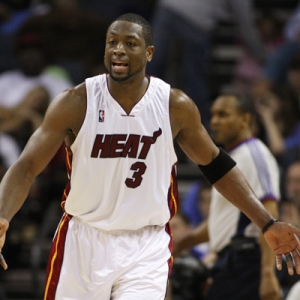 When the Miami Heat visited Staples Center to face the Lakers in the Christmas Day showcase, it was billed as a likely NBA Finals preview between the two goliaths in the Association. Miami made a statement that day with an easy win. But tonight's game is much more fascinating because the Heat seem to be imploding (and crying) while the Lakers have looked like the NBA's best team since the All-Star Break. By the way, L.A. now has shorter odds to win the NBA title than Miami does.
How the Teams Enter
The Heat's current five-game losing streak is totally stunning because four of the losses have come at home. Miami already has nine home losses and some experts – I'm talking to you Jeff Van Gundy – didn't think the Heat would lose nine games overall when this season started. Miami is now the 12th team in NBA history to have a 12-game winning streak and five-game losing streak in the same season.
The Lakers have turned on the defense since the All-Star Break en route to an 8-0 roll. It's their longest winning streak since starting the year 8-0. In Tuesday's win in Atlanta, Andrew Bynum had 16 points, 16 rebounds and three blocked shots. It was his third straight game with 16 or more rebounds. He is really coming on. In the eight-game run, Bynum has grabbed 10 or more rebounds six times and blocked three or more shots five times. Bynum has been a big reason the L.A. defense is allowing just 87 points per game since the break.
Lakers at Heat Betting Story Lines
The problem for Miami, as it has been all year, is that the stars are doing their part but no one else is. In Tuesday's loss to Portland, Miami's bench had all of eight points compared to Portland's 41. Actually, Chris Bosh hasn't really been living up to his part alongside LeBron James and Dwyane Wade. On Tuesday, Bosh had one of his worst games of the year, scoring just seven points on 3-for-11 shooting. In Sunday's loss to Chicago, Bosh had just one fourth-quarter shot. Clearly he is getting frustrated as he publicly said he needed to be getting more touches in the paint and would be more aggressive demanding the ball after the Blazers loss.
Hot-seat coach Erik Spoelstra brushed those comments aside Wednesday, saying the Heat needed "more paint opportunities, not just from Chris, but from all of our guys working together."
The Heat are just 1-9 against the five teams with a .700 winning percentage. On the bright side, that win came against these Lakers, 96-80 in that Christmas game. James had 27 points, 11 rebounds and 10 assists to totally outplay Kobe Bryant, who had 17 points. Bosh had a good game with 24 points and 13 boards. But that was when the Heat were on their long road winning streak. Kobe and LeBron have faced off 14 times in their careers, with James winning nine. LeBron averages 27.5 points and more than seven assists in those games while Kobe has averaged 24.9. However, he is shooting just 40.8 percent.
Even as bad as the Heat have looked of late, it's not inconceivable that they get their act together and reach the NBA Finals. Thus, L.A. could use a win tonight because if the Lakers don't they would lose a head-to-head tiebreaker for homecourt advantage in the Finals should Miami and L.A. end up with the same record and face off for the title.
Lakers at Heat Betting Odds and Key Trends
Los Angeles is a two-point favorite, according to the NBA odds, with the total at 188. There's a better than 60 percent lean on the visitor. The Lakers are 24-11 on the road and 20-14-1 ATS. Miami is 22-9 at home and an ugly 11-20 ATS.
The Lakers are 5-0 ATS in their past five road games.
Los Angeles is just 2-10 ATS in their past 12 Thursday games overall.
Miami is 0-7 ATS in its past seven overall.
The Heat are 0-5 ATS in their past five at home vs. a team with a winning road record.
Miami is 1-4 ATS in its past five Thursday games.
The 'under' is 4-1 in L.A.'s past five games.
The 'over' is 5-0 ATS in Miami's past five as a dog.
The 'over' is 9-1 ATS in Miami's past 10 vs. the West.
Lakers at Heat Predictions
I didn't include any head-to-head trends above – like the fact L.A. is 0-5 ATS in the past five meetings – because, let's face it, the Heat before this season were a completely different club. I just can't fathom that this game isn't close and you know the Heat and close games: Miami is 2-8 this year in games decided by three points or less and only once this season has Miami scored a field goal when down three or less in the final 10 seconds of the fourth quarter or OT. But in reality this game isn't all that important for the Lakers – Saturday's matchup with Dallas is more vital as it's for No. 2 in the West. I think the Heat finally show some heart and win going away. Take the 'under' as well.
Vegas Sports Informer has been dominating the NBA odds long term and his NBA picks have scored a 60 percent success rate over 100+ picks. His NBA handicapping has uncovered a Game of the Week situation for Friday and he is expecting a very big overall night. Click Here for the special one-week price.