NFL Survivor Pool Picks and Advice: Week 9
by Matt Severance - 11/2/2011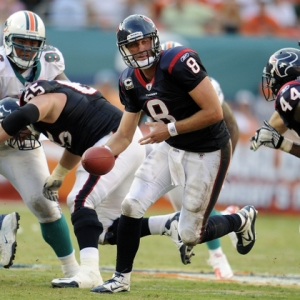 That was waaaaayyyy too close for comfort!
In my Week 8 survivor pool column, I went with the Baltimore Ravens at home against the Arizona Cardinals. I overlooked the fact that the Ravens were on a short week and looked terrible on "Monday Night Football" against the Jacksonville Jaguars. I had all but given up on the Ravens on Sunday as they fell behind 24-3 late in the second quarter. But a field goal right before the half seemed to spark something, and Baltimore rallied for a 30-27 win on a Billy Cundiff field goal as time expired.
I believe that was amazingly the fifth time a team has come back from at least 20 points down to win this season and was the biggest rally in franchise history: The Ravens' previous biggest comeback was from 19 points down against Tennessee in 2006. And while the Cards look terrible, having lost six straight, be wary just randomly picking who they are playing: Four of those defeats have been by four points or fewer.
I'm very glad I had already used the New Orleans Saints, because they were the victims of one of the most head-scratching upsets in years, 31-21 against previously winless St. Louis. New Orleans had just blasted Indianapolis, 62-7, while St. Louis had 56 points ALL SEASON entering Week 8. I am guessing that many in your pool had probably used those Saints the week before against the sad Colts, so the stunner probably didn't knock out many competitors.
That was really the only big upset, although the Giants nearly gagged at home yet again against another terrible team, this time Miami. The four teams I warned you to steer clear of all won pretty easily.
So for this season, I have used: Green Bay, Pittsburgh, New England, San Diego, New Orleans, NY Jets, Dallas and Baltimore. On to Week 9. This is the last week with byes. In addition, Thursday night games start after this week.
Worth Considering
Cowboys vs. Seahawks: Dallas' playoff hopes are on life support and the Cowboys were simply outclassed by the Eagles on Sunday night. But Dallas can still beat anyone in Big D and the Seahawks have one touchdown in the past two games. I can already hear it: "With their first pick in the 2012 NFL Draft, the Seattle Seahawks select Matt Barkley, quarterback, USC."
Texans vs. Browns: Houston always scares me because it tends to lay at least a few eggs a year and this sets up as one possibility. But stud WR Andre Johnson may return this week and this is the Texans' final home game until December (one bye in there). Plus, Cleveland could be down to its third-string running back with Peyton Hillis maybe out again but for sure not 100 percent and Monterio Hardesty for sure sitting. Do you realize the Browns have scored more than 17 points only once this year? And that was against Indy.
Saints vs. Bucs: I happen to think the Saints are essentially unbeatable at home and do win this. But were they just flat last week or did the Rams expose something? The Bucs also had the bye week to prepare and just beat New Orleans in Tampa, and that was without starting RB LeGarrette Blount, who returns for the Buccaneers.
Too Even To Bother
Bills vs. Jets: Not much respect still for the Bills, who opened as just 1.5-point favorites despite being unbeaten at home, while the Jets are winless on the road. But New York seems to be getting it together and had the bye week to prepare for this one.
Bengals at Titans: Chris Johnson has to break out at some point, right? I could see either team taking this one. Plus I think the Bengals are nowhere near as good as their 5-2 record. The only winning team they have beaten is Buffalo.
Patriots vs. Giants: Tom Brady never loses at home in the regular season, but that New England offense has looked very ordinary the past few weeks. This would be typical Giants: Follow a stinker vs. Miami with an upset.
Cardinals vs. Rams: Just pretend this game doesn't exist.
Packers at Chargers: This would be typical San Diego: Now that it's November, the Bolts will go on a tear like they usually do under Norv Turner. I know it's a short week for the Chargers and the Packers look amazing, but I wouldn't take any team to win at San Diego no matter what.
Steelers vs. Ravens: Pittsburgh likely will be missing three of its four starting linebackers. And, disregarding Baltimore's Week 1 blowout, these games always come down to the wire.
Eagles vs. Bears: I do think the Eagles have found themselves and will win this game. But Chicago also seems to have figured out how to protect Jay Cutler and had the bye week to heal up. So an upset wouldn't really be a shocker.
Stay Far, Far Away
Falcons at Colts: Indy does seem to be regressing, I grant you. But the Colts have been very competitive at home, nearly beating division leaders Pittsburgh and Kansas City and hanging with Cleveland. The Falcons have been mediocre at best on the road, struggling offensively in their two road losses and winning their other two outside the Georgia Dome by a combined nine points. Atlanta does enter off its bye week but may be looking ahead to next week's big game vs. New Orleans.
Chiefs vs. Dolphins: Some in your pool will be thrilled at getting to use a "throwaway" pick on Kansas City against winless Miami. But the Fins are getting closer and closer to winning: You could argue they should have won the past two weeks vs. Denver and at the Giants. Plus a short week for the Chiefs, who are due a major letdown after beating the Chargers on Monday night and becoming the first team in a while to start 0-3 and get to 4-3.
49ers at Redskins: San Francisco is an incredible 3-0 in the Eastern time zone this year, but I believe it has to catch up to the Niners at some point. I think the Skins happen to stink, but they certainly could pull the upset at home, where they are 2-1.
Raiders vs. Broncos: Yes, I know Tim Tebow looks awful. But he might be playing for his job, so maybe he finds some magic. But mostly this is because I don't trust Carson Palmer yet for Oakland. And if Darren McFadden (foot) misses this week, I could see a Denver upset for sure.
And The Pick Is ….
Houston. Considering I already used the Cowboys and Saints, this was obvious.
Doc's Sports has been dominating the NFL odds this season en-route to a 19-10-3 record and this NFL handicapper has helped $100 bettors earn nearly $3,000 thus far this season. Doc loves the NFL picks on this weekend's card and he expects another strong winning weekend. Click Here for packages and pricing info.