NFL Survivor Pool Strategy, Advice and Tips for Week 12
by Trevor Whenham - 11/22/2011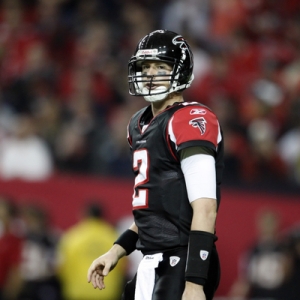 The Giants probably caused a lot of headaches in survivor pools last week.
There was no good reason they shouldn't have been able to beat the Eagles — Philadelphia was struggling, the game was in New Jersey, Vince Young was starting for the first time in a long time and for the first time with the Eagles, and Eli Manning was having a solid year. The team must have been very confident about the game because they didn't even bother to show up, and the Eagles pulled out an ugly win.
New York seemed like a safe pick, but it just didn't work out. Hopefully we won't have that same problem with picks that seem like a good idea this week.
Here's my survivor pools strategy advice and predictions for this week. Remember that there are three games on Thursday this week, so if you like any of those games you need to get your NFL survivor pool picks in before you lapse into your turkey-induced coma.
The Heavy Favorites
There are four games where NFL odds list favorites of at least a touchdown as I write this — Dallas over Miami, Cincinnati against Cleveland, the Jets hosting Buffalo, and New Orleans at home against the Giants on Monday night. A fifth — the Falcons at home against the Vikings — hasn't had a line set yet, but will likely fall into this group when that happens as well.
You'd typically think that games with big spreads like this should be safe survivor pool picks because they are seemingly one-sided. That's often not the case, though, and it certainly isn't here.
Of those five games there are only two that I would consider picking in a pool.
I'm somewhat concerned by the heart of the Bengals and their ability to bounce back from a tough loss last week, but they are clearly the better team and the Browns are struggling lately with just two wins against lousy teams in their last seven games.
Christian Ponder is struggling to look like an NFL QB, his star running back is banged up, and the Vikings just aren't any good, so the Falcons would be a good pick as well.
The other three games all have issues.
Dallas should be able to win at home on Thanksgiving day, but the Dolphins have been shockingly strong in their last three and are hard to rule out entirely against a Dallas team that is talented but flaky.
Buffalo is playing terrible football and is hard to trust, but the problem is that the Jets can be accused of the same thing as well. Ultimately I would take Fitzpatrick over Sanchez if I had to choose between them, too.
The Saints have been strong at home and should be able to beat the Giants — especially if they play like last week — but New Orleans hasn't been as consistently strong as they could be, and they make me somewhat uneasy. I'd pick them if I had to, but I'd rather not.
Other Games of Interest
The other two Thanksgiving games
The last few years the Thanksgiving offerings have been less than grand. More than once it has felt like the games have been some kind of punishment.
This year, though, it should be a great day.
The Packers and the Lions meet in a game with both history and current excitement. This is crazy to say, but this is the biggest obstacle between the Packers and 16-0.
The night game was always going to be interesting because of the Harbaugh-brothers angle, but with the Ravens in good position in their division and the Niners playing better than any team not based in Wisconsin this one should be a holiday classic.
Neither game has any interest at all from a survivor pool perspective, but as a fan it doesn't get any better than this.
Chicago at Oakland
Does Caleb Hanie excite you? He probably shouldn't.
Jay Cutler was playing the best he has since joining the Bears, so this injury stings, and it couldn't come at a worse time for the team.
The team could easily pout their way through this game and lose convincingly. Or Hanie could be competent, Mike Martz could find ways to protect their QB and avoid major mistakes, and the Bears could win.
Too much uncertainty makes this an unattractive survivor pool pick.
Houston at Jacksonville
If Matt Schaub was at the helm in this one then this would be one of the easiest picks on the board. Schaub is out, though, and the not-so-great Matt Leinart is now the man in the saddle.
That's not good news.
The Texans should still be able to beat Jacksonville, but the QB concerns — not to mention the history of late-season issues that they have made a habit of throughout their entire franchise history — make this an unpalatable team to have to rely on.
Indian Cowboy has been dominating the football bookies and his college and NFL picks have helped clients to eight of 10 winning football weeks. His NFL handicapping has uncovered another gem this weekend. A one-week package is only $99 – Click Here for more details. Also check his page daily for free NFL picks on his daily Youtube video.