NFL Survivor Pool Strategy, Advice and Tips for Week 5
by Trevor Whenham - 10/5/2011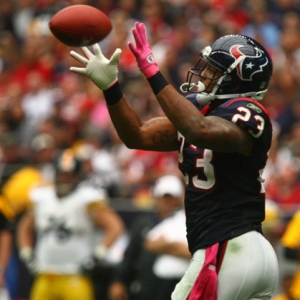 If you were still alive in your survivor pool heading into last week, then chances are pretty good that you still are. It wasn't the most challenging or surprising week we have seen this year. Unless you were really gambling, the Bills and the Eagles were the only two teams that could have caused some issues by losing last week, and there were certainly better games to play than either of those two.
This week we have to deal with a bye week for the first time. That means that there are fewer games to choose from. That makes things tougher, but no one ever said that winning a survivor pool was easy. Here's a look at the best and the worst of the games on tap this week, and some survivor pools strategy advice and predictions for Week 5 (official Doc's Sports survivor pool picks will, be on our homepage on Thursday):
The heavy favorites
This is a very different week than we have seen recently because there are so many close games. With odds set for all but one game there are only two teams favored by more than a touchdown this week — the Giants are favored by 9.5 over the Seahawks and the Patriots enjoy the same cushion over the Jets. While I certainly can't argue with the favorites in either case, from a survivor pool perspective I don't really like either game.
The Giants and Eli Manning haven't been the most consistent team in the league so far. While the Seahawks have been far from great Tarvaris Jackson has showed noticeable improvement in each game and isn't nearly the liability he was to begin with. The Giants are by far the most likely winner, but they aren't as cut-and-dry as the odds would suggest, and I would avoid using them unless I had to.
The Patriots have been explosive on offense, but their defense is still a serious question mark, and that's cause for alarm. Really, the offense is a question mark as well. Players like Welker and Gronkowski are scoring touchdowns at a pace that likely isn't sustainable, so they may not always be able to be this good. The Jets are coming off a brutal game, but coming into the season they were Super Bowl contenders in the eyes of many, and it could be too soon to give up on them. I think the Patriots will win this one, but it seems unwise to gamble against a team like the Jets now when you don't have to.
Games of Interest
Tennessee at Pittsburgh
People are going to be tempted by this one. The Titans have been surprisingly good, and are getting very solid play from Matt Hasselbeck. Pittsburgh is a banged up mess, and as I write this they may or may not have Big Ben for this game. While Tennessee could be a tempting gamble, I sure wouldn't fall for it. Pittsburgh is still at home, and still tough, and Tennessee is overachieving. This is a clear pass in my eyes.
Oakland at Houston
The Texans could be very attractive here. I am finding them easier to trust and believe in this year than in other years, and the Andre Johnson injury doesn't concern me as much as it seems to concern the general public. Oakland has looked good at times, but they have been exposed as an underwhelming team last week in my eyes, and they are clearly second best in this one as far as I'm concerned.
Green Bay at Atlanta
Green Bay is firing on all cylinders, and the Falcons are among the biggest disappointments of the season. Part of you may try to tell you to take the Packers. You should tell that part of you to shut up. While there is a good chance that the Packers will come out on top, it's just too much of a gamble to bet against a decent team at home even when they are struggling.
San Diego at Denver
There is a good chance that this will be the most popular game of the week in survivor pools. I wouldn't argue with that. The Chargers are inconsistent, but they are playing reasonably well this year. The Broncos are a bit of a mess, and are clearly vulnerable to a strong passing attack as we saw last week.
Chicago at Detroit
For years the Lions haven't really existed to survivor pool players. They have been so bad for so long that there was no good reason to pick them in most cases. This year could be different, though.
The home crowd is going to be very fired up for this one — their first game on the Monday Night Football schedule in Detroit since dinosaurs roamed the earth. The Bears were torched by Cam Newton, and are clearly vulnerable. Detroit is far from perfect, but they are confident, and they are going to be able to rough Jay Cutler up. I would be confident picking Detroit here — as strange as that might sound.
If you like our survivor pool advice article, you will love Doc's Sports expert football picks. We have picked up +52 units thus far on the young season with our college football and NFL handicapping and $100 bettors have earned nearly $4,500 already this season. We have a big card for this weekend that features two Top Plays (9-1 for Top Plays in football this season). Click Here for more info.