2015 Super Bowl Contenders
by Robert Ferringo - 9/1/2014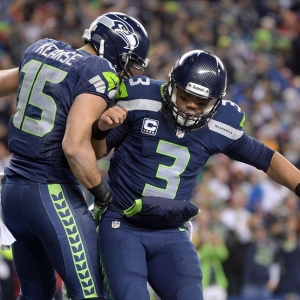 The confetti had barely been cleared from the Meadowlands back in February when I penned my first 2014 Super Bowl Contenders article. I went back to check out what I had written nearly seven months ago so I could compare that with how I currently feel about the NFL on the eve of the 2014 season.
I have to say, my pre-free agency, pre-draft, pre-training camp perspective was pretty much dead-on balls accurate. The teams I pegged as sucker bets all saw their odds take a dive since the initial offering, while my top value wagers have each seen their odds increase since February.
Free $60 in Member NFL Picks No Obligation Click Here
Super Bowl 45 will be held on Sunday, Feb. 1, at University of Phoenix Stadium in Glendale, Arizona. Bettors looking for a high-yield ticket are willing to drop hundreds and even thousands of dollars trying to predict the Super Bowl winner each year. And hitting a SB futures ticket is one of the biggest trophies that any handicapper or gambler can bag.
Below I've broken down the current odds to win the Super Bowl for the same teams I featured back in February. I've included the odds they had immediately after Seattle took home the Lombardi Trophy and added in what their current odds are, offering analysis on both. I have also added a "Newcomers" section that details some teams that I didn't touch upon back in February that are worth a look now.
Here is a look at the best bets, sucker plays and value plays for 2015 Super Bowl contenders:
BEST BETS
Seattle Seahawks
What I Said Then (+450): "There has not been a back-to-back Super Bowl Champion since the Patriots won it all in 2004 and 2005. But prior to that, it wasn't that rare."
What I Say Now (+680): I still have my reservations about this team. They were statistical overachievers last season. And despite a 13-3 regular season they had some real red flag performances (almost losing at Houston and at home to Tampa Bay, for example). But what I have noticed about greatness over the last 15 years - be it with Brady/Belichick, Peyton Manning, Baltimore's defense, or the Pennsylvania franchises - is that great teams and players elevate above the statistical regulators that dictate the performance of mere mortals. Seattle could be rapidly approaching that point. They don't lose at home. And their toughness, physicality, and the steady play of Russ Wilson all translate on the road. They are not the odds-on favorites to win the Super Bowl this year. But they should be.
San Francisco
What I Said Then (+700): "I feel like San Francisco was the best team in football (in 2013)…but the window is closing."
What I Say Now (+1200): I think that the concerns about this team are warranted. Besides the Stevie Johnson trade, which has yet to pay dividends, it has been a pretty horrid offseason for the 49ers. The karma is terrible in this locker room. Injuries, holdouts, arrests, suspensions, shifty free agents and Harbaugh drama have all created a toxic cloud over this group. They are still talented, though. And Harbaugh's system is a proven winner. But I am a rare Colin Kaepernick skeptic, and I don't see who the leader is that is going to rally everyone together and continue the franchise's push for that elusive title.
New England
What I Said Then (+750): "The Patriots made it to the AFC Championship Game with half their team. Seriously. The Patriots were crushed by injuries, played under the cloud of the Aaron Hernandez situation, and had one of the youngest rosters in the league. And they still almost made it to the Super Bowl!"
What I Say Now (+780): After the Logan Mankins trade I honestly felt like the Patriots front office was trolling Brady and Belichick. What is this front office doing? If you took away the coach and quarterback from this team they are a six-win group. But with those two all-time greats the Patriots will once again be in the mix to win the watered-down AFC. The Patriots starting 22 can beat anyone, anywhere, any time. But depth is a major problem. And if injuries start to creep up again then this team will continue to be good but not good enough to get Brady another ring.
SUCKER BETS
Atlanta Falcons
What I Said Then (+3000): "Atlanta was one of the Top 10 teams with the shortest odds to win the Super Bowl. Huh? The Falcons have maybe four guys on their roster that are legitimate starting NFL defensive players and their offensive line is a joke. I agree that Atlanta could be primed for a bounce-back season. But a run at the Super Bowl is a massive reach."
What I Say Now (+6200): The Falcons have massive issues all over the field. Their offense is still going to score points in bunches. Matt Ryan and the Julio Jones-Roddy White tandem is as good as it gets. But the defense is still terrible in the back seven and the offensive line is a sieve. Given their schedule, Atlanta will be lucky to break .500.
Carolina Panthers
What I Said Then (+2500) - "The Panthers still have a pretty flimsy roster. They have 24 players set to hit free agency, and 21 of them are unrestricted. This team is going to look a lot different next September, and that could cut either way."
What I Say Now (+8000) - The Panthers still have one of the best front sevens in football and run a very good scheme. That will keep them from falling off the map. But there is no doubt that they lost a load of talent, experience and leadership from last year's surprising squad. Cam Newton enters the season at less than 100 percent, and with that offensive line he is going to take even more of a pounding.
Cincinnati Bengals
What I Said Then (+2500): "They are further away from a title than these odds suggest."
What I Say Now (+3000): I think Cincinnati is a dark horse team to win the AFC. They have taken their lumps the past few seasons. And I could see them putting together a run similar to what Atlanta did two years ago, vaulting into the conference championship game after several disappointing early postseason exits. But even if the Bengals won the AFC I don't think they would beat any of the top teams from the NFC in a Super Bowl. Again, if you were going to take a low odds flier I would get down on Cincinnati to win the AFC (+1300) rather than to win the Super Bowl.
Dallas Cowboys
What I Said Then (+4000): "Hahahahahaha! If you bet a single dollar on the Cowboys to win the title next year you should be forced to punch yourself in the face."
What I Say Now (+9000): Hahahahahaha! If you bet a single dollar on the Cowboys to win the title next year you should be forced to punch yourself in the face.
VALUE PLAYS
Green Bay Packers
What I Said Then (+1500): "They have a better team than anyone in the East, they are still the top dogs in the Central, and they are at least the equals of anyone in the South. So it's not a stretch to say that the Packers will enter next year as the fourth or fifth best team in the NFC."
What I Say Now (+1100): Green Bay's defense has been impressive this preseason. They desperately need that to carry into the regular season. The Packers have the fifth-youngest roster in the league and nine rookies on their 53-man roster. I don't think they have the savvy to hoist a title, and I think I would be tempted to move this team into my "Sucker Bets" section.
Chicago Bears
What I Said Then(+3000): "They are much better than people realize. And if they can shore up their defense and add another receiver in the offseason this team could be dominating in 2014."
What I Say Now (+2600): The Bears seemed to shore up the defense, bringing in Jared Allen, Lamar Houston and Willie Young to rush the passer. They have to hope that linebackers Lance Briggs and D.J. Williams stay healthy. And the safety situation is better but is still not strength. So the defense will be better. They also added another receiver by signing Santonio Holmes to the No. 3 guy. If the offense can perform at its 2013 level then the Bears will be a major player in the NFC.
Philadelphia Eagles
What I Said Then (+3000): "The NFC East is in shambles, and Philadelphia is clearly a team on the rise. Their free agent losses could be negligible and they have the 10th-most salary cap space in the league. These are decent long shot odds."
What I Say Now (+2000): There is not another division in the NFC with a larger disparity between the first-place team and the other three opponents. The Eagles should absolutely dominate the East this year. And I expect them to continue to make strides in Year 2 of Chip Kelly's system. It is statistically improbable that Nick Foles will be as good in 2014 as he was in 2013. But with an improved defense and more offensive familiarity he might not have to be. No one will want to play this team in the playoffs, and that makes them a real threat.
NEWCOMERS
Denver Broncos (+600) - The Broncos are the current favorites to win the Lombardi Trophy. But they would be overcoming some pretty heinous history for the Super Bowl loser. Denver continued its all-in approach to winning a title with Peyton Manning at the helm, bringing in several talented free agents. They are still head and shoulders above anyone in the AFC. And 90 percent of winning the Super Bowl is getting there. It would be tough to go against the Broncos if they got another shot at The Big Game.
New Orleans Saints (+1100) - The Saints are one of the top teams in football and have a championship pedigree. They also benefitted from the fact that their two primary NFC South rivals, Atlanta and Carolina, both had terrible offseasons. I expect New Orleans' defense to take a step back this year. But if they go bonkers in the regular season and can secure home-field advantage then this team would have a great chance for a return tip to the Super Bowl.
Pittsburgh Steelers (+2800) - This is another sucker bet right here. These odds currently place the Steelers as having the 10th-best odds to win the Super Bowl. Yes, they benefit from a very easy schedule this year. But this is not a very strong Pittsburgh team and is certainly not good enough to win a Super Bowl. The books have shorted this number simply because they know the rabid (and delusional) Steelers fan base will still pour money into their team.
Here is a complete list of current odds to win Super Bowl 45, courtesy of Sportsbook.ag, with their original odds in parentheses:
Arizona Cardinals +5500 (+3000)
Atlanta Falcons +6200 (+3000)
Baltimore Ravens +3800 (+4000)
Buffalo Bills +10000 (+7000)
Carolina Panthers +7500 (+2500)
Chicago Bears +2600 (+3000)
Cincinnati Bengals +3000 (+2500)
Cleveland Browns +10000 (+7500)
Dallas Cowboys +9000 (+4000)
Denver Broncos +600 (+700)
Detroit Lions +4200 (+4000)
Green Bay Packers +1000 (+1500)
Houston Texans +6500 (+4000)
Indianapolis Colts +2600 (+2500)
Jacksonville Jaguars +25000 (+20000)
Kansas City Chiefs +7500 (+3000)
Miami Dolphins +7500 (+5000)
Minnesota Vikings +10000 (+10000)
New England Patriots +780 (+750)
New Orleans Saints +1100 (+2000)
New York Giants +6500 (+4000)
New York Jets +8500 (+6000)
Oakland Raiders +20000 (+20000)
Philadelphia Eagles +2800 (+3000)
Pittsburgh Steelers +2800 (+4000)
San Diego Chargers +4500 (+4000)
San Francisco 49ers +1200 (+700)
Seattle Seahawks +600 (+450)
St Louis Rams +9500 (+4000)
Tampa Bay Buccaneers +10000 (+6000)
Tennessee Titans +10000 (+6000)
Washington Redskins +7500 (+4000)
For more of Robert Ferringo's articles CLICK HERE
Robert Ferringo was the top football handicapper in the country last year, earning nearly $8,000 in total football profit in 2014-14 and posting one of the best seasons in America. He hit 62.1 percent for the entire NFL season (95-58) and was amazing down the stretch, closing with 11 of 14 winning NFL weeks and 12 of 15 overall winning football weeks. Robert has posted 3 of 4 winning football seasons, 6 of 7 winning NFL seasons, 30 of 44 winning football months, and 6 of 7 winning NFL preseasons. Also, Robert's proprietary KING College Football Betting System posted another winning season (now 2-for-2) and is 83-58 over the last two years (58.9 percent).
We are offering new clients $60 in free college football picks for Robert's picks or any Advisory Board handicapper of your choosing. Get your free college football picks now!
Read more articles by Robert Ferringo