NFL Survivor Pool Strategy, Advice and Tips for Week 7
by Trevor Whenham - 10/18/2011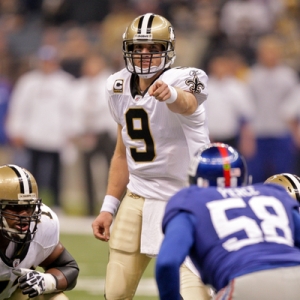 It's Week 7 of the NFL season, so if you are still alive in your survivor pool then congratulations are in order. Chances are pretty good, though, that if you were alive last week then you are still alive this week — the most likely picks last week all turned out about as expected. That's a very good kind of week for survivor pool players.
There's a pretty good chance that this week will be another one, too — there are some pretty straightforward games to pick and choose this week. The only potential problem this week is that we are far enough into the season that you might have run out of strong teams to back. That's when these things really get interesting, though — it means you get to gamble, and that's when things get fun.
Let's take a look at this week's survivor pools strategy advice and predictions:
The Heavy Favorites
This week four of the 13 games currently feature a favorite of at least a touchdown — Green Bay over Minnesota and Baltimore over Jacksonville feature NFL point spreads of about a touchdown, while Dallas at home against St. Louis and New Orleans hosting Indianapolis are within the range of two-touchdown favorites.
Most weeks I only really like a fraction of the favorites in these games. This week, though, I would have no problem suggesting any of those games.
Green Bay is looking like the best team in the league right now, and Aaron Rodgers is playing the quarterback position at superhero levels. Minnesota is really awful right now, and though they haven't addressed the issue yet there is a good chance that they will be making a change at QB and putting Christian Ponder at the helm. That's the right move in the long term, but it won't help them be competitive here.
Baltimore is a strong team that has a defense that can eat opposing offenses for lunch. The Jaguars will serve theirs up on a silver platter. The Ravens control their own fate in this one.
Dallas lost a rough one against the Patriots last week. They are in a big hole with their 2-3 start, but thanks to an underwhelming start for the NFC East they aren't out of contention if they can start winning. They should be angry and hungry, and they are certainly skilled enough to run over this St. Louis squad. They are an easy pick.
New Orleans is very tough at home, and though they have some flaws that good teams can exploit they are strong and dangerous offensively. Indianapolis will win a couple of games this year, but this isn't one of them. New Orleans is a safe pick.
Other Games of Interest
If those four games don't work for you for some reason then here is a look at a few games that stand out as interesting:
Atlanta at Detroit
The Lions have been impressive, though their bandwagon got rolling out of control early this season. The loss to the Niners was tough, but San Francisco is a very good team, and the only thing that organization needs to be embarrassed about is the ridiculous post-game reaction by Coach Jim Schwartz. They are good enough to win at home against a struggling and directionless Atlanta team.
The thing that makes me nervous, though, is that this is an organization that doesn't have a whole lot of experience picking itself up off the ground after a winning streak ends. Detroit is too much of a gamble here.
Pittsburgh at Arizona
There are arguments you could make to support the Cardinals. Their coaching staff has some familiarity with the Steelers, and Pittsburgh has not traveled well this year. Still, the Cardinals are a long way from a good team right now. Though there are reasons to be somewhat optimistic in the long term, they aren't good now.
Pittsburgh has their own issues, but they are going to be able to make it a very long day for Kevin Kolb. My inclination would be to pass on this game, but Pittsburgh comes close to being a decent pick.
Chicago at Tampa Bay - I have liked the Bucs all year, and I would pick them here quite comfortably if I needed to. They were really awful two weeks ago at San Francisco. I am willing to forget about that completely, though, because they bounced back very nicely last week to beat the Saints, and because they are a very tough team at home.
The Bears are coming off a dominating performance, but that needs to be taken with a giant grain of salt because it came against Minnesota and that's a bad team that has, with the exception of Adrian Peterson, basically given up already.
Chicago has lost both of their road games, and they clearly aren't comfortable on the road.
Strike Point Sports is showing the world why they are considered one of the top NFL handicappers in the nation. That is now 7-0 for NFL picks the last two weeks including a Game of the Year winner last week. He has now earned a profit in six straight NFL weeks and $100 bettors have made $5,600. Click Here to buy picks.