2011 Pac-10 Tournament Predictions and College Basketball Odds
by Robert Ferringo - 3/8/2011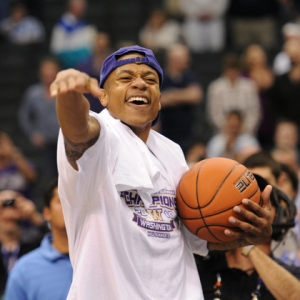 The Pac-10 is still mired in mediocrity. You can point to defections of coaches and star players from recent years as the reason, but for the sixth time in nine years this conference enters March Madness ranked No. 5 or lower in the overall national rankings.
The Pac-10 Tournament begins Wednesday, March 9 in Los Angeles. While the league may still be in flux compared to its fellow BCS compadres (hey, at least it's not the SEC), the usual suspects are still headed to the City of Angels as heavy favorites. Arizona, Washington and UCLA are the top-tier teams with USC entering the weekend as a solid sleeper.
Here is Doc's Sports Pac-10 Tournament predictions with college basketball odds from BetUS:
The Favorite: Arizona (+200)
Sean Miller has done an excellent job rebuilding one of the West's strongest programs. They won their first Pac-10 regular season title since 2005 and this team is 10-2 dating back to late January. The Wildcats have the best player in the conference in Derrick Williams and this team resembles Miller's Xavier squads with its depth and athleticism. They are one of the top scoring and shooting teams in the country and their perimeter defense is tops in the conference. But I think this team has very little value as a No. 1 seed in the league tournament. They are on a 0-5 ATS slide over the last couple weeks and that has kind of been their modus operandi. At the start of conference play they went 0-5 ATS. After that came a 6-0-1 ATS run followed by the recent 0-5 ATS skid. This team is better than anyone in the Pac-10, but they aren't dominant. And while Williams is the stud, this team's fate rises and falls on the play of point guard Mo-Mo Jones.
The Contender: Washington (+250)
The Huskies have really been all over the map this year. They were considered a Top 10 team early in the season and the prohibitive Pac-10 favorite. But they are just 5-6 in their last 11 games. And they have some wretched losses, including getting swept by Washington State and losing to Oregon State. By the metrics, this team looks solid. They are No. 3 in the nation in scoring, No. 25 in field goal shooting, and in the Top 100 in many defensive factors. But their season really turned when they lost guard Abdul Gaddy. And the holdover guards, athletic Isaiah Thomas and pesky Venoy Overton, are good but I don't trust either of them to will this team to the tough, clutch victories that March demands.
The Sleeper: UCLA (+200)
Well, you wouldn't know it by watching them play last week but this UCLA team is actually improving and has plenty of upside. They are 19-5 after a horrible start to the year with two of the losses coming at the hands of the Huskies. They have an excellent post combination with bruiser Josh Smith and do-it-all Reeves Nelson. Tyler Honeycutt is the inside-out threat on the wing. And their guards are long, athletic, and excellent defensively. So they have tools. But they also have drawbacks. First, they have no seniors and are incredibly young. Second, they don't have a point guard. As a result, most of the time these guys look like they have absolutely no idea how to play together. I would say that they score a negative in the cohesion and moxie departments. If they get on the same page this team could run the table. That said, these odds are a farce and definitely aren't worth a play at all.
The Spoilers: Washington State (+1000)
This team is definitely the X-Factor heading into the Pac-10 Tournament. Will Klay Thompson play? How is Reggie Moore's ankle? Will the supporting cast carry over the inspired play they exhibited on Saturday? How many wins do they need to secure a spot in the NCAA Tournament? Are they even good enough or deserving enough of a spot in the field? So there's a lot going on with this team. But if Thompson and Moore come back I think that this is one of the most talented offensive teams in the league. They are also pretty underrated defensively and when they rebound, and if Thompson is "on", then they can do some damage.
The Matchups:
No. 8 Stanford (-4) vs. No. 9 Oregon State (9 p.m., Wednesday, March 9)
Oregon State possesses the youngest team in the conference and that's never a good thing in March. It also doesn't help that they are flat-out one of the worst teams in the league as well. The Beavers have won only three times in two months (3-13) and seven of their last nine losses have been by double-digits. Stanford isn't much better (they lost at OSU a week-and-a-half ago) but they have the advantage of boasting one of the best players in the league, Jeremy Green. But their issue is that beyond Green and athletes Josh Owens and Anthony Brown they aren't any good. This team doesn't really do anything well and all in all this game is just a sad reminder of how pathetic the Pac-10 is right now. The winner faces top-seeded Arizona.
No. 7 Oregon (-1) vs. No. 10 Arizona State (11:30 p.m., Wednesday, March 9)
Oregon started the season as one of the worst BCS teams in the country. Arizona is ending the season as one of the worst BCS teams in the country. The Sun Devils are just 3-13 in their last 16 conference games and before a nice two-game sweep last week had won just three games since Christmas. ASU swept Oregon this year, including a 20-point home win last Thursday. But Oregon was at least playing .500 ball since mid-January, finishing the year 7-7. Oregon has lost four straight coming into the tournament and about the only thing they have going for them is the gutsy play of senior Joevan Catron. I give Dana Altman credit: he has gotten the Ducks to buy into his system. But Arizona State is getting healthy and has better guard play, experience, and shooters. Despite the weaker record keep an eye on the Sun Devils here. The winner faces UCLA in the next round.
No. 4 USC (-3) vs. No. 5 California (3 p.m., Thursday, March 10)
All of the drama is surrounding the Washington-Washington State quarterfinal. But I am really intrigued by this in-state battle. The Trojans are a team that I think deserves a spot in the NCAA Tournament field. However, they could blow their chances if they lose here to a scrappy Cal team. A razor-thin margin separated these teams this year, with the road team winning both matchups (USC by three, Cal by two). I expect another close, low-scoring (in the 60s) game as I don't see how either club has distinguished itself. Cal is riding a four-game winning streak and is playing its best ball of the season. But I think that USC is the better team. Both teams rely on solid post play and interior presence to set the tone for the game. So it could come down to foul trouble on the interior and the play of the key guards – Jorge Gutierrez for Cal and Jio Fontan for USC.
No. 3 Washington (-5.5) vs. No. 6 Washington State (11:30 p.m., Thursday, March 10)
Can Washington State possibly pull the three-game sweep of its in-state rival? A lot of that depends on the availability of Thompson, who was suspended for smoking weed, and Moore, who has been hampered by an ankle injury. The Huskies are coming off a good week, beating UCLA and USC at home. But they were awful against the Cougars in the last meeting, scoring just 17 points in the first half and losing at home by 11. They couldn't keep up with Wazzou on the perimeter and watched State go 32-for-36 from the free throw line. Washington has dominated the glass in both meetings. But they don't stop turning the ball over either. They won't beat Washington State if they keep giving them extra possessions.
Pac-10 Tournament Predictions: I think that this tournament is going to be determined by the semifinal game between the USC-Cal winner and Arizona. If the Wildcats get past that game then I think they will handle whomever they play from the bottom of the bracket. But if the Wildcats get upset then I think that club that comes out of the bottom – be it Washington, Wazzou or UCLA – will cut down the nets. There are no particularly strong backcourts in this league so there is not really a solid favorite. Miller is a great tournament coach but something tells me that the Wildcats don't get this title.
Robert Ferringo keeps proving himself to be one of the best college basketball handicappers in the nation. His college basketball picks have earned $100 bettors nearly $7,300 in the last two months. Another strong card is coming today and you can get his pick HERE for only $30.
---
Most Recent College Basketball Handicapping