Preakness Winner Shackleford at the Belmont Stakes Profile
by Trevor Whenham - 5/31/2011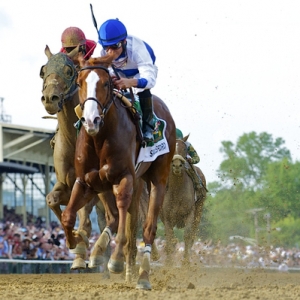 As I write this, Shackleford, the Preakness winner, is in New York at Belmont where he will be training from this point forward. He is being aimed towards the Belmont, though his connections are concerned about the impact it will have on the rest of his season -- likely the Haskell, Travers and Breeders' Cup if he stays in strong form -- and are holding off on committing to the race until they see him work on the Saturday before the Belmont. My gut feeling is that he will go, so we'll preview him now.
Last race: After a solid fourth-place finish in the Derby, Shackleford looked like a super horse as he won the Preakness by half a length. The lead is normally a horrible place for horses to be in the Preakness, but Shackleford showed that trends aren't infallible. He settled just behind pacesetter Flashpoint through much of the race and pushed the leader through fast fractions. Flashpoint tired badly and finished last, but Shackleford took the lead at the top of the stretch, drove hard throughout, and held off a late charge by Animal Kingdom to win.
It was an impressive win. Critics could point out that Animal Kingdom was swallowing ground at the end, and if the race has been only a few strides longer Shackleford would have lost. While that is almost certainly true, it is also completely irrelevant -- the race wasn't longer, so Shackleford held on precisely as long as he needed to. Like the Derby the race was an honest one in which none of the major horses had any excuses to discount their performance.
Career highlights: It doesn't get any bigger than winning a Triple Crown race. Shackleford showed he had some fight in him at the Florida Derby when he similarly tried to hold a lead and was just barely chased down by Dialed In. He clearly seems to be a late maturing horse that is really growing into himself, though, and at this point it would be hard to find anyone to argue that he isn't better than that horse that he lost to in Florida.
Jockey: Jesus Castanon. The 38-year-old Mexican has more than 2,000 wins to his credit, so he obviously has some game. It's only in recent years, though, that he has started to get some top mounts -- Paddy O'Prado, Acoma, First Dude, Win Willy and now Shackleford.
He's a solid rider. If you wanted to find a reason to criticize him, however, it would be that he tends to be a one-move guy -- he sits and waits for his shot, makes his move, and then if foiled if he has to regroup and try something different.
The same can be said about most riders, though, and he is definitely well above average. He's also clearly well suited to this horse and capable of settling him down and saving something for the end.
Trainer: Dale Romans. The Louisville-based trainer is the son of a trainer, and a popular and all-around competent guy. He's not quite at the level of success of guys like Todd Pletcher or Bob Baffert, but this Classic win goes into his trophy case beside hardware for winning a Breeders' Cup race, an Eclipse Award for turf horse of the year, and a Dubai World Cup, so he is certainly successful of developing and maximizing talent when he gets his hands on it.
Pedigree: With Storm Cat in his pedigree on his sire side and Unbridled represented on his dam side there is no shortage of class in this horse -- or heart, for that matter. He's not perfectly suited to the distance, but it's not immediately obvious that he can't get it, either.
Running Style: He's a front runner. Luckily for his connections he's a front runner with staying power. He doesn't seem to be a horse that wants to fight to have the lead, though -- he's content letting a pace develop as long as he is right with that pace.
He pushed the leaders hard in the Preakness, but settled with a very slow pace in the Derby, so he isn't the one-trick pony that some front runners are. That makes him much more dangerous and easier to respect.
Belmont prognosis: I'm not optimistic. I like the horse a lot, but the Belmont is a very hard race to wire, and I can't help but think about how close he was to getting caught at the much shorter Preakness. I'm also not at all convinced that there will be another speed horse for him to work with in this race.
Flashpoint set up the win for him in the Preakness, but he'd be required to pull off something a lot more impressive if he not only had to win from the lead but had to set the pace as well.
If I was Dale Romans I would be tempted to find a reason to skip the race, though Romans is a sporting guy who loves the sport so I don't see him doing that. I wouldn't be surprised if he won, but I won't be betting that he will.
Doc's Sports will release our expert Belmont Stakes picks for the third leg of the Triple Crown on Saturday, June 11. You can purchase our full Belmont package for just $20. You will get Doc's win-place-show bets plus a variety of exotics for one low price, and if we don't show you a profit then our next batch of horse racing picks come free of charge. Doc is an expert against the Belmont odds and he has been putting in lots of extra time on this race and thinks there will be some big profits on Saturday.