Ramblings From A College Football Betting Junkie
by Taylor Jordan - Strike Point Sports - 10/12/2011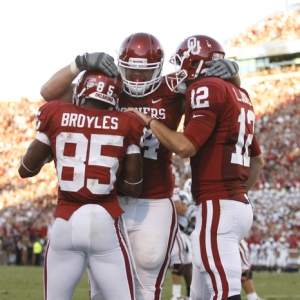 Were six weeks into the college football season and one of the most important questions in college football betting is still widely up for debate: Which team is the No. 1 squad in all the land?
There are 13 teams that are still undefeated, but in my book just five are in discussion for that top spot.
The official numero uno, LSU, continued its strong case with a romp of Florida in Baton Rogue. The Tigers have earned the majority of first-place votes each week since they leapfrogged Oklahoma in mid-September. Four Top 25 victories by an average of 20.5 points is all you need to know about Les Miles' bunch.
Alabama might be second fiddle in their own conference, but the Crimson Tide is second to none when it comes to defense. 'Bama is absolutely filthy on defense, already accounting for three shutouts and allowing an average of 11.6 points per game in their three wins over ranked teams.
Oklahoma put together perhaps the most impressive win of the past weekend. Yes, I know Texas isn't exactly Texas of old. But nonetheless, in a rivalry game of that magnitude, for the Sooners to lay waste to Mack Brown and his UT team was a great result and further confidence booster for Landry Jones and company to be considered as the nation's most dominant squad. An Oct. 29 road game in Manhattan against upstart Kansas State looms for Bob Stoops.
While everyone is talking SEC, the best team might just be from the Big Ten. And no, it's obviously not Ohio State or Michigan (although the 6-0 Wolverines should in fact be applauded for their own start). Free agent 'signing' Russell Wilson has been lights out since he took over the reigns as the signal caller for the Badgers. Wisky, if it keeps it up, could one-up last season's Rose Bowl appearance and make a trip to the BCS title game come January.
And who could forget about not-so-little Boise State. The Boise State football schedule will always be the biggest criticism. Who can blame cynics? But Kellen Moore might just be the most efficient quarterback in the country. Because of that the Broncos just win. Let's just face it: Boise State is going to run the table. They will be in another BCS game, but unfortunately the numbers game will keep them from a shot as the National Championship.
Week 6 Rewind
Best Game
Could it be possible that with all the high priority matchups this past weekend that the best game was between teams that had combined for one victory coming in? For my money it was the clash between Arizona and Oregon State. The Beavers, who opened the season with a home loss to I-AA Sacramento State, were +2 as a small underdog to the Wildcats. However, they put together a strong first half and led 24-6 at the break. Nick Foles, despite several bad turnovers early, rallied to sling the ball around in the third and fourth quarter, bringing his 'Cats from a 6-30 deficit all the way to 27-30 with the ball and a chance for the win. Ultimately, OSU held on in Corvallis and that was likely enough to officially cut Mike Stoops' coaching career short after this season.
Most Impressive Cover
Maybe it is trite to say a Boise State blowout was impressive. We've seen it all before from the Broncos. But still, going to Fresno State and leaving with a 50-point victory (as a 21-point favorite) goes a long way in my book. But then again, maybe things have really slipped that far for Pat Hill and his Bulldogs. But that is a story for another day and time.
Toughest Beat
Did anyone have the Hurricanes or Buckeyes to win outright? They were heavy underdogs on the road, +7.5 and +11, respectively. However, Miami gave up a late score in the final minutes after securing what it thought to be a quality ACC victory. As for the Buckeyes, maybe offseason karma is catching up with them, and their second-half collapse in Lincoln was justification of that. But for anyone who had the stones to throw down with the Buckeyes on the moneyline, that one had to be tough to swallow.
Oddest Boxscore
It can't just be me who was completely shocked by the final of the Georgia/Tennessee game. The Bulldogs won despite more penalty yards and a worse third down conversion rate. Both teams combined for seven total converted third downs, yet they combined to go 6-for-6 on fourth down? Huh? Even more confusing, there wasn't a single turnover in the entire game and Tennessee had -20 rushing yards. Just…WOW. In the end the college football odds listing Tennessee being a two-point home underdog was as odd as the final score and way the game played out. I am still confused.
Week 7 Spin Ahead
Most Curious Opening Line
How is Georgia Tech only an eight-point favorite over Virginia? The Yellowjackets have been one of the most impressive teams in the nation offensively and they are right there with Clemson as the best teams in the ACC right now. Virginia has lost to Southern Miss and they needed overtime to beat Idaho and they are on an 0-4 ATS slide. So how is Tech this soft of a favorite?
Biggest Early Line Move
You don't find too many defending National Champions posted as home underdogs. But after opening at -1.0 against Florida that is exactly where Auburn found itself. The books opened with the Tigers as a small favorite, but the line was quickly bet on the side of the Gators. Florida has been blown out by 28 and 30 points in back-to-back weeks, so it seems like an odd time to make them a road favorite. But the Tigers haven't done much to instill confidence lately in their own right. I wouldn't be surprised if we saw this one bet back down to a 'pick'em'.
For more of Strike Point Sports and their college football picks, check out their capper page for details. Wednesday and Friday they will have a free pick posted, as well as further information throughout the week leading up to Thursday when they release their CFB card for each Saturday.