2011 Texas Longhorns Football Predictions and Big 12 Odds
by Robert Ferringo - 7/29/2011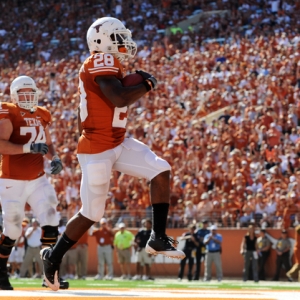 "What the hell just happened?"
That had to about sum up the feeling around the 2010 Texas Longhorns. I'm sure that is exactly the phrase that was uttered when they were beaten by 22 at home – as 15-point favorites – to a terrible UCLA team last September.
And when they lost by a touchdown at home – as 20-point favorites – to Iowa State.
And when they fell out of the AP Top 25 for the first time in 163 weeks (more than a decade) in October.
And when they blew a second half lead at home to Baylor and lost by eight (a week after losing to Iowa State.)
And after Kansas State hammered them by 25 in Manhattan.
And after they choked in the final minutes at home against Texas A&M with a trip to a bowl game on the line, a loss that also relegated them to the bottom of the Big 12 for the first time in 54 years.
So yeah, the 2011 Texas Longhorns have a lot of work to do to erase the bizarre and disorienting memories of last year's mess.
Here is Doc's Sports 2011 Texas Longhorns college football preview and predictions:
Coaching
Mack Brown enters his 14th year at the helm of one of college football's flagship programs. Prior to last year's meltdown he had gone 25-2 in the previous two seasons and 69-9 with a National Championship since 2004. So he gets a mulligan on 2010. But Brown didn't hesitate to make changes in the offseason (whether he wanted to or not). First, defensive coordinator and coach-in-waiting Will Muschamp split to take the reigns of Florida. Muschamp is one of the top defensive minds in the country and had been excellent in Austin. Manny Diaz, who is somewhat of an unknown after unremarkable years at Mississippi State (2010) and Middle Tennessee (2006-2009), replaces him.
There is some interest on how Diaz will handle the defense, but the real drama involves the offense. Longtime offensive coordinator Greg Davis has moved on and now there is a little bit of a power struggle for control of the Longhorns offense. Former Texas quarterback and assistant coach Major Applewhite is going to be the co-OC with former Boise State coordinator Bryan Harsin. Harsin was one of the architects of Boise State's electrifying attack over the last five years and it will be interesting how quickly he can get Texas adjusted to his style.
Offense
Last year Texas finished just No. 88 in the country in scoring at 23.8 points per game and they didn't finish higher than No. 50 in rushing, passing or scoring offense. There was no one facet or group within the offense that should be blamed; they just couldn't get anything going, and after scoring 34 points to open the year against weak sisters Rice and Wyoming they were held to 24 points or less in nine of their last 10 games.
If there is one thing that quarterback Garrett Gilbert has proven in his brief tenure as Texas starting quarterback it is that he isn't afraid to turn the ball over. Gilbert had 17 interceptions last year and has been shockingly cavalier in leading the Longhorns offense. He was a "can't miss" prospect out of high school and you can see that he has the physical tools. But whether or not he can mature into an actual big-time quarterback – and fend off the host of young guns aiming at his starting spot – is the big question in Austin. He's catching a lot of flak for the offense's poor showing last year, and if things start slowly he'll be the scapegoat.
Gilbert definitely didn't get the support from the ground game that most of his predecessors enjoyed. But stud freshman Malcolm Brown was the No. 1 running back recruit in the country. Either he or senior Fozzy Whittaker will carry the load. The bottom line is that they need a lot more production out of this group. Last year Gilbert – who is not a great runner – was the No. 2 rusher on the team with 530 yards. Not good.
The receiving corps is solid, with no one standing out as a superstar, and I think that the offensive line will need to regroup after a so-so 2010. They have only two starters back on that unit and could end up starting three sophomores. But all of their recruits are blue chips and chemistry, not overall talent, will be the likely issue.

Defense
I don't feel like Texas' defense played poorly last year and they actually finished No. 6 in total yards allowed (although just No. 49 in points allowed). The offense routinely hung them out to dry and that was a big part of their problem. The Longhorns front did get pushed around in the rushing game though, and that's something they will have to remedy.
Texas has to replace both starting cornerbacks. But they do return both safeties from the No. 6 pass defense in the nation. Four-year starter Blake Gideon wasn't an all-American last year, but he is the ringleader in one of the country's best secondaries.
Texas is solid in the front seven. Tackle Kheeston Randal and middle linebacker Keenan Robinson are the two anchors of the team. Texas returns five of its top six tacklers but they lose both of their top two rush ends. Unlike in recent years, the Longhorns simply don't have anyone dominating at the end position, and they need one of their young, highly touted recruits to step up and be a force.
Also, this unit will have to adjust to a new defensive coordinator. Will Muschamp split and went to Florida and he was one of the best DCs in the country.
2011 Texas Longhorns Football Schedule Analysis
Texas' schedule does not do the Longhorns any favors this year. But UT should be on a revenge tour through most of 2011 since last year's seven losses were only two losses fewer than the program had suffered in the previous six years combined.
Texas starts the year with in-state patsy Rice. After that they host a BYU team that is always tricky (and one that upset Oklahoma outright as a 22-point underdog just two seasons ago). They follow that up with a trip to UCLA in a revenge game. That is a very important game early in the year. It's always tough to go into an unfamiliar stadium to take on another proud, talented program. And with a bye week after that game having two weeks to celebrate a win or answer questions after a loss will set an early tone for this group.
Texas has two weeks to prepare for a game at Iowa State and then has the Red River Shootout in Dallas on Oct. 8. They can't afford a letdown after that game; Oklahoma State, which routed the Longhorns at UT last year, is on deck after that.
Texas gets another crucial bye week after those back-to-back emotional games against Oklahoma and Oklahoma State. They should hammer Kanas and Texas Tech at home, but then they close the year with three of four games on the road. That includes a tough trip to Missouri and a Thursday night game at Texas A&M, a team that most bobbleheads have forecast ahead of Texas this year.
2011 Texas Longhorns BCS and Big 12 Odds
Despite their disastrous 2010 season the Longhorns are still just 5-to-1 to win the Big 12 title this year, according to WagerWeb. There is no Big 12 Championship Game this season. Bodog has the Longhorns odds to win the BCS National Championship as a very optimistic 25-to-1.
2011 Texas Longhorns Football Predictions
This is kind of an awkward preseason for the Longhorns. Normally we're talking about them among the cream of the crop in college football and they are on the short list of teams competing for the National Championship.
But what are we really to make of last year's debacle? How long is it going to take to adjust to the Boise State-style attack? Is Gilbert really just an ass clown and not a real quarterback? Who in God's name is Manny Diaz? Will any of the other problem areas – running game, offensive line, pass rush, etc. – be remedied?
If last year was a warning – and it isn't as if we have never seen college dynasty's fall…quickly – then I don't know if things will be much better this season in Austin. Perhaps the current crop of recruits is still living off the accomplishments of teams in year's past. Or maybe all the hype that's been thrown on this program, especially with the current downfall of titans USC and Ohio State, has gone to its head.
The Longhorns are the Big 12's biggest question mark. If they get their issues worked out and if last year was just an anomaly, the culmination of factors well beyond UT's control, then Texas has the high-end talent to be a contender on the national stage once again. Now, I, personally, don't expect that to be the case. However, I do know that the odds of them missing a bowl game in back-to-back years are pretty much nil. And I expect a much sharper performance from this year's group.
Robert Ferringo is a professional football handicapper and is coming off an exceptionally profitable 2010-11 football betting season (college and pro). Over the last year his clients have more than tripled their bankrolls with his predictions in all sports. He is looking forward to building on his stellar football handicapping resume again this fall and you can check him out here.