Western Athletic Conference Tournament Predictions and WAC Betting Odds
by Robert Ferringo - 3/7/2011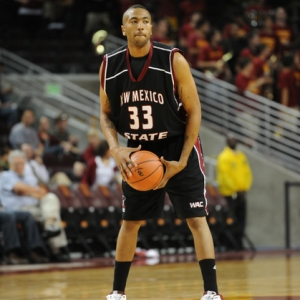 The Western Athletic Conference is Utah State and then everybody else.
Few teams in America have dominated their league this season like the Aggies of Utah State. And, now that I mentioned it, this team has had a stranglehold on the WAC for most of the last half-decade. They went 15-1 in league play this year and the team is hunting for its fifth NCAA Tournament appearance in the last seven years. This Utah State team is deep, talented, experienced and hell bent on Mormon domination.
The WAC Tournament begins Wednesday, March 9, and will be held in Orleans Arena in Las Vegas. This is the first year that it is being held on a neutral site. But it also has a schedule that heavily favors the top seeds, giving them a double-bye into the semifinals.
So, yeah, Utah State is going to win the automatic bid. Right?
I say, "yes," but there are a few things that the rest of the WAC can cling to in the random hope that they can spring an upset.
First, it is March and anything can happen. Second, there have been a lot of other top seeds in other small conferences – Vermont, Fairfield, Murray State, and George Mason – that have already been upset. And third, did I mention that it is March?
Here is Doc's Sports WAC Tournament predictions (with projected college basketball odds):
The Favorite: Utah State (-175)
This team isn't just good enough to win this tournament, but it is also good enough to win a pair of games in the NCAA Tournament. They are in the Top 30 in the nation in shooting and field goal defense and their average point differential through 31 games is 14.5 points per game. Outside of one fluke loss to Idaho – which gives the rest of the WAC some shred of hope – this team has been dominant. They are going to win this tournament and make the NCAA's. Bank it.
The Contender: New Mexico State (+500)
The Aggies are the defending WAC champions. However, they lost too many players from last year's team to graduation, injury and defection to really be a threat to repeat. This team can score on anyone (they are No. 89 in the country in scoring) and they have a potential NBA player in Troy Gillenwater. But this team doesn't have the guard quality that it had last year and they don't defend as well as they should. They may be good for a win or two but these Aggies don't have the goods for back-to-back tournament titles.
The Sleeper: Boise State (+300)
This team earned the No. 2 seed in this year's tournament and that has given them the huge advantage of the double-bye. And on their best day they definitely could beat Utah State. This team is loaded with seniors – seven of them in the rotation – and they have a quirky offense that can be lethal when they run it properly. Boise enters the tournament on a seven-game winning streak. That's the good news. The bad news is that their last loss was by 28 points to Utah State. I like this team's moxie and on their best day they can play with Utah State. And never underestimate seven seniors playing for their lives. But you can only take the No. 290 ranked defense in the nation so seriously.
The Spoiler: Hawaii (+850)
I have been on this Hawaii team from day one and I can confidently say that no handicapper in the country backed this team as much as I did this season. That's a fact. And they rewarded me with a 17-8 ATS mark for the season and some solid play. This team is 9-3 SU in its last 12 games and they lost in double overtime to Utah State this year. They have what is, in my opinion, the best pure frontcourt duo in the league in Bill Amis and Doug Kurtz and those two bangers can cause some teams some problems. Mix in a senior X-factor guard (Hiram Thompson) and streaky Arizona transfer Zane Johnson and this team can cause some problems. But that's all.
The Matchups:
No. 5 Hawaii vs. No. 8 San Jose State
The Spartans have one of the best backcourts in the league with seniors Justin Graham and Adrian Oliver leading the charge. And that pair is going to be tough to knock out. But Hawaii has already beaten them twice this year, including once last week in SJSU's Senior Night. The reason is that the Spartans are pathetic on the interior and they simply do not defend the basket. Also, this team is No. 311 (of 345 teams) in field goal shooting. They are almost totally dependent on the three-point shot to generate the offense. This will be a competitive game because Hawaii is much, much better in the underdog role and because Oliver and Graham won't go out without a fight. An upset here won't shock me at all.
No. 6 Nevada vs. No. 7 Fresno State
Now we're getting into the depths of this league and in watching this game you can really start to get a feel for why this league sucks this year. Fresno is one of the most wretched shooting teams in the country both from the three-point line and the free throw stripe. They are a bottom feeder that has beaten just two teams ranked in the Top 250 over the last two months; and one of those was in overtime. Nevada will have the edge of playing nearest to home and they were in the championship game of this tournament last year. This team started to pick up its play (8-5 in L13) but they are still shaky at best. They have four players that average 12 points or more, which is a huge plus, but they only have one true distributor (Don Burton) so their attack always seems herky-jerky.
Quarterfinals:
No. 4 Idaho Plays 5/8 Winner
The Vandals suck, especially away from home. And I think this game reeks of "upset". Play the short line in this game as Idaho will likely only be favored by about 2.0 points regardless of which team advances.
No. 3 New Mexico State Plays 6/7 Winner
If the Aggies get a crack at Fresno they will hammer them. A game against Nevada would be a rematch of last year's title game and will be the most contentious of the tournament. However, NMSU should advantage regardless and setup a sweet semifinal with Boise State.
WAC Tournament Predictions: Utah State wins. It really is that simple. I don't know if there is going to be any value betting on them in the individual games (probably not) but I think that anything less than -200 with them as a futures wager is a steal.
Robert Ferringo keeps proving himself to be one of the best college basketball handicappers in the nation. His college basketball picks have earned $100 bettors nearly $7,300 in the last two months. Another strong card is coming on Tuesday and you can get his pick HERE for only $30.
---
Most Recent College Basketball Handicapping