2012-13 ACC Basketball Odds and Betting Predictions
by Robert Ferringo - 10/16/2012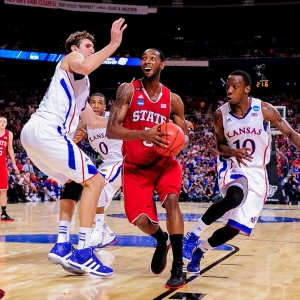 I said last year that the ACC sucked. And it did. Oh, it did.
The ACC sent just five teams to the NCAA Tournament, with North Carolina State barely nudging their way into the Field of 68.
In terms of college basketball betting, only five of the 12 teams in the league finished with profitable season for their backers. The most profitable team in the league was N.C. State, earning bettors a paltry +260 for the year. That was the lowest the total for best bet of any conference in the country. By comparison, the Big East, Big Ten, Big 12 and SEC each had teams finish at least +800 or better.
That is empirical proof that the ACC is among the most overvalued conferences in the country. And this year should be no different.
Duke and North Carolina are expected to carry the banner for this league. However, even they are in rebuilding years. While that should still equate to Top 20 rankings and second-round NCAA Tournament games, this league is not strong enough at the top to compensate for the fact that the bottom five teams are complete train wrecks.
But don't worry, ACC, the Big East boys will be here soon (Syracuse and Pitt join the league next summer) to make sure everything is OK.
Here are my 2012-13 ACC college basketball predictions to help you with your college basketball picks, with odds to win the league title in parentheses:
The Favorite: North Carolina State (+200)
No, that's not a misprint. And no, I didn't accidentally add in the word "State". The Wolfpack are back. And this year they are hoping to rise above their station as the red-jerseyed stepchildren of Tar Heel State basketball. They welcome back four starters from a team that won 24 games, advanced to the Sweet 16, and gave eventual runner-up Kansas everything it could handle before losing, 60-57. N.C. State is big and athletic, and boasts a trio of players – lead guard Lorenzo Brown and shooter Scott Wood, as well as NBA talent C.J. Leslie – that are three-year starters. Add three McDonald's All-Americans, including two Top 20 recruits in Rodney Purvis and T.J. Warren, and the Wolfpack have the talent, experience and depth to take advantage of UNC and Duke's rebuilding years. Mark Gottfried enters his second year with a significant upgrade in the expectations department. And we'll have to see how the chemistry develops between the hotshot newcomers and the veteran core. But this is a very good team.
The Challenger: North Carolina (+300)
The Tar Heels are essentially challengers in name only this year. That is not to say that N.C. State is going to walk over the boys in baby blue. But North Carolina lost the most talent in the country by any team not named "Kentucky". UNC saw four starters and three double-digit scorers walk away, and now they are replacing them with very athletic but very unproven talents. They have some of the best wings in the country, with four guys – Leslie McDonald, P.J. Hairston, Reggie Bullock and James McAdoo – between 6-feet-5 and 6-9 that can swarm opponents. McAdoo is being projected as the breakout star, and it's tough to argue. Veteran Dexter Strickland is back at the two to provide leadership. But the season revolves around three things: 1) how freshman point guard Marcus Paige adjusts to college hoops, 2) if all of those wing players can find some chemistry, defense and outside shooting and 3) if this team can rebound well enough without anyone over 6-9 in the regular rotation. Roy Williams will figure it out. But there is no doubt that this team is going to have some very shaky moments.
The Dark Horse: Miami (+800)
Last year was a bizarre season in South Beach. Miami lost two starters to knee injuries before the season even started, had two key players lost to suspension during the year, battled rumors and scandal investigations throughout the season, and lost another starter to injury. And all of this happened while they were transitioning to a new system and new coach, Jim Larranaga. This offseason has been more peaceful, and it is now or never for a group that absolutely could win the ACC. Point guard Durand Scott is a three-year starter and proven commodity. Shane Larkin is an excellent running mate. And Miami is one of the few teams with the depth and athleticism to match up with North Carolina and N.C. State. Trey McKinney Jones, Rion Brown and Garrius Adams are all 6-5 or 6-6 and can score and defend. But the key is Reggie Johnson. If the 6-10 power forward is healthy – he was overweight and out of shape all last season after summer knee surgery – then he will pair with matchup nightmare Kenny Kadji and veteran backup Julian Gamble to give the Canes one of the best frontcourts in the league. These guys are legit. And if they can stay healthy and focused I think Larranaga will be able to do some very good things with them.
The X-Factor: Florida State (+650)
The Seminoles are the defending ACC Champions and they are expected to be in the mix again this year. However, I am not as bullish on this group. They lost a load of experience and talent from last year's roster. And while Michael Snaer is an excellent all-around player, he is the only senior on this roster and has never been the type of guy to just take over a game or carry a team. FSU will defend for days and they will have a strong starting five. They are a system team and the system is excellent. But this roster is raw. And it remains to be seen how this team will fill the leadership void. They will have around 20 wins and should be an NCAA Tournament team again this year. But I think the Noles are better suited for the roll of spoiler than they are contender for this year's league race.
The ATS Machine: Maryland (+1500)
I have been down on the Terps the past two seasons. And I have been right. The Terps have struggled to two lackluster seasons and haven't made the NCAA Tournament since 2010. But this group could be a nice moneymaker in the ACC this year. This team has nice size with James Padgett and maturing Alex Len. They have two unselfish, bulldog guards in Pe'Shon Howard and Nick Faust. And they have a Top 20 recruiting class that should log minutes right off the bat. Further, they have Mark Turgeon, who I think is an excellent coach, particularly in an underdog role. But Maryland's secret weapon could be Dez Wells. The former Xavier guard transferred this offseason, but his playing status is in limbo. If he is eligible then the Terps will have another underrated weapon. If not, they may struggle. Maryland does not have enough talent to challenge for the ACC's top tier. But they are the best of the second tier and a team capable of being a thorn in the side of the Carolina teams all season.
The Disappointment: Duke (+250)
Look, they are the Blue Devils; they aren't going to fall off the map. But the Blue Devils are right there with the Yankees, Cowboys and Notre Dame football in terms of THE most public teams in the sports betting world. Expectations are always a high for this program, even if they are irrationally so. Duke has an excellent frontcourt with three-year starters Mason Plumlee and Ryan Kelly serving as twin towers down low. But as good as those two are they can be worked over by hyper-athletic opposing forwards. Duke has three more freshmen all-Americans and a potential breakout player on the wing with Alex Murphy. But I don't trust their guards. Quinn Cook and Tyler Thornton were underwhelming at the point last year. And perhaps my biggest reason for not buying into the Blue Devils as the National Championship contender they are being touted as is because I don't buy Seth Curry as a go-to guy. He's a good college player that can score a bit. But he is not a game-changer, probably not one of the 10 best players in the league, and he disappears at times. Guards cover spreads in college basketball. And I don't trust Duke's.
The Rest:
Georgia Tech (+1200) – It's hard to believe now, but Tech used to be one of the best programs in the ACC. However, they have won more than 15 games just one time in the last half-decade and enter this season with a spotty roster. Coach Brian Gregory made a smart choice in kicking leading scorer and resident head case Glen Rice Jr. off the team. That will free up the ball, and the locker room, for Gregory's younger players. But, actually, the advantage that Tech has over the other reconstructing rosters in the basement of the ACC is that they are not leaning on freshmen and sophomores. Tech has one blue-chip recruit, freshman power forward Robert Carter, but the foundation of the team is four juniors and one senior that have all performed at the college level before.
Wake Forest (+1500) – Wake has two of the best players in the league in C.J. Harris and Travis McKie. But that's all they have. The Demon Deacons lost several key contributors – to graduation or transfer – from last year's 13-win team. Now, like Clemson, they are relying on 10 undergrads to supplement their two 16-point-per-game scorers. Jeff Bzdelik is kind of a disaster right now, and I don't see this program buying into his style of play. It should be another ugly year in Winston-Salem.
Boston College (+5000) – It is going to be tough for the Eagles to be as bad this year as they were last year, when they were a 9-22 disaster. But that doesn't mean that this is a team to take seriously. B.C. started four freshmen last year and it showed. So, while they have all four back in the lineup this year, that doesn't necessarily mean that this team is going to show parallel progress. This team lacks depth and size and is still a couple years away from being anything more than a walkover in this league. Boston teams are always tough underdogs, so look for these guys to play well at home.
Clemson (+2000) – Brad Brownell is now in full-blown rebuilding mode with the Tigers. He has to replace his starting backcourt and he has just two seniors, underwhelming Milton Jennings and Devin Booker, to lean on. The Tigers have 10 freshmen and sophomores trying to develop in Brownell's system, and there should be a lot of bumps in the road.
Virginia Tech (+4000) – Seth Greenberg was shown the door after failing yet again to get the Hokies into the NCAA Tournament. One of his former assistants, unproven James Johnson, is left at the helm of this sinking ship, and things could definitely be painful in Blacksburg this winter. Point guard Erick Green is legit. But he is the only scholarship senior and there was a talent drain, both with recruits decommitting and players transferring, after Greenberg was ousted. This is a pathetic roster and a bad basketball team. Don't expect a smooth transition.
Projected ACC Standings:
1. North Carolina State*
2. Duke*
3. North Carolina*
4. Miami*
5. Florida State*
6. Virginia
7. Maryland
8. Georgia Tech
9. Wake Forest
10. Boston College
11. Clemson
12. Virginia Tech
*Projected NCAA Tournament Teams (Virginia and Maryland will be bubble teams.)
Robert Ferringo is a writer and a professional sports handicapper for Doc's Sports. He is considered one of the best college basketball handicappers in the country and has produced three straight profitable college hoops seasons. That includes nearly $7,000 in profit last year and over $32,000 in nonconference profit over the last five years. You can sign up for his college basketball picks and get more information here.
---
Most Recent College Basketball Handicapping