2012 Belmont Stakes Pace Scenario
by Trevor Whenham - 6/7/2012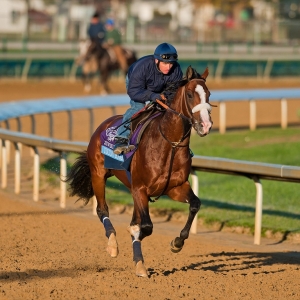 How the pace of a race plays out can have a huge impact on who wins. What makes this edition of the Belmont Stakes so interesting — besides the pursuit of the Triple Crown, obviously — is that the pace scenario is surprisingly unclear. There are several ways it could turn out, but most horses are likely to patiently wait to look at how the race sets up before committing to anything. It could be that the first jockey to blink determines how the whole race turns out.
The starting point when discussing the pace is always the early speed.
There are three speed horses in the Belmont Stakes field. Unstoppable U and Paynter are horses that like the lead, while My Adonis can have the lead but prefers to be pressing the pace from close behind. With that much speed you can often have a brutal duel, but that's not expected here.
Unstoppable U is inside in the two hole, and could find it tough to navigate right to the lead from there. Paynter in the No. 9 gate and My Adonis in the 12 hole are far enough outside that they can patiently let the start develop before deciding if they need to press the pace or if they can let someone else do it.
With a race this long no jockey with any aspirations to win the race will want to get stuck in a fast early pace because it is too easy to burn out with a lot of track left to cover. I expect Unstoppable U to lead through the early fractions with the other two close by, and I don't expect the times to be particularly sizzling. It wouldn't be a surprise to see either of the other two speed factors lead, either.
The biggest factor in this race is, of course, I'll Have Another. he's the horse everyone will be watching, and the one that every jockey will want to beat. He starts outside, so he should be able to avoid early trouble. We've seen in the last two races that he likes to be near the pace, and we should see the same here. He won't be afraid of the pace here, either, as he was in contact with a much faster horse in Bodemeister in the last two races.
His biggest concern is going to be to make sure that the speed horses aren't too relaxed early on. If Paynter can lope around the track at a casual pace then he could have too much left down the stretch for I'll Have Another to contend with. It is quite possible, then, we could see I'll Have Another on the lead much earlier than expected if Mario Gutierrez doesn't like how things are playing out. He has the luxury of knowing he has the best horse in the field if he doesn't mess it up, so he has options. Everything could come off the rails for the horse, though, if Gutierrez lets himself get boxed in or cut off - and you can bet that every jockey will be looking to do just that if they have the chance.
In Union Rags' last two races he has been shuffled back and boxed in early and has not been able to adequately recover. He has a new jockey aboard to guide him, but trainer Michael Matz will still be concerned about the No. 3 gate that he will be starting from. It's too easy for a horse to get caught in the early crush and get boxed in when the field collapses to the rail. He would ideally be behind I'll Have Another, but it's possible that he will be more aggressive as well, and he has won from the lead before.
If Velazquez gets aggressive early then this race could really explode. In that case the best horse really will emerge in the end. Velazquez is good enough, though, that he should be able to get the race he wants.
Three horses that won't be worried about what happens up front at all are Dullahan, Street Life, and Optimizer. All will look to settle at the back early on and bide their time until the final turn. Street Life is the deepest of the three closers, but Dullahan is the most talented. Neither should get in each other's way, and the Belmont stretch is more than wide and long enough to give them room to move. What they really need, though, is an honest early pace. If things are too casual up front then we've already seen that I'll Have Another will be hard to catch. Unfortunately for these horses, though, none have enough speed to really do anything other than hope for the best.
A big concern in this race is the horses that just aren't very good. Guyana Star Dweej is totally outclassed, and Five Sixteen and Ravelo's Boy are only slightly better. They know that if the other horses run their races they have no chance. The concern is always that those horses will take a big risk that will affect the outcome. That could mean setting an aggressive pace or trying to throw the top horses off their game through tactics. All you can do is hope that nothing they do significantly impacts the outcome of the race.
Doc's Sports is offering $60 worth of free member's Belmont Stakes picks absolutely free – no obligation, no sales people – you don't even have to enter credit card information. You can use this $60 credit any way you please on any of our top horse racing handicappers or for any of the Triple Crown races. Click here for more details and to take advantage of this free $60 picks credit today.