College Basketball Handicapping: Teams with NCAA Tournament Betting Value
by Trevor Whenham - 2/21/2012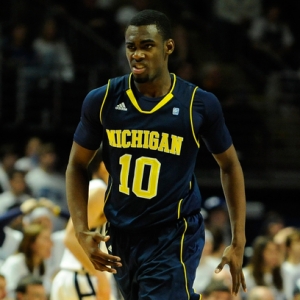 We are in the home stretch of the college basketball season. Soon, all eyes will be on the postseason, and people who haven't been paying attention to the sport all year will suddenly be betting on it heavily.
As betting volume increases it can be hard to find value on the elite squads in the country. It can be helpful, then, to have an idea of what teams in the next level are rounding into top form and could be serious contenders to win several games in March. Here are three teams that stand out as ones that their opponents will be afraid of based on their play in recent weeks (all odds are from Sportsbook.com):
Michigan Wolverines (+8000 to win National Championship)
Michigan had a program-defining win at home on Saturday night against Ohio State, and they have moved up to 11th in the AP poll as a result.
This is a team that got hot down the stretch last year, and carried that momentum into a first-round win in the tournament. If they play like they have been recently then they'll win more than one this season.
The driving force of this team has been two unlikely stars.
Trey Burke was raised in Columbus, but Ohio State didn't even recruit him. The three-star freshman has turned into the best freshman point guard in the country, though, and he's only getting better.
On the other end of the spectrum is Zack Novak. The senior received little major college attention other than from Michigan when he was in high school, and there are certainly more talented guys around. However, his heart and determination are what makes this team tick.
Their biggest issue in the postseason may be that they aren't able to play at home. They are one win over Purdue next weekend away from going undefeated at home on the season, while they have been far less consistent away from home. Still, this is the kind of feisty, high-chemistry team that can really do some damage in the Big Dance.
New Mexico Lobos
The Mountain West Conference race was shaping up to be an epic duel between San Diego State and UNLV. New Mexico has had something to say about that in the last month, though, and now they are firmly in control of the impressive conference.
They have won seven straight, but it is the last two wins that are particularly remarkable. First they traveled to San Diego State and won by 10. Then they absolutely crushed UNLV in a 65-45 home win that wasn't as close as the score suggests.
Besides their conference success this team has gone a solid 5-0 against major conference opponents this season — all away from home.
The guy who makes it all happen for the Lobos is Drew Gordon. He leads the team in both points and rebounds, and his 27 point, 20 rebound performance against UNLV was as good a game as any player has played all year.
The Mountain West has always been tough in the postseason, and New Mexico is well poised to continue that legacy this year. Steve Alford might not be the most likable guy around, but he can certainly coach — 119-43 in five years at New Mexico. This is not a team that will be out-coached.
Wichita State Shockers
We have gotten used to seeing good things from this team over the years — they won the NIT last year, and made the Sweet 16 in 2006. The way they have played this year, though — and especially recently — this may be the best Wichita State team we have seen yet.
If they get the right placement in the bracket then another Sweet 16 bid is definitely within reach.
They absolutely crushed Davidson on the road on the weekend. That's a nice win, but they have had much nicer. Creighton was the team that got the attention in the Missouri Valley Conference heading into the season, but Wichita State all but clinched the conference on Feb. 11 with an incredible 21-point win at Creighton. Add in a 19 point win over UNLV in December and you have a team that knows how to get up for big games, and how to make winning them look easy.
What makes this team so dangerous is the depth. They have seven guys who average more than 22 minutes a game, so they are always fresh and ready to run. That pays off late in games when opponents are struggling. They spread out the scoring, too — six guys average nine or more a game.
They are very well coached, too, with former Winthrop head man Gregg Marshall at the helm. If you are the type of bettor who loves the mid-majors in March then this is a bandwagon you are going to want to jump on.
---
Most Recent College Basketball Handicapping