Ranking College Football Bowl Games, 1-35
by Nicholas Tolomeo - 12/13/2012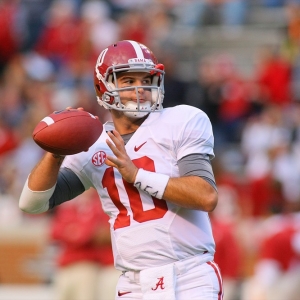 As I do every year here at Doc's Sports, I will rank the college football bowl games from 1-35. I have considered all things for these rankings from matchups to venue to betting angles and potential for drama. This looks like it has the potential to be a great bowl season. Click the links on some of these bowls for free betting predictions for that particular bowl.
35. Bell Helicopter Armed Forces Bowl
Dec. 29
Fort Worth, Texas
Rice (6-6) vs. Air Force (6-6)
Rice heads to the Armed Forces Bowl where it will face (who else) Air Force. Rice has only been to three bowls since 1961. Air Force has been to this very bowl four times in six years. In this battle of 6-6 squads, the winner gets to say it finished with a winning record while the loser doesn't. You can feel the drama building already. Oh yeah, and this thing has a 10:45 a.m. local time kickoff, so be sure not to set your alarm.
34. BBVA Compass Bowl
Jan. 5
Birmingham, Alabama
Pitt (6-6) vs. Ole Miss (6-6)
Pitt doesn't need a compass to find this dud of a bowl game. The Panthers have now played in all three BBVA Compass Bowls. The winner can say they won a January bowl game. The loser can say they're under .500. Pitt's first year coach Paul Chryst is from Wisconsin, and Ole Miss' first-year coach is called Hugh Freeze, so the two might find Birmingham, Alabama, in January quite balmy.
33. R+L Carriers New Orleans Bowl
Dec. 22
New Orleans
East Carolina (8-4) vs. Louisiana-Lafayette (8-4)
This showdown of Conference USA and Sun Belt heavyweights is scheduled for noon on a Saturday in December, but it might be worth waking up for. The total is listed at 64 at most sportsbooks, and last year Louisiana-Lafayette beat San Diego State on a walk-off field goal.
32. Little Caesars Pizza Bowl
Dec. 26
Detroit
Western Kentucky (7-5) vs. Central Michigan (6-6)
If Bobby Petrino showed up to coach the game on a motorcycle, this might be No. 1, but the new Western Kentucky hire won't be coaching until next season. Instead ESPN commentators will spend the entire three-hour telecast talking about Petrino. Western Kentucky is listed as a five-point favorite, so it should be a close game. However, since both teams get to spend their Christmas in downtown Detroit, they're both winners here. On a side note, Central Michigan is undoubtedly the worst of the 70 bowl-bound teams.
31. Beef 'O' Brady's Bowl
Dec. 21
St. Petersburg, Florida
Ball State (9-3) vs. UCF (9-4)
Regardless of the teams, this bowl game is always fun to watch for two reasons: it's played in Tropicana Field, a terrible place to play baseball and even worse play to play football, and it gives sports fans above the Mason-Dixon line the chance to ask, "what in the hell is a Beef 'O' Brady?"
30. Sheraton Hawaii Bowl
Dec. 24
Honolulu, Hawaii
SMU (6-6) vs. Fresno State (9-3)
These teams are nothing to get excited about, but who are we kidding, this is the only game on TV on Christmas Eve and you will watch. Fresno State is -12, but look out for the Mustangs. Honolulu has traditionally been a breeding ground for Christmas Eve upsets.
29. AutoZone Liberty Bowl
Dec. 31
Memphis, Tennessee
Tulsa (10-3) vs. Iowa State (6-6)
These teams opened the season with each other and now will close the season with each other. Iowa State beat Tulsa 38-23 on Sept. 1. When LSU and Alabama had a postseason rematch last year, there was drama. The Cyclones and Golden Hurricane are not LSU and Alabama.
28. Advocare V100 Independence Bowl
Dec. 28
Shreveport, Louisiana
Louisiana-Monroe (8-4) vs. Ohio (8-4)
If this game was played in October, many casual non-gambling fans would likely tune in. As it is, Ohio went from 7-0 to 8-4 and Louisiana-Monroe went from winning at No. 8 Arkansas to losing at Arkansas State, so expect the usual crowd of degenerate gamblers tuning in to this tilt.
27. Famous Idaho Potato Bowl
Dec. 15
Boise, Idaho
Utah State (10-2) vs. Toledo (9-3)
Utah State won 10 games with its only losses coming to Wisconsin and BYU. For its efforts it gets shipped away to Boise, Idaho, in the middle of December to face a Toledo team who has lost two of three. The game does feature Toledo, so point shaving is a possibility. Therefore, it's worth keeping an eye on Utah State -10.
26. Meineke Car Care Bowl of Texas
Dec. 28
Houston
Minnesota (6-6) vs. Texas Tech (7-5)
The Meineke Car Care Bowl of Texas, or as everyone calls it, "the MCCBOT," features the worst matchup of BCS Conference teams. Texas Tech can sling the ball around but doesn't play much defense, and its coach, Tommy Tuberville, jetted out of town for Cincinnati of all places. Minnesota was 2-6 in the Big Ten. The Red Raiders are giving 12.5 points; Minnesota might need a miracle to finish with a winning record.
25. Military Bowl
Dec. 27
Washington D.C.
San Jose State (10-2) vs. Bowling Green (8-4)
This annual bowl game serves as a reminder that RFK Stadium is still standing for some reason. It will be interesting to see how many (if any) San Jose State fans leave Southern California to head to Washington D.C. for this showdown with Bowling Green.
24. Gildan New Mexico Bowl
Dec. 15
Albuquerque, New Mexico
Nevada (7-5) vs. Arizona (7-5)
This bowl game always gets bonus points because it kicks off bowl season. After a week without college football, we would watch just about anything. Arizona is the first BCS team to appear in the New Mexico Bowl; I doubt it is happy about making that kind of history. For those easily bored, the total is 75 and ESPN is offering this game in 3D.
23. San Diego County Credit Union Poinsettia Bowl
Dec. 20
San Diego
BYU (7-5) vs. San Diego State (9-3)
No Super Bowl-hosting team has ever made the Super Bowl. Well, San Diego State made the San Diego County Credit Union Poinsettia Bowl (SDCCUPB), which is basically the complete opposite of the Super Bowl. Despite being the "road team," BYU and its wretched offense is a 2.5-point favorite.
22. Belk Bowl
Dec. 27
Charlotte, North Carolina
Duke (6-6) vs. Cincinnati (9-3)
Duke hasn't won a game since Oct. 20. Duke hasn't won a bowl game since 1961. Cincinnati doesn't even have a head coach. Oh, the drama.
21. Buffalo Wild Wings Bowl
Dec. 29
Tempe, Arizona
TCU (7-5) vs. Michigan State (6-6)
If you like real Buffalo wings and high-flying, high-scoring offenses, then don't go to Buffalo Wild Wings and don't watch this bowl game. The total is 41, and they might need four overtimes to get to it.
20. Franklin American Mortgage Music City Bowl
Dec. 31
Nashville
N.C. State (7-5) vs. Vanderbilt (8-4)
Nashville will be a great place to be in on New Year's Eve, but Broadway would seem to be a better destination than LP Field. Vanderbilt is playing in its third bowl game since 2008, all of which have somehow been in Tennessee. N.C. State was so happy to reach this bowl game it fired its coach earlier this month.
19. Kraft Fight Hunger Bowl
Dec. 29
San Francisco
Navy (7-4) vs. Arizona State (7-5)
Reasons to watch this game: It is fun to watch Navy try to throw the ball, Todd Graham may have left for another job by kickoff, Arizona State is a massive favorite (-14.5), and the game is played in a baseball stadium where the teams share the same sideline.
18. Russell Athletic Bowl
Dec. 28
Orlando, Florida
Rutgers (9-3) vs. Virginia Tech (6-6)
Neither team really wants to be here. Rutgers lost its regular-season finale at home to miss out a chance to get blown out in the Sugar Bowl. Virginia Tech is used to semi-decent bowl games, but the Hokies are wretched this year and lucky to be bowling at 6-6. And who the hell still wears Russell Athletic?
17. Hyundai Sun Bowl
Dec. 31
El Paso, Texas
USC (7-5) vs. Georgia Tech (6-7)
How the hell did either of these team's end up in El Paso, Texas, on New Year's Eve? USC was preseason No. 1 in some polls. Georgia Tech has a losing record. This is one of only two bowl games not aired on the ESPN family of networks. So with CBS airing the games, fans have one last time to play CBSdrink (google it).
16. Taxslayer.com Gator Bowl
Jan. 1
Jacksonville, Florida
Northwestern (9-3) vs. Mississippi State (8-4)
In a bowl game sure to get lost in the shuffle on New Year's Day, Northwestern enters with a nine-game bowl losing streak while Mississippi State has lost four of five this season. Ugh.
15. Discover Orange Bowl
Jan. 1
Miami
Florida State (11-2) vs. Northern Illinois (12-1)
Almost like an annual tradition now, the Orange Bowl is once again the worst of the BCS bowl games. We get a BCS-buster in Northern Illinois, but they're no Boise State, TCU, Utah or, hell, even Hawaii. They're a team from the MAC who lost to a 4-8 Iowa team and lost their head coach in December. Florida State can't be thrilled to be here. It will be interesting to see who brings fewer fans.
14. GoDaddy.com Bowl
Jan. 6
Mobile, Alabama
Kent State (11-2) vs. Arkansas State (9-3)
This has the makings of a decent matchup. Kent State was dangerously close to a BCS game, and Arkansas State can score points. But the game, played on the eve of the National Championship Game, will inevitably turn into what all GoDaddy.com bowls turn into: BCS National Championship preview talk interspersed with racy commercials.
13. Heart of Dallas Bowl
Jan. 1
Dallas
Purdue (6-6) vs. Oklahoma State (7-5)
The teams have kind of even records, but don't be fooled. This game should be fun to watch just for the sure blowout that is expected to unfold. Oklahoma State is the biggest favorite this bowl season at -17. Purdue was so impressed with its 6-6 record that it fired its coach, Danny Hope. This is the only bowl game ESPN has decided to air on ESPNU, and in this case the U does not stand for upset.
12. Allstate Sugar Bowl
Jan. 2
New Orleans
Florida (11-1) vs. Louisville (10-2)
Florida nearly misses the National Championship Game and is instead stuck playing an undeserving Big East champion. We know how this movie ends. Florida blasted Cincinnati 51-24 in the 2010 Sugar Bowl. The Bearcats are getting 13.5 points and they'll need them all.
11. MAACO Las Vegas Bowl
Dec. 22
Las Vegas
Boise State (10-2) vs. Washington (7-5)
Boise State used to be a BCS-buster, now they're the Las Vegas Bowl-buster. The Broncos are headed to Sin City for the third consecutive season. They blasted Utah, 26-3, and Arizona State, 56-24, the last two years. You never know what you are going to get out of this Washington team. Brent Musberger is announcing the game, so at least we'll get "over/under" 14.5 gambling innuendos.
10. Bridgepoint Education Holiday Bowl
Dec. 27
San Diego
UCLA (9-4) vs. Baylor (7-5)
Let's make a drinking game out of this. Every time someone scores drink. Every time the announcers say RGIII (yes, I know he doesn't play there anymore, that doesn't matter), drink. Every time the announcers say first one to xx amount of points wins, drink for xx amount of seconds. You get the idea. The over/under is a bowl season high 79, so if you finish the drinking game, this will likely have been the last anything you ever watched.
9. Valero Alamo Bowl
Dec. 29
San Antonio
Oregon State (9-3) vs. Texas (8-4)
This is the lowest-tiered bowl game Texas has played in since the 1994 Sun Bowl. Oregon State is just happy to be in a bowl after going 3-9 last season. Texas has a wretched defense and nothing special under quarterback, but Mack Brown wins bowl games; he has won six of seven with the notorious exception being the 2009 BCS National Championship Game.
8. Outback Bowl
Jan. 1
Tampa, Florida
South Carolina (10-2) vs. Michigan (8-4)
South Carolina is in the Outback Bowl for the fourth time since 2001. Michigan is in the Outback Bowl because Ohio State got free tattoos and because Penn State didn't…well you know what Penn State didn't do. Michigan usually uses two quarterbacks with Denard Robinson and Devin Gardner; good luck keeping them both upright against this South Carolina defense.
7. Capital One Bowl
Jan. 1
Orlando
Georgia (11-2) vs. Nebraska (10-3)
Georgia came five yards short of the National Championship. Nebraska came about 1,000 yards short of the Rose Bowl. Now the teams meet in the Capital One Bowl and both are extremely angry. On the last play of the SEC title game, Georgia somehow did not throw the ball in the end zone. Nebraska somehow lost 70-31 to Wisconsin in the Big Ten title game. If anything similar to that happens in Orlando, Bo Pelini will blow a gasket.
6. New Era Pinstripe Bowl
Dec. 29
Bronx, New York
Syracuse (7-5) vs. West Virginia (7-5)
If you like good old fashioned football, avert your eyes. West Virginia has the most exciting player in football in all-American Tavon Austin. This is his last college football game as it is for his quarterback, likely No. 1 overall pick Geno Smith. While they hardly play any defense, the Mountaineers can sling it around and so can Syracuse with quarterback Ryan Nassib. When these teams were Big East rivals, they played for the Ben Schwartzwalder Trophy. Now they're playing for whatever the hell the winner of the Pinstripe Bowl gets. The over/under is 73.5, Yankees Stadium, after all, is a hitter's park.
5. Chick-Fil-A Bowl
Dec. 31
Atlanta
LSU (10-2) vs. Clemson (10-2)
LSU's only two losses came to a pair of BCS teams, Alabama and Florida, and both were by single-digits. Clemson has an explosive offense and the better quarterback in Tajh Boyd. But last time we saw Clemson in a bowl game they were letting up 70 points to West Virginia in the Orange Bowl. Still, there are worse ways to spend your New Year's Eve.
4. Rose Bowl
Jan. 1
Pasadena, California
Stanford (11-2) vs. Wisconsin (8-5)
Wisconsin lost five games this year and its head coach. No Rose Bowl team has ever lost five games. But it's Wisconsin's third straight trip to Pasadena, so we'll give them a pass. Pac-12 Champion Stanford is a touchdown-favorite over the reeling Badgers. Hey, it's the Rose Bowl, you know you're going to watch.
3. AT&T Cotton Bowl
Jan. 4
Arlington, Texas
Oklahoma (10-2) vs. Texas A&M (10-2)
You almost have to remind yourself this is not a BCS bowl. Bob Stoops has a knack for losing big games, but he was 11-2 against the Aggies. Oklahoma quarterback Landry Fields owns all kinds of records but he does not have a Heisman, something Texas A&M freshman quarterback Johnny Manziel does. This will be the first time America sees Johnny Football since he won the Heisman, and screaming Gus Johnson is calling the game on FOX. Should be a classic.
2. Tostitos Fiesta Bowl
Jan. 3
Glendale, Arizona
Kansas State (11-1) vs. Oregon (11-1)
If Nov. 17 was just a figment of everyone's imagination, then this matchup would be for the National Championship. But Nov. 17 did happen, and Oregon lost to Stanford and Kansas State lost to Baylor, so here we are with one heck of a Fiesta Bowl matchup. The Ducks are nearly 10-point favorites; nobody is given Kansas State much of a chance in this showdown of contrasting styles.
1. BCS National Championship Game
Jan. 7
Miami
Notre Dame (12-0) vs. Alabama (12-1)
This isn't ranked No. 1 by default just because it is the National Championship Game. This is ranked No. 1 because it is the most everything game. It is the most anticipated game in recent memory. It will be the most wagered-on game in college football history. It will be the most expensive ticket in college football history. Alabama is a 10-point favorite, so a blowout is possible. But so is an all-time classic.
Doc's Sports wants to give you a great offer to try out our expert college football handicappers for free with no obligation, no credit card required and no salesman ever! These are the same college football picks that our clients receive from any of our Advisory Board handicappers and you can get $60 in picks credit in minutes. Click here for more details and to take advantage of this free $60 picks credit today.