2012-13 SEC Basketball Odds and Betting Predictions
by Robert Ferringo - 10/23/2012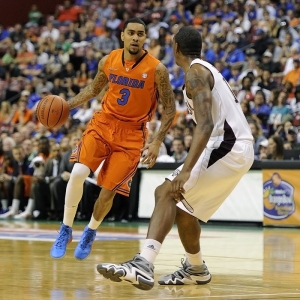 SEC basketball was collateral damage in the big BCS college football shakeup of 2011.
Now comprised of a whopping 14 teams, the SEC is a bloated mess of college hoops pretenders. At one time this league had some of the best basketball in the nation. But right now it is a dominating Kentucky team, a couple of second-rate programs, and a host of third- and fourth-rate schools simply providing their fan base a distraction between kickoffs.
The SEC now houses some of the worst teams in BCS basketball. The bottom of this league is disgusting, and that should help pad the resumes for the teams at the top. However, I even think that the "top" of this league is particularly thin this year. Missouri, Florida and Kentucky have loads of talent on the roster. But all three have pretty clear weaknesses, and I don't think that any of them are real national title contenders.
The SEC is rebuilt. But the teams are still rebuilding.
Here are my 2010-11 SEC basketball predictions to help you with your college basketball picks (with odds to win the each team's division in parentheses):
The Favorite: Kentucky (+150)
Congrats to the Wildcats for their National Championship. They were an exceptional team loaded with NBA talent. But that was last year. Now they need to try it again. And it isn't good ol' fashioned Kentucky bashing when I say that, again, I don't see this as a title team. Last year's freshmen-led championship squad was an anomaly. Further, decorated "veterans" Doron Lamb, Darius Miller and Terrence Jones were crucial to UK's success, and I don't see the same sort of experience on this year's roster. Kentucky once again welcomes a loaded recruiting class with several one-and-done prospects. But I always take the same posture on freshmen that I do every year: prove it. Until I see these young bucks perform at the college level I am a skeptic. Transfer Ryan Harrow (N.C. State) gives this team at least one guy with significant experience at the NCAA level. Beyond that, it's up in the air what the chemistry and talent really will produce this season. Finally, Kentucky will be extremely overvalued this season. Part of that is due to the SEC being, once again, pathetic. The rest comes from their national hype. But this will be a team that I am looking to wager against until I see anything that makes me think otherwise.
The Challenger: Florida (+285)
The Gators overcame a disappointing regular season to make a second consecutive Elite Eight appearance last year. They lost two of their best players in Erving Walker and Bradley Beal. But the core of last year's squad is intact. Four-year starting point guard Kenny Boynton will go down shooting. But he will need some help from vets Mike Rosario, who has been disappointing, and Scott Wilbekin. The frontcourt is again thin. But forward Patric Young has NBA potential and center Erik Murphy has NBA range. The problem for this team is that neither of those two is that good defensively, and there are no rough and rugged bodies lined up behind them. Florida is soft on the interior on both ends of the floor, and they can get exploited on the glass. This team needs too many things to go perfectly in order to be playing deep into March, and I don't know that Billy Donovan can pull that rabbit out of his hat for a third year in a row.
The Dark Horse: Missouri (+800)
I was one of the only college basketball analysts in the country predicting big things for the Tigers last year. And they didn't disappoint – during the regular season. Mizzou went 30-4 before a stunning outright loss as a 21-point favorite to lowly Norfolk State in the opening round of the NCAA Tournament. Three crucial pieces from last year's team are gone. But a flood of fresh talent should help Frank Haith fill the void. Holdover guards Phil Pressey and Michael Dixon are both exceptional. Explosive Pepperdine scorer Keion Bell and former Auburn starter, and 13.1 point per game scorer, Earnest Ross join them. The biggest difference this year will be improved frontcourt depth. Three-year starter Laurence Bowers is back from a year lost to injury. And transfer Alex Oriakhi brings championship experience from his time at Connecticut. Integrating new and old pieces will be a challenge. But the talent and experience on this team can nearly match last year's squad. I love the value on this team winning the SEC – that is a bet I am making at +800 – and I think they would easily beat Florida and Kentucky if they played today.
The X-Factors: Tennessee (+800)
Cuonzo Martin did a masterful job picking up the pieces from Bruce Pearl's broken mess. He was able to get the young Vols to buy into his tough, gritty, defense-first approach, and they were a tough 'W' throughout league play last year. Twice this team lost three straight games by just five points or less, including a three-point loss to Kentucky. Six of its seven top scorers are back this year, including smooth guard Trae Golden and emerging forwards Jeronne Maymon, Jarnel Stokes and Kenny Hall. These guys are athletic, active and aggressive and they are capable of beating any team in the league. I don't know that they have enough firepower to mount a charge at the SEC title. But come March this will be a team no one wants to play.
Arkansas (+1000)
Things have gotten awfully exciting, awfully fast for the Razorbacks. This team is building some buzz, so I'm not sure how much value they will have, or for how long. But what I do know is that Mike Anderson has some high-flying athletes to run his new take on the 40 Minutes of Hell. Guards B.J. Young (15.3 points per game) and Madracus Wade (10.8 ppg) are dynamic scorers, and facilitator Rickey Scott is an excellent compliment. And if this team can keep stud forward Marshawn Powell healthy (he blew out his ACL two games into last season), they will have another go-to, all-SEC player. And if Alandise Harris is declared eligible that is another huge addition. These guys were a force at home last year but were pathetic on the road. And they finished just 8-15 ATS overall. That means they may be a bit undervalued, but we'll have to see how they perform early in the year.
The ATS Machine: Georgia (+1500)
Mark Fox runs a system that is unique to this conference. Last year this team was trying to overcome the ridiculous/premature NBA defections of some key players and was among the most inexperienced in the league. But that gave a lot of minutes and touches to the guys on the roster now and set this team up for a potentially profitable 2012. Kentavious Caldwell-Pope is a pure player and the linchpin for this group. He is one of three starters back, and if they can get improved point guard play then C-P should see a scoring spike. Georgia has an excellent freshmen class that will have some growing pains. But Fox is an excellent coach and will get everyone on the same page. This team has more size and experience than last year's group, and I feel like they are underrated heading into the season. This is not an NCAA Tournament team. But they will play people tough and smother lesser foes with their athleticism. I think this team will be strong at the window.
The Disappointment: Vanderbilt (+2000)
This team has won an average of 23 games per season over the last four years and had really built themselves into one of the better programs in the weak SEC. They have zero starters back and have zero seniors on the roster, and this team is going to be scrambling from the start. Kevin Stallings is a very good coach. But he just doesn't have much to work with. I think that this team is going to get slammed around in this league this year, and I even wonder how competitive they are going to be for the majority of the season. They have a tough nonconference schedule and then open league play at home against Kentucky. This is not going to end well as Vandy builds for the future.
The Rest:
Alabama (+650) – Anthony Grant is slowly but surely building a solid program in Tuscaloosa. But his third year will not be a breakout season. The Tide lost starting forwards JaMychal Green and Tony Mitchell. Those two were the core of this team on both ends. They retained standout point guard Trevor Releford, now in his third year as a starter, and Trevor Lacey. But this team is light in the paint and is one of the worst shooting teams in the country. They will play in-your-face defense for 40 minutes. But the offense won't be consistent or efficient enough for this team to be a factor.
Mississippi (+1500) – It has been 10 years since the Rebels cracked the NCAA Tournament. And Andy Kennedy – who I like, and who is a very good coach – has squandered some very good chances to get back to the Big Dance during the last decade. This is not one of those very good chances. Murphy Holloway and Reginald Buckner are both three-year starters on the block for Ole Miss. And guard Nick Williams is a guy that just keeps improving. That three-man senior class is the core of this team. But there aren't enough good young guards to pair with that group to get this team to the next level.
LSU (+1500) – This was one of my "money" teams last year, and the Tigers didn't disappoint. They were an undervalued commodity, and this team really made some strides. They would have been an SEC sleeper this year, but they lost their coach and four key players from last year's team. Good riddance to Trent Johnson, who was clueless. But Justin Hamilton's decision to split really crippled this year's LSU team. Sophomore's Anthony Hickey and Johnny O'Bryant could develop into all-league players over the next three seasons and are a great core. And diminutive Andre Stringer is underrated. But after that is a lot of gunk. These guys aren't going to be very good, but if new coach Johnny Jones can develop some of the young guys this team could trend upward.
Texas A&M (+2000) – The other ex-Big 12 team won't make nearly as much noise in its new conference as Missouri. The Aggies were one of the nation's bigger disappointments last year as they were supposed to challenge for the Big 12 title. Instead, injuries ripped through the roster and new coach Billy Kennedy didn't exactly come out with his guns blazing. (To be fair, he did have to spend most of the year focusing on his battle with Parkinson's.) This team lost a lot of talent and experience. This year they have just three guys that I know can play and a whole bunch of juniors and sophomores that everyone is just guessing on.
Auburn (+5000) – Suspensions, defections, graduations and spontaneous combustion have thinned out an already weak roster. (OK, so I made up that last one.) Tony Barbee is working on a long-term rebuild, and this should be another ugly one in Auburn. The Tigers will rely on gunner Frankie Sullivan and rumbler Rob Chubb. There are some other bit pieces that have experience. But this isn't anywhere close to a cohesive or credible unit.
South Carolina (+2000) – Frank Martin and his psychotic sideline behavior have a new home in Columbia. How well that plays here remains to be seen. South Carolina was just 10-21 last year and doesn't return a player who scored more than 6.8 points per game for them last year. That assumes that guard Bruce Ellington won't rejoin the team after football season.
Mississippi State (+2500) – This program turned into a dumpster fire under now-departed coach Rick Stansbury. And it is hard to imagine things getting worse in Starkville, but oh it will. The Bulldogs lost their top four scorers and only welcome back five guys that were on the team last year. The only two players with any experience combined to average 12.5 points per game, and the recruiting class isn't exactly stellar. This might be the worst BCS team in the country. Good luck Rick Ray. You're going to need it.
Projected SEC Standings:
1. Missouri*
2. Kentucky*
3. Florida*
4. Tennessee*
5. Arkansas*
6. Alabama
7. Mississippi
8. Georgia
9. Texas A&M
10. LSU
11. Vanderbilt
12. Auburn
13. South Carolina
14. Mississippi State
*Projected NCAA Tournament teams
Robert Ferringo is a writer and a professional sports handicapper for Doc's Sports. He is considered one of the best college basketball handicappers in the country and has earned his $100-per-Unit clients over $30,000 in the last five years with his nonconference handicapping. He has produced three consecutive profitable seasons and four of five winning years overall. You can sign up for his college basketball picks and get more information here.
---
Most Recent College Basketball Handicapping