2012 TCU Horned Frogs Football Predictions and Big 12 Odds
by Trevor Whenham - 8/1/2012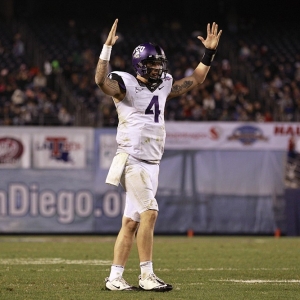 For years now TCU has been begging for a chance to play with the big boys. They have made a good case that they deserve it as well with two BCS bowl appearances and a convincing Rose Bowl win over Wisconsin. Now they are playing with the big boys, though, so they can no longer complain that they aren't getting any respect. They also can't enjoy feasting on conference weaklings — the Big 12 is small but fairly mighty.
They are in the potentially embarrassing position of hoping that getting what they asked for was actually what they wanted.
While the Big 12 is going to be much tougher than the Mountain West was, it's also going to be a much more logical geographical fit — and miles better than the Big East, their originally intended destination for this year. Thanks to the more than 70 years they spent in the Southwest Conference they have rivalries to renew against Baylor, Texas and Texas Tech. It also means that football-crazy greater Dallas will have their first taste of major conference football beyond Texas vs. Oklahoma -- and whatever games Jerry Jones buys each year -- in far too long.
Offense
Going into last season the storyline was the concern about the quarterback position after Andy Dalton had moved on to the Cincinnati Bengals. It turns out there was no need to worry. Casey Pachall took over, and all he did was break three of Dalton's single-season records. He's the real deal. Bovada is giving him some respect — he's among the Top 35 players in the early Heisman Trophy futures, though at 125/1 he's a longshot. They won't have issues at QB — unless Pachall is hurt because depth is lacking right now.
They also shouldn't have receiver issues. They return three of their top four receivers, and junior Josh Boyce could be a star on the national level.
The running game was positioned to be a major strength. It still could be, but they got hurt a bit when Ed Wesley, the man on top of the depth chart, was ruled out for the season because of academic problems. They still have plenty of depth, though, and should be more than solid.
One potential area of concern is the line. Their guards are strong and the center is a senior, but they will be starting two new tackles, including a sophomore at the crucial left tackle position. In the longer term the line should be fine, but there could be some growing pains early on.
Defense
The defensive line should be very good, and Stansly Maponga has the chance to be a national star. They would have had a chance to be special with D.J. Yendrey in action, but he was a key figure in the drug scandal that hit the team in the offseason and is no longer on the squad. They also lost a key linebacker — 2010 leading tackler Tanner Brock — thanks to the same scandal. That plus some academic issues and the departure of Tank Carder for the NFL leaves a linebacking corps with some serious holes.
That would always be a concern, but especially so thanks to the serious issues in the secondary.
They use five secondary players thanks to their unique scheme, and four of them will be new starters this year. There is lots of talent, and the staff can obviously coach defense, but they will need a lot of players to step up and perform at a high level quickly if they want to have a defense anything close to what we have come to expect from this team.
2012 TCU Horned Frogs Schedule Analysis
It's obviously going to be a much tougher schedule than they have been used to in the Mountain West — though one with much less travel than they have been used to.
The schedule makers clearly decided to give them a rude awakening in their new conference — they play at SMU, Baylor, West Virginia and Texas, and they finish the season off with a home contest against an Oklahoma squad that should be among the best in the country.
They have a tough nonconference game against a rising Virginia squad as well. The only truly soft spots come in their first two games — a home contest against Grambling State followed by a trip to Kansas.
2012 TCU Horned Frogs College Football Futures Odds
Despite the tougher conference and defensive issues Bovada is surprisingly optimistic about this team. They are installed at 11/2 to win the Big East — third behind only Texas and heavy favorite Oklahoma. They are 20th in the BCS National Championship odds at 65/1.
BetOnline has the season win total set at 8.5. The "under" is very heavily favored at -155, though, so there is a decent chance that it will fall before the season starts.
2012 TCU Horned Frogs Football Predictions
This team is going to be able to score a pile of points — even when facing a higher-caliber of opponent. Their problem, though, is that they are facing a lot of opponents that are very talented and capable of scoring a lot of points as well, and their defense — especially against the pass — is very suspect.
I don't expect the team to be embarrassingly bad by any means, but they have such a brutal schedule — especially on the road — that there is little margin for error, and a lot of cause for concern.
In the long term they have made the right move, and they will quickly become very competitive in the Big 12. This year is going to be a rough transition, though. Eight wins means they have taken care of business, and any more would be a major, and unexpected, success.
Want more TCU football predictions? Check out BetFirms for their 2012-13 preview. And to get $60 worth of free Doc's Sports member's picks (any sport, no salesperson ever!) Click Here.