College Basketball Handicapping: Improved Teams
by Trevor Whenham - 2/13/2013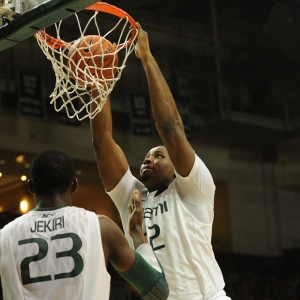 Sometimes teams in college basketball just aren't at their best in nonconference play. Maybe they are inexperienced and just need to find their way. Or perhaps they aren't focused when the games don't really matter — nonconference play doesn't matter much if you don't have a strong shot at an at-large bid. Whatever the reason, it is amazing how often a team looks like an entirely different unit once conference play starts. Here's a look at five teams that have really capitalized on the start of the conference schedule:
Miami
If you tried to convince me that you knew at Christmas time that the Hurricanes would be leading the ACC and would be ranked in the Top 5 nationally I would call you a liar. They finished the nonconference season at an underwhelming 9-3, and none of the losses were impressive in any way. They were absolutely crushed by Arizona. They celebrated Christmas day by losing to Indiana State. Earlier in the year they fell to Florida Gulf Coast. Two of those losses shouldn't even be possible for a major-conference team. Once the calendar flipped over, though, this became a totally different team. They are 10-0 in the ACC and in control of the conference. They have a win over Duke. It wasn't just a win, either. The Blue Devils were ranked No. 1 at the time, but Miami beat them by 27. They won at NC State. They beat North Carolina twice. A trip to Duke will be tough later on, but the rest of the schedule is manageable if they keep playing like they have. An amazing transformation.
Montana
The Grizzlies played a short nonconference schedule, but they were happy to see it end. They were just 4-4 in those games, and two of those wins hardly count because they came against also-rans Minot College and Carroll College. This looked like a team in trouble heading into a reasonably challenging Big Sky conference schedule. The conference isn't elite by any means, but it is legitimate. The Grizzlies were apparently hibernating until the games actually counted, because in 14 conference games they haven't lost yet.
Memphis
Through the nonconference season it was tough to believe that Josh Pastner's team was going to live up to its potential. Their 11-3 record was decent, but the losses were concerning. By far the three best teams they played were VCU, Minnesota and Louisville, and they lost to all three of them. They haven't exactly been tested by their C-USA season, but they have done exactly what they need to do so far — win and win easily. They had a close call against Marshall, but beyond that they have won with ease. Their ATS record hasn't looked good in the conference season, but that's largely because the public views them so strongly that their lines are ridiculously inflated. This is a team that will be as ready for the tournament as they always are.
Akron
The Zips were a pretty unimpressive 9-4 in nonconference play. They opened the season with a loss at Coastal Carolina, lost to Detroit, and didn't really have a signature win. They found a new gear in conference play, though, and they have yet to lose in 10 games. They are 6-4 ATS over that stretch, and the four games they have covered have all had double-digit spreads. They have a good chance at running the table in the conference. They don't have the makings of a tournament Cinderella, but they are a good story and a remarkable turnaround nonetheless.
Davidson
Good ole Davidson. Stephen Curry's alma mater is just so lovable. They were a scary 5-6 in nonconference play, and it seemed very unlikely that we would get a chance to see them on a national stage this year. They certainly get credit for scheduling tough games, though — they lost to New Mexico, Gonzaga, Duke and Drexel, and beat Vanderbilt and West Virginia. That trial by fire was obviously what the team needed, though. Once the Southern Conference season started they were as ready as they always are. They sit at 12-1 in conference play, with the lone loss coming on the road. They are 4-1 ATS in their last five, too, so they are winning the right way. This is a team to watch. As usual.
Read more articles by Trevor Whenham
---
Most Recent College Basketball Handicapping