Female Jockeys in the Kentucky Derby
by Trevor Whenham - 4/28/2013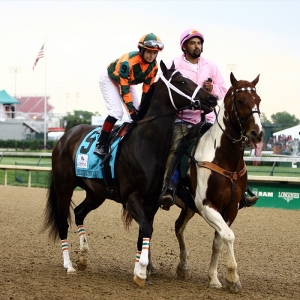 Barring a late injury, Mylute will enter the starting gate on the first Saturday in May for the Kentucky Derby. When he does, he will have, like most horses in the field, and exceptional jockey on his back. The only difference is that that jockey is the only woman in the field — Rosie Napravnik. This is her second time in the race, and she has a chance to make some real history.
The past
Napravnik is one of just six women to run in the race. A brief look at the others who have come before:
Diane Crump - Crump was a serious trailblazer. In 1970 she became the first woman to run in the Derby when she finished 15th aboard Fathom. That was only the second most remarkable accomplishment in her career. A year earlier, at only 19 years of age, Crump had become the first woman to ride in a pari-mutuel race.
Patricia Cooksey - Crump didn't exactly start a tidal wave of female Derby entrants. In fact, it took until 1984 for Cooksey to become the second. She was just 11th aboard So Vague. The next year, Cooksey became the first woman to ride in the Preakness. She finished sixth. She also was the first woman to win a stakes race at Churchill Downs and the first to win a major stakes in California.
Andrea Seefeldt - Seefeldt picked up the ride on Forty Something in 1991 late in the process. Early on, things looked good. She engaged in an early speed duel and was at the front through six furlongs. But then the horse ran out of gas, and she finished dead last. Later that same summer she won the Pennsylvania Derby at the crazy price of 78/1.
Julie Krone - Krone is the greatest female jockey of all time — for now, anyway. She's the only woman to have won a Triple Crown race — the 1993 Belmont aboard Colonial Affair. She was also the only woman with a Breeders' Cup win until Napravnik won the Juvenile last year. She rode in the Derby in 1992 and 1995, but never finished better than 11th. She has a rooting interest in Napravnik here beyond just female pride — she has a standing $10,000 bet with D. Wayne Lukas. Lukas bet that a woman would never win the Kentucky Derby, so Krone would cash in with a win — though not nearly as much as Napravnik would.
Rosemary Homeister, Jr. - Aside from Napravnik, Homeister is the only jockey on this list who is still active, and with more than 2,500 career wins she is a very legitimate talent. The daughter of two jockeys and the 1992 Eclipse Award winner for top apprentice jockey, Homeister was 13th in the 2003 Derby aboard Supah Blitz. The horse was 43/1, so she got all out of him that there was to get.
Napravnik
Napravnik doesn't have the numbers that Krone has, but she is only 25 years old, so it is just a matter of time. Barring a major setback, Napravnik will be the greatest female jockey of all time by the time she is done. She isn't a great female jockey. She's a great jockey who happens to be female.
Napravnik has been consistently building her career, but she had her true breakout year last year. She finished eighth in the country in earnings — the highest finish ever for a woman. To reach that point she became the first woman ever to win the Kentucky Oaks, and she won the Breeders' Cup Juvenile aboard Shanghai Bobby. This year she is off to an even better start, sitting fifth in earnings and second in wins. She is a truly elite jockey.
This will be the second Derby mount for Napravnik. In 2011 she was aboard Pants on Fire. The ninth-place finish was mildly disappointing for the talented colt, but it was still the best finish ever for a female jockey.
Now she'll look to do dramatically better, though Mylute probably doesn't bring as much to the table as Pants on Fire did. His sire, Midnight Lute, was a two-time Breeders' Cup winner, but both came in the Sprint so the Derby distance is a bit of a concern. Midnight Lute was sired by Derby winner Real Quiet, though. Napravnik has only ridden Mylute in one of his nine previous starts, but that was one of the colt's two wins, so there is some chemistry. The colt has not been particularly impressive in workouts so far, but his connections insist that is what is expected — he's a game-day player.
My gut tells me that this won't be the year for Napravnik. I'd bet a lot that Napravnik will eventually be the one to make history, though — and she won't stop at just on Triple Crown race win in her career.
Want free Kentucky Derby picks from some of the best horse racing handicappers around? Doc's Sports offers $60 in free Kentucky Derby picks that you can use on any of Doc's Sports horse racing handicappers. This offer comes with our no obligation guarantee, and no credit card is required. This credit can be used for any of the Triple Crown races or for any sport and handicapper at Doc's Sports. Click here for more details and to take advantage of this free $60 picks credit today.
Read more articles by Trevor Whenham