2013 NBA Draft: 10 Overvalued Prospects
by Robert Ferringo - 6/27/2013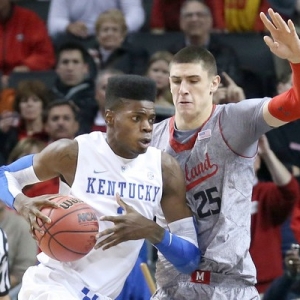 The NBA Draft has become a race to the bottom.
Each of the past four years the main storyline in the lead-up to the NBA draft has been that the talent pool is one of the "worst in recent memory". The 2009 draft class was believed to be top-heavy, with Blake Griffin and Tyreke Evans as the only dudes worth taking. The 2010 class was ridiculed for months beyond the clear No. 1 pick, John Wall. And the 2011 NBA draft class inspired a host of stories about it rivaling the 2000 class as one of the worst of all time.
Last year the 2012 NBA draft was the rare occurrence in which basketball pundits lauded the crop of talent entering the league. There were skeptics heading into the June event, but they were less vocal than previous seasons. And so far players like Anthony Davis, Bradley Beal, Dion Waiters and Harrison Barnes haven't disappointed.
That leads us to the 2013 NBA Draft, which will be held tonight in Brooklyn. And in the run-up to this year's meat market the story is a familiar one: many people asking whether or not this will be one of the worst drafts ever.
Criticizing the draft pool has become a go-to move for ESPN trolls and wannabe college basketball "experts". But the fact is that most people degrade the draft participants mainly because they don't know jack about college basketball. And other than a few games during the NCAA Tournament they simply haven't seen these guys play very much.
Only history can tells us about the strength of a draft class. And the fact of the matter is that this year's class is not stronger nor weaker than any of the past several seasons; there is value there if you know where to look.
There are several players in this year's draft that I am high on and that I think can become solid contributors, if not quality starters, in this league.
But there are also a host of players that are being comically overhyped by the bobblehead media, starting with "consensus" No. 1 overall pick Nerlens Noel. Noel was overrated coming out of high school and after one unimpressive half-season at Kentucky, which was cut short by a knee injury (is that not a red flag to anyone?), he is massively overrated coming out of college.
Noel is going to be a bust in the Greg Oden/Eddy Curry/Stromile Swift/Kwame Brown variety. And it is just stunning that A) more NBA front office people don't see that, and B) that people are spending so much time trying to convince them that it isn't true.
But even though Noel is the odds-on favorite to go first overall, he isn't the only player that I feel will end up as a bust in this year's draft. Frankly, I feel like most of them are pretty easy to spot. But for the uninitiated, here is a list of 10 players that I think will become wasted picks in the 2013 NBA draft:
1. Nerlens Noel – Noel is terrible. Yes, he's large and athletic. And that can get you by in the weak SEC. But Noel has absolutely no offensive game to speak of. Yes, there are big paws on this puppy. But the reality is that the NBA draft is littered with big men – much better big men than Noel – who never panned out and crippled their teams in the meantime. Noel could be a contributor in the right situation. But there is absolutely no way that he is a player to build a franchise around and Cleveland would be making a horrific mistake if they took him first overall.
2. Cody Zeller – I liked Cody Zeller in college. But I felt he could've used another year to work on his outside game. The most recent draft pick to compare him to would be Tyler Hansbrough. But Hansbrough was a much better and more accomplished player coming out of school than Zeller was. Zeller is overrated because he plays at Indiana and was part of the Hoosiers resurgence this year. He has the potential to be a solid rotational guy. But the team that takes him in the Top 10 this year will be looking for him to be a multiple All-Star. That's not going to happen.
3. Alex Len – I think it is comical that people are thinking about taking Len in the Top 10. It's hysterical, actually. Len was an honorable mention all-ACC player on a weak Maryland team. In two years of school Len was more hype than production and other than being tall he doesn't have a definable NBA skill. A lot of people are going to laugh at this pick – whenever he goes – just a few years from now.
4. Shane Larkin – I am a big Larkin fan. He was brilliant this year as the triggerman for a Miami team that yours truly was touting long before the bobblehead media got clued in. But he's too small to be an effective NBA point guard and I wouldn't waste a first round pick on a guy with so little upside. I think his ceiling is something akin to Oklahoma City backup point guard Eric Maynor. Do you want to waste your No. 1 pick on that?
5. Steven Adams – Like Len, Adams was more hype than production. He is a slow, lumbering center that was pretty mediocre on a very average team. Adams averaged 7.2 points, 6.3 rebounds and 2.0 blocks per game. And now he may be a lottery pick? One NBA draft ratings site has lists his top NBA comparison to Byron Mullens. Enough said. If you can get Adams in the 20's then he could show some return in four or five years. But someone will take him much earlier than that.
6. Tony Mitchell – Mitchell was a guy coming out of North Texas that had a lot of buzz heading into last season. But he got caught up in a coaching change and his Mean Green massively underachieved. Also, have you watched Sun Belt basketball before? He couldn't even dominate those losers last season and will be overmatched in the pros. There is no way that Mitchell – only a sophomore – should've left school early.
7. Tony Snell – I had a really hard time putting Snell on this list. He's 6-7 and he improved his shooting stroke each year at New Mexico. He is kind of a poor man's Victor Oladipo. But Snell's problem is that he's too thin, without much room on his frame to bulk up, and that regardless of his improving shooting numbers he doesn't have a natural stroke. He's not aggressive enough to be a starting swing player and isn't a good enough shooter to be a spot-up guy.
8. Lorenzo Brown – You want to talk about a guy allergic to defense. Brown has excellent court vision. And he could've been a better scorer if he had wanted to be. But Brown is one of the softest players in the draft and there is absolutely no way he can defend NBA point guards. He'll be a fine European player for many years to come but he'll never cut it in the NBA.
9. C.J. Leslie – The talent and the athleticism is there. But Leslie never put it together at N.C. State. Like Brown, he is soft and he can't defense. Leslie is a guy that could stand a chance if he made it onto the perfect team (maybe Miami or Golden State). But the odds are overwhelming that he will wash out and be another example of wasted/overhyped talent.
10. Nate Wolters – The Great White Hope of this year's draft won't go until the second round. But he's not even worth that pick. He is about half as good as Jimmer Fredette was coming out of college, and Jimmer is a fringe NBA player at best. I don't care what round you got him in: Wolters is a wasted pick.
Honorable Mention: Erick Green, Erik Murphy
Doc's Sports is offering $60 worth of member's picks absolutely free – no obligation, no sales people – you don't even have to enter credit card information. You can use this $60 credit any way you please for any handicapper and any sport on Doc's Sports Advisory Board list of expert sports handicappers. Click here for more details and take advantage of this free $60 picks credit today.
Read more articles by Robert Ferringo