NFL Survivor Pool Picks and Advice: Week 1
by Matt Severance - 9/3/2013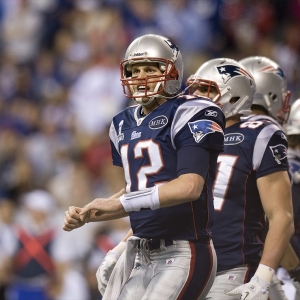 When the new Major League Baseball season kicks off each spring, every team might say that it truly believes it can make the playoffs. However, in reality there are probably 8-10 each year that know there's almost no chance. Ditto the NBA, especially this coming season when teams are "Riggin' for Wiggins" or tanking to draft super-hyped Kansas recruit Andrew Wiggins with the top pick in the 2014 draft.
I'm not saying every NFL team begins a year with Super Bowl expectations, but there are always teams that reach the postseason that weren't expected to. Last year four clubs bounced back from losing records to make it: Seattle, Washington, Indianapolis and Minnesota. The first three had unbelievable rookie quarterbacks, and the Vikings an all-world season from NFL MVP Adrian Peterson. In the past 10 years, 61 of 120 teams -- almost exactly half of the total playoff teams -- have made the playoffs after being out of the postseason the year before.
I mention this because upsets are going to happen in Week 1 that we didn't see coming. It's the hardest week to handicap in my opinion because starters barely play in the preseason. NFL handicapping is only slightly easier than college football, where you have nothing to go on and usually much more roster/coaching turnover. That's essentially my welcome to Survivor Pool advice 2013: I'm already covering my a** if I get a pick wrong in Week 1!
Last year the big upset was Robert Griffin III's Redskins going to New Orleans as an eight-point dog and winning 40-32 to begin RG3's Offensive Rookie of the Year season. Arizona beat Seattle in Week 1 last year. The 49ers were not supposed to go to Green Bay and handle the Packers. The Eagles were nearly stunned at Cleveland -- remember, we all thought Philly would be good last year, not 4-12. So be careful and definitely wait until right up until the deadline to get those picks in.
As mentioned in my preseason Survivor Pool story, I will be listing teams as if it also were a Confidence Pool, in a descending order of confidence on the game. The first team listed is my choice.
New England at Buffalo: This seems like the biggest mismatch of Week 1, and it does have the biggest spread. Still, I don't like picking a road team this early, and I also believe the Patriots are due for a bit of a fall with all those offseason losses (Wes Welker, Aaron "Thug Life" Hernandez) and no Rob Gronkowski in Week 1. I don't imagine New England losing, but I could see this being much closer than people think. I simply don't project any other opening games that scream "sure thing."
Pittsburgh vs. Tennessee: I am not big on the Steelers this year as I think their championship window has shut as presently constituted. However, they have won 10 straight home openers, and that defense should befuddle inconsistent Titans QB Jake Locker. Pittsburgh better win or it could be looking at something like a 1-3 start.
Detroit vs. Minnesota: The Vikings were flukes last year at 10-6 thanks to Peterson's nearly historic season. Maybe I'm the only one, but I expect much better things for Detroit.
Denver vs. Baltimore: The Broncos will be foaming at the mouth for payback for the playoff crusher, and the home teams generally win these Thursday night Kick-Off Games. However, that streak ended last year when the Giants lost at home to Dallas -- and of course the Ravens are only opening on the road because of the Orioles.
Indianapolis vs. Oakland: This is my trap game of the week. I also think the Colts did it much with mirrors last year and will slide back some, although Andrew Luck is clearly legit. Are the Raiders going to be terrible? No doubt. But maybe Terrelle Pryor adds a different dimension that the Colts aren't ready for.
St. Louis vs. Arizona: The Rams dominated the Cardinals last year defensively in the sweep. Will Carson Palmer make that much of a difference? I doubt it. Excited to see Rams receiver Tavon Austin ... but not much else from this game.
Washington vs. Philadelphia: Think the Redskins' fans will be jacked up to see Griffin back on the field? I truly have no idea what the Eagles will do offensively under Chip Kelly (it should be fun to watch), but I don't see them winning on the road here.
Chicago vs. Cincinnati: One of three games featuring teams that won at least 10 games last year, with the Bears being the only one to miss out on the playoffs. I also have no idea what the Bears offense will look like under Marc Trestman, but I'm expecting better things -- that's not saying much from past years under Lovie Smith.
Kansas City at Jacksonville: Blaine Gabbert will be playing through a thumb injury that cost him the final two preseason games. Plus, the Jags don't have top WR Justin Blackmon. Don't think I've ever leaned toward a two-win team on the road in Week 1 before.
Dallas vs. NY Giants: Yes, the Cowboys will finally beat the G-Men in Jerry Jones' billion-dollar playhouse. Probably.
New Orleans vs. Atlanta: Hard to go against the 13-win Falcons, but I think the atmosphere will be quite something at the Superdome with Sean Payton's return.
Cleveland vs. Miami: Sadly, this is the 1 p.m. local game where I live. Lucky me. Guess I'm going to the beach. Or an insurance seminar. Or to a One Direction CD listening party (they still make CDs right?). Anything but watch this.
San Francisco vs. Green Bay: The game of the week in my opinion. I wonder what Packers defensive coordinator Dom Capers will have in store for Colin Kaepernick after he destroyed Green Bay in the playoffs.
Tampa Bay at NY Jets: Think Darrelle Revis wouldn't love to get a pick against his former team? With Geno Smith at QB for the Jets, Revis might outscore the New York offense himself.
Houston at San Diego: The Chargers winning this wouldn't shock me in the least. I'd never pick this game otherwise.
Carolina vs. Seattle: You read this right. I think the Panthers are playoff-caliber and will pull the upset.
The last word: Nearly everyone in your pool will take the Pats, so if you want to avoid a potential pool-clearing upset then go with Pittsburgh. But as mentioned, I don't see how New England doesn't win, especially if it's undrafted free agent rookie Jeff Tuel at quarterback for Buffalo. I would steer clear of the Colts, who might be another popular choice. They aren't good enough yet to win simply because they should.
Doc's Sports wants you to try out our stable of NFL handicappers absolutely free of charge. We know you'll be impressed, so access $60 worth of member's picks with no obligation. Get started today with one click.