NFL Survivor Pool Picks and Advice: Week 14
by Matt Severance - 12/5/2013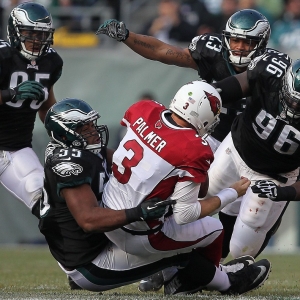 Have you noticed there seems to have been a ton of big come-from-behind victories in the NFL this season? Last week, for example, you were probably feeling good if you picked Buffalo Bills, Oakland Raiders (pretty sure you didn't take them), Kansas City Chiefs or Washington Redskins. Each of those teams led their games by 14 points only to lose to Atlanta, Dallas, Denver and the Giants, respectively. That makes a whopping 15 games this season in which teams have rallied to win when behind by two touchdowns. The single-season record is 18, set in 2011.
I was definitely sweating that Cowboys game as they were my top pick of Week 13, although I've always said it's dangerous to bank on that maddeningly inconsistent team. Once I saw Tony Romo was on the "Sports Illustrated" cover I was really nervous (the jinx and all). The Cowboys would have been dead to me if they lost at home to Oakland on a short week.
Since I had previously used Dallas, my No. 1 recommendation was Carolina, and the Cats complied easily with a 27-6 win over Tampa Bay. It was a very chalk Week 13 overall, so likely nothing happened to affect your Survivor Pool. So far my top picks this year have been New England, Baltimore, Seattle, New Orleans, Atlanta, Denver, Green Bay, San Francisco, Dallas, the NY Giants, Cincinnati, Detroit (oops!) and Carolina. These go in descending order of confidence.
New England vs. Cleveland: You are my idol if you can tell me where potential Browns starting QB Alex Tanney went to college. I do this for a living and I had to look him up. It's either him or Caleb Hanie. I at least know Hanie from his Bears days, and that's not a good thing. The Patriots probably can't stop laughing, so I could see them struggling for a while before pulling away.
Denver vs. Tennessee: This is a possible trap for the Broncos because they have played four straight pretty challenging games, and the Titans are playing with desperation. That said, the Broncos won't lose, they just may not cover.
Baltimore vs. Minnesota: Right now the Ravens hold down the final AFC wild-card spot. I could easily see them going to either Indy or Cincinnati and winning on wild-card weekend, and that's likely top-seeded Denver's worst nightmare.
Pittsburgh vs. Miami: The loser can probably kiss the playoffs goodbye -- for sure Pittsburgh can. The Steelers are playing pretty well right now and had a few extra days to prepare off last Thursday's close loss in Baltimore. I don't have confidence in Ryan Tannehill against the defense.
Arizona vs. St. Louis: If I'm the Rams, I am happy to lose out and then have my Top-10 pick and Washington's first-rounder, possibly No. 1 overall, in next year's draft. Then this team, already very good defensively, could be scary. The Cards need this much more and have been tough to beat at home.
Cincinnati vs. Indianapolis: The third seed in the AFC is up for grabs here. Cincinnati has looked dominant at home, and that's the difference.
New Orleans vs. Carolina: The Cats look dominant right now, but they only have one really good road win: at San Francisco. The Saints don't lose at home, and Drew Brees certainly won't have two bad games in a row.
Green Bay vs. Atlanta: Aaron Rodgers is practicing but has yet to be medically cleared to play. If he does, shoot the Packers up much higher. I say he doesn't. And if Green Bay loses, you won't see Mr. Pornstache again in 2013. If they win, it's worth bringing him back to try and win out to steal the NFC North.
NY Jets vs. Oakland: Geno Smith vs. Matt McGloin. Sounds like a lower-tier bowl game.
Philadelphia vs. Detroit: This is one of those evenly-matched games where I'd simply take the home team. It's in Philly. Should be a shootout.
Tampa Bay vs. Buffalo: I've said it before and will again: The Bucs aren't that far away from being a good team. Plus, the Bills are likely to be tired from their international travel (yes I'm kidding).
Washington vs. Kansas City: I nearly sprained my ankle jumping off the Chiefs' bandwagon. I do worry whether the Skins will bother to show up because the players seem to have tuned soon-to-be-fired Mike Shanahan out. Think Dan Snyder might throw $10 million a year at Nick Saban? Jon Gruden?
San Diego vs. NY Giants: Both teams' playoff hopes on life support. Of course, the story line here is the whole Eli Manning/Philip Rivers tie when Manning refused to play for the Bolts when they took him No. 1 overall in 2004 and traded him to Big Blue in a packaged headlined by Rivers, the Giants' first pick this year. So you would rather live in New York than San Diego, Eli? Are you serious?
San Francisco vs. Seattle: The Seahawks couldn't be feeling better about themselves right now after throttling the Saints on Monday. They are going to be the NFC's top seed, but they also know they can afford to lose at least once more and still keep it. I think the Niners play with much more fire against their hated rivals, who also have the disadvantage of a short week.
Chicago vs. Dallas (Monday): It looks like Jay Cutler is out yet again. The Bears probably have to win out to reach the playoffs. The NFC East likely comes down to Eagles at Cowboys in Week 17. Dallas isn't a great running team, and that's the Bears' defensive weakness. So I'll take Josh McCown at home over Romo in what should see both teams score in the 30s.
Jacksonville vs. Houston (Thursday): The Teddy Bridgewater Bowl -- especially with Marcus Mariota not in the draft now. Bridgewater might be the only person who cares about this game.
The last word: You read this list right -- I am going with the home team in every matchup, which means I'm assured of getting at least a few wrong. But I expect at worst 12 of the 16 to win. Since I used my top four recommendations from above, the Cardinals are the choice.
Doc's Sports is offering new clients free NFL picks from any handicapper on our Advisory Board. This special offer does not require a credit card, and you will never have to deal with a salesman. Click here to get your free $60 NFL picks credit today.