NFL Survivor Pools Strategy Advice and Predictions: Week 5
by Trevor Whenham - 10/1/2013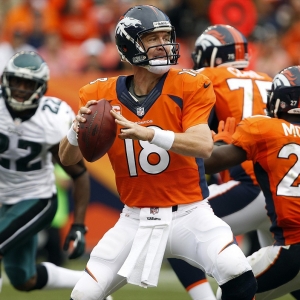 This season has so far been reasonably easy for survivor pool players. There have been clear choices, and much of the time you haven't had to sweat the outcome of your pick. That changes this week. In fact, this week is absolutely brutal. There isn't a single game that I am truly and deeply in love with — and that isn't because of teams I have already picked. I can't suggest picking against the Jaguars, which has been a great idea so far this year, because the Rams are an absolute mess. I'd happily pick against Pittsburgh in most cases, but the Steelers are on a bye. The Raiders aren't as bad as they should be — especially at home. The Broncos are incredibly dominant, but they are on the road in a tough Dallas stadium, and most people have picked them by now anyway. This is an absolutely brutal test of a week that will make the difference in a whole lot of pools. If you survive this one, you should thank your lucky stars.
I'm not suggesting that I'm giving up or that I'm not up to the challenge, of course. We can do this. Here is how I see the week breaking down:
The best bets
Denver at Dallas: By now most people have probably used Denver. If you haven't, though, then this could be a good spot — though this is arguably their toughest test of the year, and next week at home against Jacksonville is much more attractive for obvious reasons. That being said, though Dallas is better at home, they are still not particularly good — the Giants did score 31 against them in Dallas — and the Broncos are clearly the better team here. Denver has only played once on the road, but they seemed comfortable in New York and should be comfortable here as well. Denver is in a very good position, and I wouldn't argue with anyone who used them — though they would likely be my second choice.
Atlanta vs. New York Jets: This is where I will be placing the fate of my pool this week. It's not often I would trust a 1-3 team, but it is the right thing to do here. They Falcons have been a much better team at home than on the road, and they should be angry and frustrated after falling short against the Patriots last time out. The Jets have struggled on the road so far, and Geno Smith was a major disaster last week. The Atlanta defense has been flawed but is more than capable of disrupting the rookie and creating another bad day. The Falcons have their backs against the walls here. While I don't love the team in the long term — at least not as a serious contender — I trust them to show what they are made of and make a big impact here. Atlanta is a sound pick.
The next best option
St. Louis vs. Jacksonville: This one terrifies me. The Rams are 11.5-point favorites at home, but that line is hard to trust. The Jaguars are a truly terrible team — the worst I remember in a long time. The problem is, though, that the Rams aren't exactly a powerhouse of a team, either. After their first two games were decent, the team has been beyond awful in their last two games. They have issues at quarterback, problems across the field, and the whole system just isn't working like it should be. The good news, at least, is that while they were humiliated by the Niners last time out, that game was on Thursday night, so they have much needed extra prep time here. St. Louis should win against this lousy team — especially at home — but there will be more stress from watching this one than there should be for such a heavy favorite.
Games to avoid
We have two games with teams favored by a touchdown that just don't seem at all like a good idea to me.
San Francisco vs. Houston: The Niners are seven-point favorites at home against the Texans. While Houston has been rough in the clutch this year, this is not a good place to bet against them. They crumbled in the second half against Seattle, but they were still good enough to shut down the Seahawks for more than a half like no one else has — most notably the 49ers. They are a legitimate AFC contender — even with the frustrating start — and can't be trusted to roll over and give up in this one. San Francisco is far from dominant at this point as well — their only good effort in the last three came against a really bad St. Louis team.
Detroit at Green Bay: The Lions have been impressive for the most part — especially on offense. Green Bay has been frustrating and particularly weak on defense. The Packers have two big edges — they are at home, and they have had an extra week to prepare. Still, despite the spread, I just can't justify trusting the Packers here. This game is a coin flip, and picking coin flip games in Week 5 of survivor pools is not a recipe for success.
Here is one heck of an offer for new clients. Doc's Sports wants to give you $60 worth of member's picks absolutely free. No obligations and nothing to buy. Just proven picks from experienced handicappers. Click here to get started today.
Read more articles by Trevor Whenham