NFL Survivor Pools Strategy Advice and Predictions: Week 6
by Trevor Whenham - 10/8/2013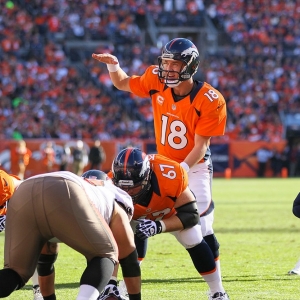 I am probably cursing myself here, but at this point I would have to say that this has been a significantly easier year for survivor pools than we have seen in the recent past. Most weeks there has been a reasonably straightforward pick or three to choose from, and the upsets haven't typically happened among these games. I'm not just basing this on my opinion, either — there are definitely more people still alive in my pools than some years. Three years ago the pools were all but over by now.
This week there are again two very straightforward picks, but only if you are lucky enough to have not used them so far. If Denver and Seattle are off your board then you have to work harder, but there is still hope for you:
The easiest pick in the history of survivor pools
Denver vs. Jacksonville: If you haven't picked the Broncos, then do so here. Simple as that. They are likely to be the biggest favorites in the history of the league, and that is entirely justified. Chances are good that you don't have the luxury of the easiest pick ever made, though — in my pool more than 90 percent of surviving players have already chosen Denver at some point. If you fall into that large majority, then we must look elsewhere.
The best of the rest
Seattle vs. Tennessee: Seattle has not been particularly impressive in their last two games — a loss and an overtime win after a comeback against Houston. There is a big difference between those games and this one, though — this one is in Seattle. The team has the biggest home-field advantage in the league, and they have the biggest gap in the league between their home play and the team they are when not sleeping in their own beds. That's potentially a major problem in the playoffs — sooner or later they will have to play away from Seattle. Right now, though, that certainly isn't our concern. Right now all we care about is that they are playing at home and that they are facing a team that lost the quarterback who was really having a breakthrough season. That has impacted their confidence and made the Titans just a shadow of what they showed they could be. This should not be a particularly tough challenge for Seattle. If you have picked Denver already but haven't picked Seattle, then this is a no-brainer. Unfortunately, it can't be this easy for most people — the Seahawks went off the board for a whole lot of survivor pool players in Week 3 when they hosted (and destroyed) the Jaguars.
San Francisco vs. Arizona: The 49ers came into the season as the co-favorites to win it all, but because of how the strange season has gone they have yet to really be playable in most pools. Their opener against the Packers was a tough game, and few would gamble on it when there were much easier options. No one would pick them playing at Seattle (unless they are really bad at survivor pools), and that performance was so lousy that few trusted them against Indianapolis — another lousy effort. That scared a lot of people away against St. Louis, and then Houston should have been better than they were, so San Francisco wasn't worth the gamble. Now, though, there could be an opportunity to play them. They have averaged 34.5 points per game in the last two, and the defense has been very strong. There are still concerns — most notably that Colin Kaepernick still hasn't remembered how to pass the ball. Still, Arizona has not been particularly strong on the road and has struggled to score against reasonably solid defenses. San Francisco should be well-positioned to win this one, and they are a reasonable pick here. They aren't nearly as attractive as the Seahawks or especially the Broncos.
Chicago vs. New York Giants: The Bears lost to the Saints, and it wasn't that close. That was bad luck as much as anything for Chicago, though. Against about 25 teams in the league they would have fared much better than they did against a very good New Orleans team given how well Jay Cutler played for the most part and given that the defense was reasonably solid as well. Now Chicago faces a much more reasonable test. The Giants are, to put it bluntly, broken. They aren't any good, and they just don't seem to care. They can't run, they can't score, and they can't stop anyone. Until they show some spark, they just can't be trusted — especially against a decent team like the Bears playing at home. Chicago is a very solid pick, and since not a single person in any of my pools has picked the Bears at any point this year there is a very good chance that they are available for you here. Their schedule is not easy going forward, so this is quite likely the only opportunity to use them comfortably this year.
You can get free NFL picks everywhere. What you can't usually get though, is free access to top-quality picks from expert handicappers - the same picks that member's happily pay for. Doc's Sports wants to give you $60 worth of NFL picks absolutely free. No obligation - just click here.
Read more articles by Trevor Whenham