2013-14 Ole Miss Rebels Predictions and College Football Betting Odds
by Trevor Whenham - 7/19/2013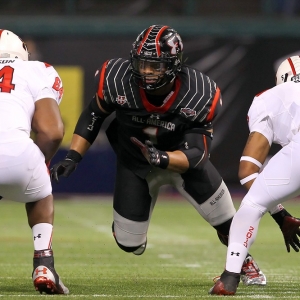 It will take years for us to truly know how Hugh Freeze turns out as Ole Miss head coach. He is off to a heck of a start, though. He made — and won — a bowl game in his debut season in Oxford. His real accomplishment, though, was dominating national signing day like few coaches ever have. He pulled off an incredible haul of young talent, and that has amped up expectations to the roof. If you had guessed that Ole Miss would be ranked heading into this season when Freeze was hired you would have been laughed at, but here he is.
The key for handicappers with this squad is to temper the expectations of all of that young talent at this point in the season. Robert Nkemdiche is a beast, and the rest of his new classmates are impressive. The biggest problems the Rebels had last year, though, was that they were so young, and they made too many mistakes in key situations as a result. Thanks to the recruiting, though, they are going to be even younger this year. This isn't college basketball, so freshmen don't often make a massive immediate impact, and they aren't expected to or relied upon to do so. It's also important to remember that as well as the team closed out their recruiting class, the overall class was still arguably only the third best overall in their own division. It's hard to take a big step ahead of your opponents when you are walking with giants. What is more important than anything to see this year is that Freeze keeps moving forward and building and that the players who are clearly his future find their roles and start to grow within them. Football fans and bettors both rarely have patience, but if ever a team required it, it's this one.
I rarely spend much time focusing on special teams in these previews, but in this case I can't avoid it. Before Freeze arrived special teams was one thing the Rebels did reasonably well. They ranked 13th in the country the year before he showed up. Last year they were just awful, coming in at 111th — a level that was even flattering given how consistently they gave away points. This has to be a major focus of this coaching staff, and we need to see those results right from the start of the season.
Ole Miss Schedule Analysis
I would mock the Rebels for a ridiculous nonconference schedule — SE Missouri State, Idaho, and all are at home. They save themselves, though, with a huge test on Sept. 14 when they travel to Austin to play Texas. That is the third of what is an absolutely brutal seven-game stretch to start the season. They open on the road at Vanderbilt then later face Alabama and Auburn on the road in consecutive weeks before hosting "Johnny Football" and Texas A&M and then hosting LSU. That would be enough to crush the soul of most any team, never mind one looking for contributions from as much young talent as this team is. If the Rebels still have a pulse by the middle of October it will be a shock — a majorly impressive one.
After running that gauntlet things get easier — Idaho, Arkansas, Troy and Missouri at home, and then Mississippi State on the road to finish things off. There is a very good chance that that relief will come too late for this squad, though.
2013-14 Ole Miss Betting Odds and Trends
The Rebels are at +1500 to win the SEC, which makes them the seventh choice in the deep league. They are the fourth choice to win the SEC West at +700. They open their season at Vanderbilt, and are currently a one-point underdog. (All odds are from BetOnline) Despite the mere 6-6 record, the Rebels excelled at covering spreads — they were 9-3 ATS. They went "under" the total six times in 11 tries.
2013-14 Ole Miss Rebels Predictions and College Football Picks
This is a team to watch in 2014, but this year there will be growing pains. That being said, they are fortunate enough to have an almost ideal schedule to suit their stage of development. They have three all-but-guaranteed wins, and Texas, Alabama, Texas A&M and LSU are the only four opponents that they are very likely not to beat. Given the schedule and the development, it would be a major disappointment if this team did not eclipse their six wins from last year. Of more interest, though, is how they lose those tough games. Last year they played Alabama reasonably tight and gave LSU and A&M all that they could handle. Win or lose those games, the team needs to again play fearlessly and effectively when the moments are biggest. Under the brash Freeze I expect they will.
Are you ready for some football winners? Doc's Sports has you covered! We are offering new clients $60 in free picks – these are actually members' picks from expert handicappers who live, breathe and eat college football and have years of successful betting/handicapping experience. Click here for the no-hassle sign up page (no credit card required).
Read more articles by Trevor Whenham