2014 Big 12 Conference Predictions and College Football Futures Odds
by Robert Ferringo - 8/19/2014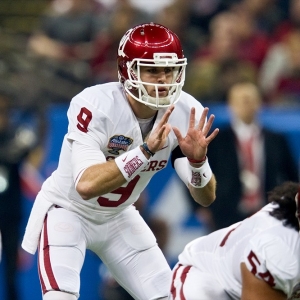 Pass happy and hungry, the Big 12 is set for another exciting season in 2014. No conference in the country has suffered as much at the hands of realignment. But as opposed to other leagues like the Big East, the Big 12 has held firm and soldiered one as one of the power leagues in all of college football.
The high-scoring, low-defense style of play in the Big 12 makes it one of the most unpredictable leagues in the nation. And 2014 should be no exception thanks to a dearth of experienced quarterback play.
Here is a look at my 2014 Big 12 football predictions and futures odds, with the college football odds courtesy of Sportsbook.ag:
The Favorite: Oklahoma (-140)
Stop me if you've heard this one: the Sooners have their best team in years and have a great opportunity to end their national championship drought. Look, Oklahoma is stacked on defense and has a few nice players on offense. But Bob Stoops has been surpassed, nationally, by the SEC and surpassed, regionally, by several former assistants. Stoops hasn't won a title in nearly 15 years and has been to the title game just twice in the past decade, resulting in a 36-point loss and a 10-point loss. Stoops' teams have lost three games or more in six of the past nine years. And while a lot of coaches would kill for his 105-28 record over the last 10 years, what I see is a top-tier program that has been successful only in bilking square public bettors into backing their national title aspirations. The Sooners have eight defensive starters back, but they suffered a blow when linebacker Frank Shannon was suspended for the year. They have five starters back on offense but are pegging their "title" hopes to unproven sophomore Trevor Knight. The Sooners do face their toughest opponents at home this year and have an opportunity to slide into the national semifinals. But Stoops has flopped repeatedly the past, including losses to unranked opponents in three of the past four years. He certainly has something to prove before I jump on the bandwagon .
The Challenger: Baylor (+280)
Art Briles' offensive system is essentially unstoppable. The Bears averaged 52.8 points per game last year and scored 69 or more points in five of their first six games in 2013. I want you to re-read that last sentence. Baylor scored 70 or more points four times - FOUR - in the first six games. Yes, some outbursts were against weaker sisters. But they hit West Virginia and Iowa State for over 70 and will be at it again this fall. The problem for the Bears, who finished in the Top 15 last year, is that they have just 11 returning starters, including just four on defense. Their defensive PPG average had dropped from 37.2 in 2012 to 23.5 last year. I expect that to spike back up. And as such, I definitely do not trust the Bears to avoid being upset somewhere down the line. I expect plenty of fireworks from quarterback Bryce Petty. But the Bears are significantly weaker than the Baylor teams that have combined to go 26-12 against the spread the past three seasons. And they will have a target on their back after winning the league last year.
The Dark Horse: Texas (+750)
This is a true dark horse team. The Longhorns could compete for a national championship under new coach Charlie Strong with their talent level. However, that's been the preseason line for the past four years, and the Longhorns have bumbled and bobbled their way to just a 30-21 straight up record since the start of 2010. Strong is a no-nonsense guy with a rock-solid defensive background. But that makes him an anomaly in the high-flying Big 12. Texas has 15 starters back and several talented reserves. They are stacked with experienced skill position players, and the legacy of this senior class is in the hands of perpetually injured/underachieving David Ash. The Longhorns have a mammoth game with UCLA on Sept. 13 in Arlington. A win there could erase several years of underachieving (27-37 ATS the last five years) and cause shockwaves in the national title chase. But until we see the Longhorns serve up a big win, it remains to be seen if they are still capable of being a national player .
The X-Factor: TCU (+1400)
I bet there is a lot of people in and around this TCU program that wished the Horned Frogs had just stayed in the Mountain West. TCU used to dominate that average conference. But, like Utah in the Pac-12, since stepping up in class the Horned Frogs have been kind of a joke. TCU has gone 11-14 SU and 8-17 ATS since joining the Big 12. And their only league wins last year came in tight games against Kansas and Iowa State. However, they have 16 starters back this year, including seven three-year starters, and a lot of statistical trends show TCU on an upswing. They also host Oklahoma, Oklahoma State, Texas Tech and Kansas State this year. And considering that Baylor has just 10 returning starters and Texas is transitioning, this is the perfect year for TCU to vault itself upward. The question is still on the table, though: can this program compete at this level? And until we see TCU do more than show up for the occasional upset they'll remain a second-rate team in the Big 12.
The Disappointment: Oklahoma State (+1000)
Mike Gundy's charges have combined to go 41-11 over the past five seasons, including an outstanding 34-17 mark against the spread in those games. However, the Cowboys are in an obvious transition year. They have just eight total returning starters - nine if you count quarterback J.W. Walsh's three starts. The Cowboys have, literally, the youngest roster in all of college football and just eight seniors in their top 40 players. Given their success at the window and name recognition, the expectations for this team will likely remain high. But every statistical indicator that I use points downward for the Cowboys. And when I look at the schedule there's a chance that this team may not even qualify for a bowl game.
The Rest:
Kansas State (+1000) - Bill Snyder is one of the greatest coaches in college football history. So even though he has only 11 returning starters to work with, you can't count Snyder's teams out. The Wildcats open the season with six of their first eight games at home, including big ones against Auburn on a Thursday night and versus Texas for homecoming. Snyder has won 13 times outright as an underdog over the last five years, and K-State has gone 27-12 ATS the past three seasons. They have only five of their top 12 defensive players back and an inconsistent running game. But with stud wideout Tyler Locket and Snyder this team will be consistently dangerous.
West Virginia (+6600) - Dana Holgorsen is reaching the end of the line in Morgantown. The bombastic head coach has underperformed with WVU and bottomed out to a 4-8 SU showing last year. Holgorsen's one good season (10-3 in 2011) came with Bill Stewart's players, and the Mountaineers enter this fall with as many questions as answers. WVU has allowed an average of over five touchdowns per game the last two seasons. They don't have nearly the offensive talent to overcome that, especially with shaky Clint Trickett with his finger on the trigger. WVU has to face Alabama, Maryland (who beat them 37-0 last year) and Oklahoma all before Sept. 20. And only one of those games is at home. A poor start could send Holgorsen - and the Mountaineers - off the rails for good.
Texas Tech (+2000) - Kliff Kingsbury seemed to inject some life into a rudderless Tech program last year, opening up 7-0 and reaching No. 10 in the country. However, Kingsbury went just 1-5 the rest of the way. And a look at Tech's 6-7 ATS mark tells me that this team wasn't as good as the public thought. The truth is, Tech wasn't really that good at all last year. They simply took advantage of a comically easy early-season schedule and rode the wave of some positive PR surrounding their upstart young coach. The Red Raiders do have nine offensive starters back from a unit that produced 35.8 points per game. They also get all of their toughest opponents in Lubbock. But I think that Texas Tech is overvalued again heading into this season, and I don't expect them to be a real contender in this conference.
Iowa State (+10000) - Paul Rhoads is doing yeoman's work out in Ames. He has dragged this feeble program to three bowl games in five years. But the Cyclones went just 3-9 last year and can't be expected to realistically compete in the Big 12 year-in and year-out. They are fodder. And Rhoads' job is simply to make it look good each Saturday. He does have 10 starters back on offense and 15 returning starters overall. And with several well-placed bye weeks leading into big home games I can see the Cyclones stealing an upset or two. But anything more than that, including another bowl bid, is gravy.
Kansas (+10000) - Charlie Weis is a loser. The end. Weis is finally going to a spread offense in Lawrence, only about six years behind the rest of college football, and is making one last-gasp effort to keep his sinking career afloat. Kansas has 17 starters back, and the Jayhawks have their highest talent level since Mark Mangino left. But this is still a pretty awful team, and Weis has been a repeated failure in the decade since he left Tom Brady and Bill Belichick in New England.
2012 Big 12 Conference Predictions: Predicted Order of Finish
1. Oklahoma
2. Texas
3. Baylor
4. Texas Tech
5. TCU
6. Kansas State
7. Oklahoma State
8. West Virginia
9. Iowa State
10. Kansas
For more of Robert Ferringo's articles CLICK HERE.
Robert Ferringo was the top football handicapper in the country last year, earning nearly $8,000 in total football profit in 2014-14 and posting one of the best seasons in America. He hit 62.1 percent for the entire NFL season (95-58) and was amazing down the stretch, closing with 11 of 14 winning NFL weeks and 12 of 15 overall winning football weeks. Robert has posted 3 of 4 winning football seasons, 6 of 7 winning NFL seasons, 30 of 44 winning football months, and 6 of 7 winning NFL preseasons. Also, Robert's proprietary KING College Football Betting System posted another winning season (now 2-for-2) and is 83-58 over the last two years (58.9 percent).
We are offering new clients $60 in free college football picks for Robert's picks or any Advisory Board handicapper of your choosing. Get your free college football picks now!
Read more articles by Robert Ferringo