2014 Los Angeles Clippers Predictions and NBA Futures Odds
by George Monroy - 9/16/2014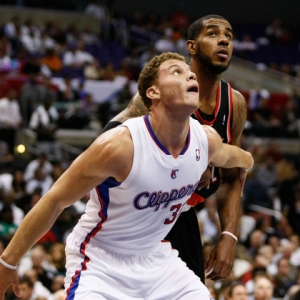 The Los Angeles Clippers ended last season amidst the Donald Sterling controversy that may have cost the team a deep playoff run. Coach Doc Rivers has since gone on record stating the toll that the remarks and subsequent outcry took on the team, which at one point was ready to boycott, toward the end of the postseason was huge. Los Angeles, however, did not lose to the Oklahoma City Thunder in six games because it was distracted; the team lost because it simply was not ready to take the next step.
The 2014 season may bring a different set of fortunes as former Microsoft executive Steve Ballmer is now in control of the Clippers and ready to turn around an organization that was known for mediocrity and dysfunction over the last 40 years. Los Angeles is on the short list of title contenders and is expected to improve as star forward Blake Griffin enters his prime and the team adds new pieces to support point guard Chris Paul's playmaking abilities. Let's take a closer look at the 2014 Los Angeles Clippers NBA futures odds with predictions and analysis. All odds come from BetOnline.
2014 Los Angeles Clippers Betting Story Lines
The Los Angeles core of Paul, Griffin and Rivers as coach is one of the most talented foundations in the league and may be rivaled by only San Antonio, Oklahoma City, and Cleveland. The Clippers have been at the forefront of the NBA for three seasons, and since Rivers is in his second year with the team now might be the time for the squad to make a deep playoff run.
Of course, there will not be much pressure on the Clippers to win a championship this season, but at a certain point the team needs to prove that it can be a legitimate threat to win the Western Conference, if not the entire NBA. Even so, expectations will still be high for the team heading into the 2014-2015 season, and another disappointing playoff exit could begin to wear thin with Los Angeles fans.
2014 Los Angeles Clippers Additions and Departures
The Clippers will essentially be returning the same team as last year's 57-win squad, but they were able to add two quality role players and potential key contributors in Spencer Hawes and Jordan Farmar over the offseason. Los Angeles' biggest loss was Darren Collison, who signed with Sacramento during free agency. The guard provided some quality moments off the bench for the team when Paul was injured.
Los Angeles is expected to be nearly $20 million over the salary cap for the 2014 season and may be handicapped in making any potential roster moves throughout the year. The team, however, will be more concerned with getting the most out of Paul and Griffin, while hoping DeAndre Jordan continues to evolve as a basketball player. Rivers' crew does not need any more talent on board; what they need is continued on-court leadership, a shut-down defense, and quality production off the bench.
2014 Los Angeles Clippers Futures Odds and Trends
Los Angeles has quite a few futures wagers on the board at Bovada. The team is receiving the fifth-best NBA title odds at +1200, the third-best Western Conference title odds at +550, and MVP odds for both Griffin and Paul. There are currently no "win totals" lines on the board yet, but expect Los Angeles' to fall in the 56- to 58-win range.
Los Angeles Clippers Futures Odds
NBA title odds : +1200
Western Conference title odds : +550
Blake Griffin MVP Odds : +900 (third best)
Chris Paul MVP Odds : +1400 (fifth best)
In 2013 Los Angeles produced a 46-35-1 ATS mark and 44-37-1 totals record. The squad excelled ATS-wise on the road, where it finished the year with an excellent 25-15-1 record. The Clippers also faced 25 nine-point-or-more spreads throughout the season and managed to slightly get the better of those large lines with a 14-11 ATS mark. The team, however, completed its best ATS work as an underdog last year. Los Angeles received points in only 20 games in 2013-the sixth fewest in the league-and produced a 13-7 ATS mark.
2014 Los Angeles Clippers Predictions and Futures Odds Picks
The Clippers are a team that is built for the regular season and could approach the 60-win mark and compete for the No. 1 seed in the West. In fact, home-court advantage may be a necessity for the squad if it plans on making a deep playoff run, and Rivers may press the issue with his team. Keeping an eye out for a win totals line and considering taking the "over" could be an excellent spot for bettors.
Los Angeles is a legitimate title contender, and both Western Conference odds and championship odds are solid futures options for bettors. San Antonio and Oklahoma are probably still better teams, but Los Angeles' title hopes will rest on Griffin's continued growth as a player and Rivers' coaching ability. Paul has reached his prime and is not getting any better, but for Griffin the ceiling is still wide open and he could potentially climb into LeBron James-Kevin Durant territory. And in the NBA transcendent players with great coaches tend to win titles.
Want free sports betting picks? Doc's Sports has you covered - get $60 worth of picks free from any of Doc's Sports expert handicappers. Click here for free picks (new clients only).
Read more articles by George Monroy