NBA Odds: Thursday, April 24, 2014 Opening Line Report and Handicapping
by Alan Matthews - 4/23/2014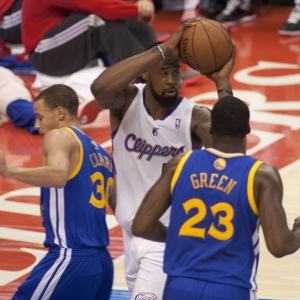 The three series on Thursday night are the first in these NBA playoffs to be played on the lower seed's home court. and each has to be feeling satisfied after splitting against the series favorites in the first two games in their gym. Here's a look at each matchup.
Pacers at Hawks (+2, 186)
There are two ways to look at Indiana's 101-85 victory over Atlanta on Tuesday night to even their Eastern Conference first-round series at 1-1. There's the glass half-full part for Pacers fans. Indiana blew the doors off the Hawks in the second half, and Paul George shut down Atlanta point guard Jeff Teague for the most part. Teague had dominated Game 1 and had a big first quarter of Game 2 then that was about it. That was a new defensive wrinkle we expected Frank Vogel to make. George played his best game in weeks with 27 points, 10 rebounds, six assists and four steals. The Pacers shot 52.9 percent from the field -- George shot better than 50 percent for the first time in 16 games -- and held Atlanta to 39.2 percent. Luis Scola was terrific off the bench with 20 points. From a glass half-empty perspective, the Pacers were supposedly desperate yet were down 11 in the second quarter and four at the half to an Atlanta team that really isn't that good. In addition, now there are reports that Vogel is "coaching for his job." The last thing this team needs is additional pressure or distractions.
Now Indiana goes to Philips Arena, where the Pacers never play well. They have lost 12 of the past 13 regular-season meetings there (they did clinch last year's postseason series in Atlanta). In addition, Indiana was not good away from home at the end of the season. There were games in Orlando and Milwaukee that the Pacers won, but they rested their starters in those. Throw those two out and the Pacers have lost seven straight road games.
Key trends: The Pacers are 3-14 ATS in their past 17 after scoring 100 or more in their previous game. They are 1-7 ATS in their past eight following an ATS win. The Hawks are 4-1 ATS in their past five after a loss. Atlanta is 12-4 ATS in its past 16 at home vs. Indiana. The under is 4-1 in the past five there between these two.
Sportsbook.ag updated series line: Pacers -320, Hawks +260
Early lean: Take Indiana and the under. The Hawks will adjust to the George-Teague pairing, but I'm not sure what they can really do. Atlanta doesn't have another backcourt player who can burn the Pacers. Kyle Korver can only shoot 3-pointers, so Indiana can hide a poor defender on him.
Thunder at Grizzlies (+1.5, 190)
I can assure you that Oklahoma City would have much preferred that Dallas had beaten Memphis on the final night of the regular season so the Thunder would have played the Mavericks instead of the Grizzlies. The Grizz are the Bulls of the East in that they play slow and ugly, and you are sore all over afterward. It's more like football than basketball at times. Memphis never really showed up in Game 1, probably drained from winning two crucial games to close the season. The Grizzlies took Game 2 111-105 in overtime, a score that usually would not be in their favor. Frankly, the Thunder had no right getting it to OT, rallying from a five-point deficit with 19 seconds left in regulation. To Memphis' credit, it didn't mail it in after that crushing ending.
If you look quickly at the box score you might think Kevin Durant (36 points, including an incredible four-point play with 13.8 seconds left in regulation) and Russell Westbrook (29 points) were great. While they combined for 65 points, they were also 23-for-56 from the field. They got no one else involved. The Thunder bench managed only 14 points, which is as many as Grizzlies reserve Beno Udrih had alone. Memphis simply got easier shots all night. The Thunder's defense was so porous at times that OKC head coach Scott Brooks used his starting lineup the final five minutes of the game, except for when the Thunder were down five with 19 seconds left. Kendrick Perkins almost never is in the game late because he's such an offensive black hole. The starters also played the first 2:42 of overtime until Perkins fouled out. That smacks of desperation.
Key trends: Oklahoma City is 1-6 in its past seven road games against teams with a winning home record. The Grizzlies are 7-3 ATS in their past 10 at home. The "over" is 4-1 in Memphis' past five at home.
Sportsbook.ag updated series line: Thunder -300, Grizzlies +250
Early lean: Grizzlies cover and it stays at their pace ("under"). The Thunder have played five postseason games all time at Memphis' FedEx Forum and are 1-4. That lone win was in triple overtime three years ago. In addition, the Grizz closed the regular season with 14 straight home wins. They were 1-1 there this season vs. OKC.
Clippers at Warriors (+1.5, 214)
It was pretty clear right from the start of Game 2 of Warriors-Clippers in Los Angeles on Monday night that Golden State already was more than satisfied in upsetting the Clips in Game 1. The Warriors barely showed up for the second game. The Clippers never trailed, with Golden State missing its first eight shots. L.A. led by 11 after one quarter, 26 at the half and shredded the Warriors 138-98. It was the biggest playoff win in Clipper history and their most points scored. The opener was a foul-fest with Blake Griffin fouling out and finishing with just 16 points and three rebounds in 19 minutes. Amazingly, he was never called for a foul in Game 2 and had a playoff career-high 35 points. No Clipper had to play more than 30 minutes, which can only help two nights later. Chris Paul remains bothered by a right hamstring he hurt late in the first half of Game 1 and was very limited in practice on Tuesday and Wednesday but will of course play. Keep an eye on that going forward, however. It's one more reason the Clippers would like to finish this series off as quickly as possible so Paul can get needed rest.
The only Warriors starter to play more than 29 minutes in Game 2 was Stephen Curry with 31. He wasn't very good in Game 1 despite the upset and wasn't in the first half of Game 2 before putting up 20 third-quarter points. The game was over by then. He needs to be more aggressive from the start. The Clippers aren't giving him open jumpers and are forcing him to drive. Andre Iguodala has been largely invisible thus far. He fouled out of Game 1 with eight points and had just four points in Game 2. Klay Thompson also was lousy in Game 2 with seven points as he battled foul trouble.
Key trends: The Clippers are 4-1 ATS in their past five road games. The Warriors are 4-0 ATS in their past four after an ATS loss. The over is 5-0 in each team's past five overall. Golden State is 4-1 ATS in its past five at home against the Clippers.
Sportsbook.ag updated series line: Clippers -310, Warriors +255
Early lean: Warriors and the over. Golden State has won five straight and 15 of the past 17 against the Clippers in Oakland. It should be noted the Warriors had Andrew Bogut for both home wins vs. L.A. this season. Still, the Warriors should get more calls back home.
AMAZING offer - Doc's is offering $60 worth of member's NBA picks for free - no obligation, no sales people. Try one of our NBA handicappers picks free now.
Read more articles by Alan Matthews