NBA Odds: Wednesday, April 16, 2014 Opening Line Report and Handicapping
by Alan Matthews - 4/15/2014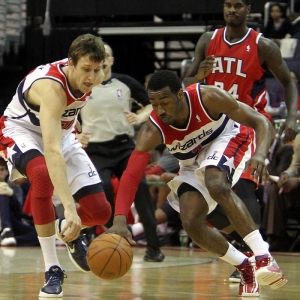 It seems just yesterday that the 2013-14 NBA season tipped off with Chicago visiting Miami on Tuesday, Oct. 29, in Derrick Rose's long-awaited (and short-lived) return from injury. Now the regular season comes to a close Wednesday with every team in action but not much drama remaining. The playoffs should be another story. Here's a look at all of Wednesday's action (as expected many TBAs because of the possibility of so many players being held out).
Bulls at Bobcats (-1, 181.5)
It's the final regular-season game ever for the moniker Bobcats in this one, and good riddance. The team was only nicknamed that after former owner Robert L. Johnson. The franchise will revert back to Hornets starting next season, a move that already has been a tremendous marketing success in Charlotte. The game still means something to Chicago. A win and a Raptors loss gives the third seed to the Bulls. Charlotte can still take the No. 6 from Washington if the Bobcats win and Wizards lose to Boston. The Bulls lead the season series 3-0 with Charlotte.
Key trends: The road team is 9-1 ATS in the past 10 meetings. The "under" is 4-0 in the past four in Charlotte.
Early lean: Tough to pick a side because it's not clear who might rest, but love the under between two defense-first clubs.
Pacers at Magic (TBA)
Absolutely nothing for Indiana to play for here after clinching the top seed in the Eastern Conference on Monday night. Well, unless Indiana perhaps wants to finish with a better record than a team or two in the West (Houston?) it might face in the NBA Finals. I fully expect Coach Frank Vogel to sit his starters like he did last week in Milwaukee. Already ruled out have been Paul George, David West, Lance Stephenson and C.J. Watson. The Magic have been fairly competitive at home this season and they won't be resting anyone who is healthy; center Nikola Vucevic isn't healthy and won't play.
Key trends: The Pacers are 1-9 ATS in their past 10 Wednesday games. The under is 4-0 in the past four meetings.
Early lean: The Magic are hungrier and will win outright.
Mavericks at Grizzlies (-4, 190)
These teams will finish No. 7 & 8 in the Western Conference, but in what order? They are tied with the same record (Mavs lead season series 3-0), so the winner will be the No. 7 and draw the Thunder instead of the Spurs. Is that good or bad? The Spurs own the Mavericks, so I would guess the Mavs aren't going to be resting guys here so they can avoid San Antonio. The Grizzlies also were 0-4 against the Spurs this year and may prefer OKC.
Key trends: Dallas is 6-1 ATS in the past seven meetings. The over is 4-0 in the past four.
Early lean: The Grizzlies may be spent from going all out to beat Phoenix on Monday and clinch that final playoff spot, so lean Dallas.
Hawks at Bucks (TBA)
Perhaps it's fitting that Milwaukee plays Atlanta in the finale because it's coach Larry Drew's current team against his former one. I have a hard time imagining Drew makes it back for a second season with the Bucks. This game means less than nothing. The Bucks have clinched the most ping-pong balls in the draft lottery, and the Hawks are the No. 8 seed in the East regardless. Atlanta rested a handful of guys on Monday and probably does again.
Key trends: Atlanta is 1-8 ATS in its past nine Wednesday games. The over is 5-1 in Milwaukee's past six overall.
Early lean: Take the Bucks simply because they are home and might care just a little more than Atlanta.
Jazz at Timberwolves (-10, 212.5)
Could this be the final game for Kevin Love in a Minnesota uniform? I'd imagine he's back next season, but what if some team makes the Wolves an offer they can't refuse? Love almost surely is going to leave after next season as a free agent. It also could be the final game for Wolves coach Rick Adelman as there have been hints he will retire. Maybe he tells the team his plans and the Wolves use that as motivation in a meaningless game.
Key trends: Minnesota is 4-1 ATS in the past five meetings. The over is 6-1 in Utah's past seven when its opponent allows at least 100 points in its previous game.
Early lean: As long as Love plays, the Wolves should cover.
Rockets at Pelicans (TBA)
Mark my words: New Orleans is a playoff team next year as long as the Pelicans can stay healthy, mainly Anthony Davis (he's not playing the finale). This game took on no meaning when Houston beat San Antonio on Monday night to clinch the No. 4 seed and home-court advantage in the first round against Portland. Thus expect potential seats on the bench for Dwight Howard and James Harden here. New Orleans started a bunch of scrubs and Tyreke Evans on Monday and beat the Thunder thanks to a career-high 41 points from Evans.
Key trends: Houston is 2-8 ATS in its past 10 road games. The over is 9-1 in Houston's past 10 against the Western Conference.
Early lean: Take the over Evans' points in this one! He could shoot it 35 times. This will be a very high-scoring game.
Pistons at Thunder (TBA)
It's the end of the Joe Dumars Era in Detroit with this game as he won't return as president of basketball operations. Perhaps the next time the Pistons take the floor it's with Tom Izzo as their coach. That would be their dream hire, anyway. OKC technically hasn't wrapped up the No. 2 seed yet. Its magic number to do so was one -- the Thunder need a win here or a Clippers loss Tuesday or Wednesday. OKC will be a big Clippers fan on Tuesday so the Thunder can rest some guys here. The Pistons are expected to be without Josh Smith again.
Key trends: The Pistons are 7-1 ATS in their past eight road games against teams with a winning percentage greater than .600. The under is 6-1 in the Thunder's past seven after a loss.
Early lean: Lean over regardless of the Thunder's motivation.
Lakers at Spurs (TBA)
We know that Mike D'Antoni and Pau Gasol won't be Lakers next season; Gasol won't play in this game. Will Tim Duncan, Manu Ginobili and Gregg Popovich be Spurs? Theoretically this could be the final home game for those three. You could easily see all three sail into the sunset should the Spurs win a title. Pop has always said he would leave when Duncan does. Popovich seemed to hint that Duncan, Tony Parker and Ginobili will all play at least a bit in this one as he prefers "controlled rest" over outright sitting. However, Parker is dealing with a back issue, so he may not.
Key trends: The Lakers have covered one of their past 11 games against teams with a winning record. The over is 5-0 in San Antonio's past five following a loss.
Early lean: Spurs play hard no matter who is out there and should cover any number against a terrible team.
Wizards at Celtics (TBA)
Last game in a Boston uniform for Rajon Rondo? He could be dealt this offseason, although the Celtics probably would like to see Rondo raise his value next season before thinking about that. As noted above, the Wizards need a win to ensure the sixth seed in the East, which you know they want. It means a probable matchup against Toronto instead of Miami as the seventh seed. Boston won't have the likes of Kris Humphries, Jerryd Bayless and Jared Sullinger for this one.
Key trends: The over is 5-0 in the past five meetings. The Wizards are 10-4 ATS in their past 14 road games against teams with a losing home record.
Early lean: This game starts an hour after Bulls-Bobcats, so the Wizards can pull the plug in the second half if they see the Bobcats are going to lose. I like Boston at home.
Nets at Cavaliers (TBA)
Last game in a Cleveland uniform for Kyrie Irving? More and more you hear how Irving doesn't want to be there, and you start to get the feeling the Cavs are a bit fed up with his act as well. Of course, luring a certain Akron native back to Ohio next season would solve all the Cavs' problems. There's almost no chance that Luol Deng is back in Cleveland, and he won't play in this game. Still can't believe that trade didn't work out better. The Nets are probably going to rest nearly everyone after playing Tuesday at home against the Knicks.
Key trends: Cleveland is 7-0 ATS in its past seven Wednesday games. The Nets are 0-4 ATS in their past four in the second of a back-to-back.
Early lean: Cavaliers will win easily.
76ers at Heat (TBA)
I think you can reasonably expect Miami to rest Dwayne Wade, LeBron James and Chris Bosh in this one. Wade maybe plays just so he can be in full game shape after missing so much time. He did play Monday against Washington, but LeBron and Bosh didn't. It's still hard to fathom that Philly beat Miami in its season opener. The Sixers beat Boston on Monday and thus are going for their first winning streak since early January.
Key trends: Philadelphia is 13-3 ATS in its past 16 against the Eastern Conference. The under is 9-2 in Miami's past 11 against teams with a winning percentage below .400.
Early lean: Too early to tell.
Raptors at Knicks (TBA)
Last game for Mike Woodson in a Knicks uniform. Could be for Carmelo Anthony as well. Anthony probably won't leave the bench, however. He wasn't likely to play Tuesday's game in Brooklyn or this one as he's dealing with a shoulder injury. Amare Stoudemire was a game-time call for Tuesday and probably will be the same for Wednesday. That's all fine with Toronto as it wants a victory for the third seed. Note that this game starts an hour after Bulls-Bobcats as well, so Toronto can pull everyone of note if need be in the second half if the Raptors see the Bulls are going to lose.
Key trends: The Knicks are 6-0 ATS in their past six Wednesday games. The over is 7-0 in Toronto's past seven overall.
Early lean: Knicks fans get a view of life without Melo, and it's not pretty. A half-interested Toronto should cover.
Clippers at Trail Blazers (TBA)
Presuming the Clippers beat visiting Denver on Tuesday night, this game could still be for the No. 2 seed in the West, although it's hard to imagine the Thunder will lose at home to Detroit. The Clippers will know where they stand by the time this game begins at 10:30 p.m. ET. It means nothing for Portland, now locked into the No. 5 seed. Thus, the Blazers could sit guys like LaMarcus Aldridge and Damian Lillard.
Key trends: Portland is 0-4 ATS in its past four at home. The over is 8-2 in the Clippers' past 10 in the second of a back-to-back.
Early lean: All depends on L.A.'s game Tuesday and what OKC does earlier on Wednesday.
Suns at Kings (TBA)
With all due respect to the Memphis Grizzlies, the Western Conference playoffs are going to be less interesting with Phoenix not in them. That was assured Monday night when the Suns lost at home to the Grizzlies, so this game now means nothing. It would be a shock if battered Suns guard Goran Dragic, who has had a great year, plays here. Sacramento won't have star center DeMarcus Cousins as he was suspended automatically for one game after getting his 16th technical of the season last time out. Rudy Gay may or may not play as he has missed three of the past four.
Key trends: The over is 5-0-1 in the past six meetings. The Kings are 0-7 ATS in their past seven against the Pacific Division.
Early lean: Suns will be deflated and get crushed.
Warriors at Nuggets (TBA)
I thought that Golden State had a shot to win the Western Conference title but don't now that center Andrew Bogut is likely to miss the playoffs with a broken rib that could puncture his lung by playing. What a shame. Golden State seems likely to rest many guys here with the sixth seed clinched. Denver played Tuesday night at the Clippers again without starting point guard Ty Lawson, and he's not expected to play here.
Key trends: The Warriors are 4-0 ATS in their past four in Denver. The under is 4-1 in the past five meetings.
Early lean: Nuggets only because the Warriors are likely to be emotionally down after the Bogut news.
AMAZING offer - Doc's is offering $60 worth of member's NBA picks for free - no obligation, no sales people. Try one of our NBA handicappers picks free now.
Read more articles by Alan Matthews